Last Updated on October 10, 2017 by Kristi Linauer
I'm sure about the direction I'm heading with my dining table, and I'm about 75% sure about the direction I'm heading with my side chairs — painted green with the seats upholstered in black and white striped fabric. (Full disclosure: When I started writing this post, that number was 95%. Now I've dropped it to 75%. 😀 ) But I'm still trying to decide on two main things. First, I'm unsure about what I want to do with the cane backs on the side chairs. And second, I'm completely unsure about what I want to do with the arm chairs.
The easier decision should be what to do with the cane backs on the side chairs. Initially, I thought about just painting them the same green as the wood parts of the chairs. When I look at cane chair makeovers, that seems to be the option that most people choose. In fact, one of my very first DIY projects that I did for my blog way back in 2009 was a cane dining chair makeover, and I painted the whole chair black.
In fact, I didn't really think that there was any other option until I started looking at cane back chair makeovers on Pinterest, and I realized that it's actually NOT a foregone conclusion that the cane backs will be painted to match the wood, as demonstrated by this dining chair makeover from La Tee Da Kids. They started out like this…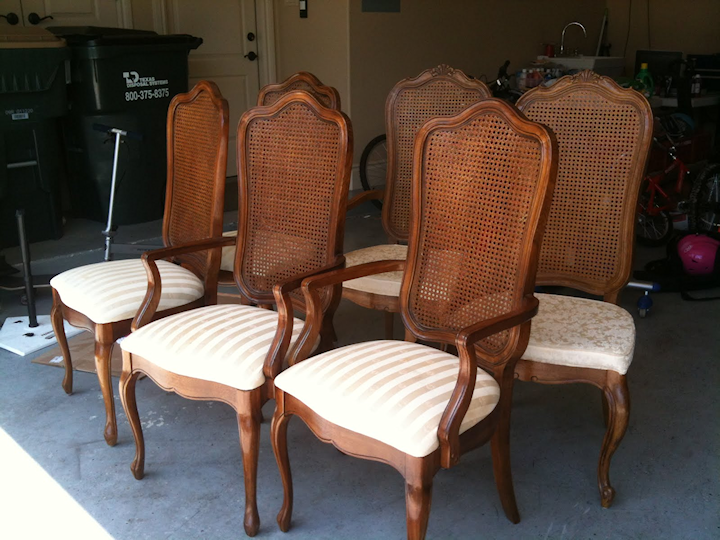 via La Tee Da Kids
And here they are after their makeover painted white with stained cane backs. I think that looks fantastic!
via La Tee Da Kids
I also came across this barrel cane chair makeover from Lilikoi Joy that kind of demonstrates what it would look like with the wood painted black and the cane stained dark brown. The wood on this chair isn't actually painted black. It's stained a really dark brown. But on my screen it looks almost black, so I think it's a close representation (at least to me) of what a black/brown combo might look like.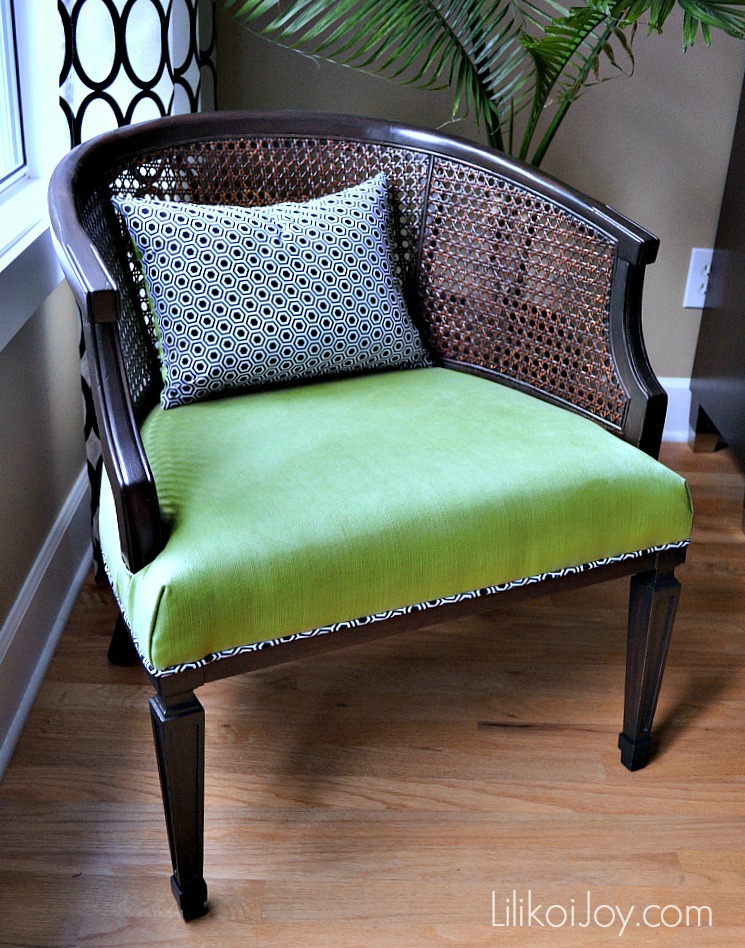 via Lilikoi Joy
I also came across this mid-century George Nelson chair that has the black wood, brown cane back, and green seat. I really don't like mid-century modern style furniture at all, but it still gives me an idea about the color combo on a chair.
via Live Auctioneers
To be quite honest, I waffle back and forth over whether I should paint my chairs black and upholster the seats in green, or paint them green and upholster the seats in black. I hesitate to paint them black because that's just so much black in that small room since I plan to have solid black curtains. But on the other hand, if I paint them green, they'll be right there next door to my ALL green kitchen, and that'll be a lot of green. So I'm really conflicted on that.
But either way, I do really like all of the examples I've found of the cane backs left stained and the wood parts only being painted. There's also the option to paint the wood parts green, and then paint or stain the caning black.
The second big decision I have to make is what to do with the arm chairs. From the beginning, I've wanted end arm chairs that are different from the side chairs. In my mind, I've pictured them looking like they're not even remotely related (i.e., not part of a set), and I've imagined them being fully upholstered. But that was before I got this set for a steal that came with two perfectly good arm chairs. And the idea of doing a makeover on these two armchairs appeals to me MUCH more than my original idea of turning those wingback chairs into end chairs since that would require much more work and much more modification to make them appropriate for dining room chairs. And even then, I've been thinking that they're actually too heavy to easily slide in and out from a dining table.
So I am pretty much 100% sure that I'll just stick with the arm chairs that came with the set, but I'm way less certain about what I want to do with them. I came across this makeover where the cane backs on the side chairs were left in place and painted, but the backs on the arm chairs were covered in fabric on front and back.
via Uniquely Yours Or Mine
That idea appeals to me simply because it would be an easy makeover. And right now, I like the idea of quick and easy because I'm ready to have some decorating projects finished in my dining room. But it's also quite a departure from what I have been envisioning all this time.
Closer to my vision would be this cane back dining chair makeover from Blesser House. The chairs started out looking like this…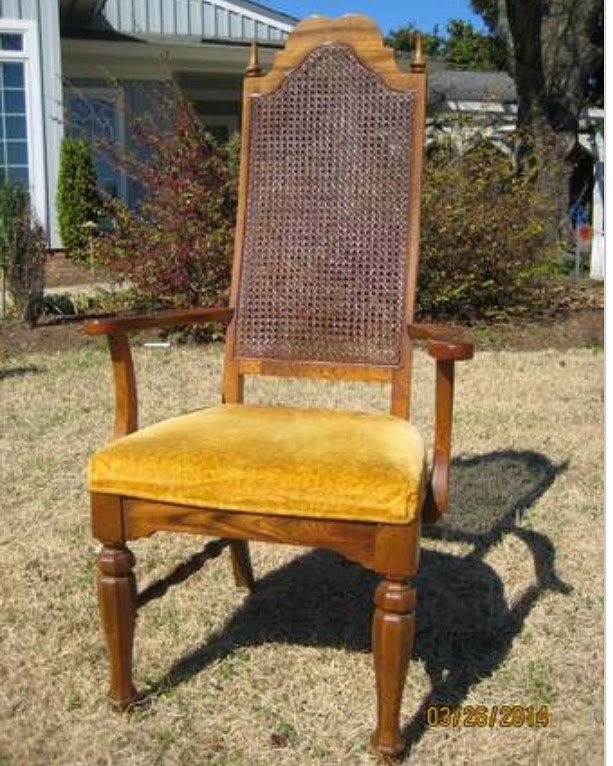 via Blesser House
But rather than just upholstering over the caning, they wrapped the entire back in fabric.
via Blesser House 
That idea is definitely closer to what I had envisioned for my own end chairs, and that would also be a somewhat easy makeover. However, I'm trying to devise in my head a way to upholster everything — the seats, the backs, AND the arms — so that the end chairs really don't look like they're even a part of the same set of chairs. All this time, I've envisioned something more along these lines of this end chair…
So if I now plan to use the arm chairs that came with the set, I will have to make some compromises. Compromises aren't always a bad thing, and aren't always something I regret in the end. It's just that now that I'm presented with a different set of circumstances, I need to come up with a way to use what I've got, but still get close to the vision I've had in my head all this time. It's a challenge, but I've never been one to shrink away from a challenge. 🙂
Addicted 2 Decorating is where I share my DIY and decorating journey as I remodel and decorate the 1948 fixer upper that my husband, Matt, and I bought in 2013. Matt has M.S. and is unable to do physical work, so I do the majority of the work on the house by myself. You can learn more about me here.
I hope you'll join me on my DIY and decorating journey! If you want to follow my projects and progress, you can subscribe below and have each new post delivered to your email inbox. That way you'll never miss a thing!