Change Of Plans – Black Table, Green Chairs
So here's how this came about. 🙂
On Friday, I had a farmhouse dining table with a stained top and green base, right?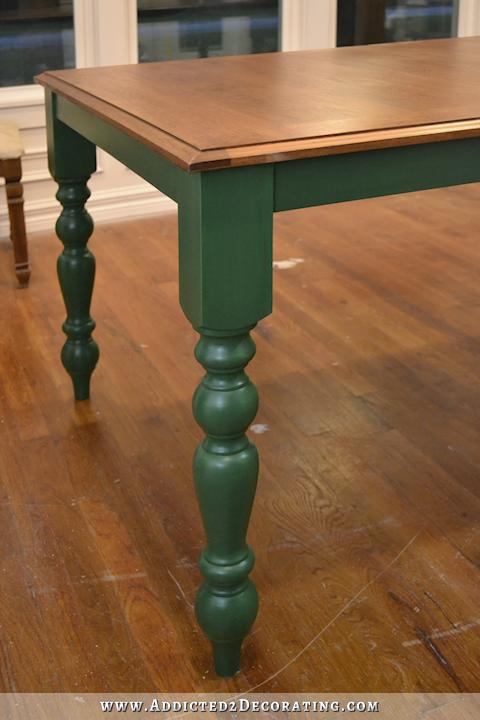 Right. I loved how that looked, but I decided it would only work if I used that table with dining chairs that were painted black and had the stained cane backs. I just didn't want solid black chairs.
So Friday morning, I got to work on one of the chairs. The cane backs on these chairs were looking pretty rough because the finish had been worn off of them in spots, so the finish was really blotchy. I figured I could fix it with new stain.
Wrong. I tried two different products — Restore-A-Finish, which is one of those products that says you don't have to strip anything and it'll make it look like new again, and Rust-Oleum stain. The Restore-A-Finish didn't work at all. I had a bit more success with the Rust-Oleum stain (I chose that because it's kind of the middle of the road between a penetrating stain and a gel stain), but after it dried, it still looked really splotchy. I'm sure I could have added several more coats to get everything a uniform color, but with more coats, the cane would have just gotten darker and darker — almost black — and that would defeat the purpose.
At that point, I basically had two options. The first option would be to completely strip the cane and then stain it. Well, I'm pretty dedicated to DIY, but the thought of completely stripping the cane backs on six chairs just seemed foolish to me. The other option, of course, was to paint them. And while I was working on the cane back, and failing to come up with a solution that actually worked and looked good, I got a delivery from UPS. It was the black and white striped fabric that I had ordered for my chairs when I had planned to paint them green.
So I decided to change directions. I gave the table a coat of black paint, and then started prepping my chairs for paint. Green paint.
The table still needs another coat of paint, but the chairs are completely painted. I used my Critter sprayer* to paint them (I can't imagine painting cane backs any other way), and it went pretty quickly.
Those chairs took quite a bit of prep work, though. Two of them were really wobbly, so I had to use lots of wood glue, screws, and clamps to get them sturdy again. And while I was at it, I went ahead and added all new screws through the inside corner braces on the other four side chairs just to make sure they would stay sturdy. Then I sanded all of the chairs by hand with 150-grit sandpaper, primed with oil-based Zinsser Cover Stain (sprayed with my Critter), sanded them again with 220-grit sandpaper, and then finished up with two coats of Sherwin Williams Derbyshire mixed in Behr satin finish paint.
I still have to reupholster the seats, but here's a peek of the fabric that I got.
I got it here, and it's a great fabric. I'm always concerned that the whites in fabric are going to look off-white or cream or even taupe in person, but this actually looks white. And the fabric was a great price at only $8.98/yard. It's also a great weight for dining chairs, pillows, draperies, etc. I wouldn't really use it to upholster a sofa, but for smaller items or items that won't get as much wear and tear, it's great!
And here's a look at everything along with the colorful watercolor fabric I'll be using in the two end chairs.
I'm hoping to get the side chairs upholstered today, and if I can get the second coat of paint on the table base, then I'll actually have the major dining room project finished! (Well, except for building and upholstering those end chairs.) The next biggest project will be draperies, and I'm still undecided on those. I just can't seem to land on an idea that really makes me excited, but maybe having a finished dining table and chairs will help me with that decision.
Addicted 2 Decorating is where I share my DIY and decorating journey as I remodel and decorate the 1948 fixer upper that my husband, Matt, and I bought in 2013. Matt has M.S. and is unable to do physical work, so I do the majority of the work on the house by myself. You can learn more about me here.