Cheap & Easy Curtain Panels Customized With Paint
The condo bedroom now has new curtain panels to go with the new headboard fabric, and I made these two panels for about $30. That's $15 per panel. Not too bad, right? Especially for curtain panels that look like they were custom made to go with the headboard. I don't think I could have done better had I shopped at WalMart!
These couldn't be easier to make. I started with six yards of drapery lining. I don't know the specific name of the lining I used, but it's very similar to blackout lining but lighter in weight. It has the fabric side and the rubbery side just like blackout lining, but it's about half the weight of blackout lining. I've always called it dim out lining, but I know that's not the actual name. Anyway, it costs $7.99 per yard, but of course, I bought it during a 50% off sale. I never, ever pay full retail price at JoAnn Fabrics.
I cut the pieces to the length I wanted, plus 12 inches. That left me with six inches for the top hem, and six inches for the bottom hem. I put a double 3-inch hem in the top, and another double 3-inch hem in the bottom. In other words, I folded the fabric up 3 inches, pinned it in place, and ironed the crease in. Then I folded it again 3 inches, pinned, ironed, and sewed it in place. I did that on the top and the bottom. I didn't even put a hem on the sides because this lining fabric doesn't fray or unravel along the selvage edges since it's backed by the rubbery stuff. And I didn't bother to do any type of blind hem stitch. I just sewed right through all of the layers off fabric. I made this as quick and easy as possible.
With the panels hemmed, I was ready to create my design. For this, I used paint. Just regular latex paint. I added paint conditioner (Floetrol) to the first paint color, but then skipped that step on the second paint color because I don't really think it's needed. It does make a slight different in the ease with which the paint spreads on the fabric with a brush, but the difference isn't enough to warrant purchasing paint conditioner if you don't already have some on hand.
I started by taping off a 2-inch band all the way around the panel, and I painted that navy blue.
Then I let that dry, removed the tape, and taped off the design for my second color. I used the paint that I used on the walls for this one.
With the second color painted on, I removed the tape and left the curtain to dry for a few hours.
One thing I love about painting on this type of drapery lining is that the paint doesn't bleed through to the back side. You can see the design on the back, just like you would on any type of printed fabric, but the back still has a nice, clean look to it.
I hung the panels with clip rings and a curtain rod that I already had on hand. So simple!
I think they turned out great, and they look really nice with the headboard. As soon as I get everything cleaned up and staged in here, I'll show a wide view with the curtain panels, closets, and headboard in place.
One thing about this fabric is that it's so lightweight that it's probably a good idea to use drapery weights at least at the bottom corners of the panels.
I'll probably go back and add some weights so that they hang straight (I had to do quite a bit of wrangling, and even had to turn off the ceiling fan to get decent pictures), but rather than buy drapery weights, I think I'll try Robin's homemade drapery weight idea that I came across on Pinterest last night. She used pennies glued to paper clips and clipped to the bottom corners inside the hems. I already have those things on hand, so there's no need to spend extra money on weights if I don't have to!
For as little money and time as I spent on these, I think they turned out great! And I hung them high and wide so that (1) they wouldn't block out any light, and (2) they would give the illusion of a much bigger window. Before we actually show the condo to any prospective buyers, I'll open the shades all the way to let as much light in as possible.
What I love about painted curtains is that you can get a custom look for very little money. And as far as the design, the options are endless. You can use stencils and/or painters tape to make just about any design your mind can come up with.
My main tip is to just be sure that you burnish the tape down with your fingers right before you paint. I would work on about two feet at a time, pressing the tape down really well, and then painting that area, then pressing the next two feet down really well, and painting that area. Other than that, it's really pretty self-explanatory, and incredibly easy. Just a brush, painters tape, and latex paint are all you need. And because it uses so little paint, I think the sample pots of paint would be plenty for most designs if you don't already have leftover paint on hand that you could use.
Painted curtains are very durable. I painted these curtains for the hallway/laundry room in the condo two-and-a-half years ago…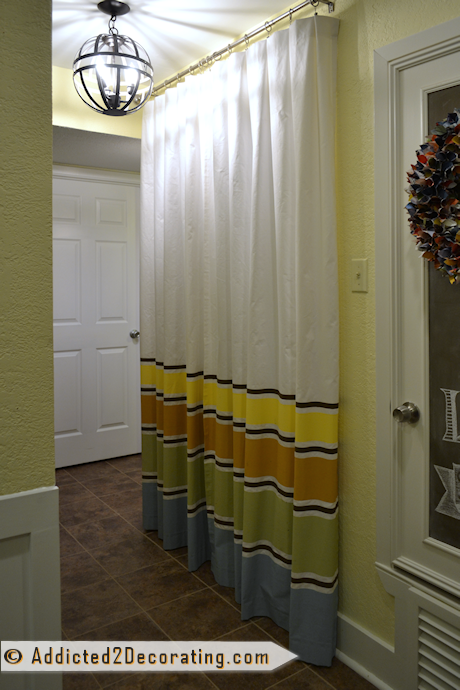 …and the paint still looks the same today. The curtains need to be washed, so I'll be washing them by hand and hanging them to dry. We'll see how that turns out. I definitely wouldn't dry them in a dryer, though, because the paint could crack just like it does when you get paint on a t-shirt and then wash and dry it.
I'm almost finished with this room. As you can see from the pictures above, I still have to buy some outlet covers and install the quarter round on the baseboards. I also still have one wall that needs wallpaper removal and paint. And yes…some of the tile still needs to be grouted. 🙂
I'm actually really excited to see this room finished, even if it won't look like I had envisioned it all these years. It just might turn out better!
Addicted 2 Decorating is where I share my DIY and decorating journey as I remodel and decorate the 1948 fixer upper that my husband, Matt, and I bought in 2013. Matt has M.S. and is unable to do physical work, so I do the majority of the work on the house by myself. You can learn more about me here.