Last Updated on June 29, 2013 by Kristi Linauer
The wood shim sunburst mirror is finished!! And I'm so excited about how it turned out!
When I left off yesterday, it looked something like this…
Because I changed the design, I didn't have nearly enough shims to make the complete circle.  So, I made another trip to Home Depot to pick up more packages of shims so that I could complete the circle.  In all, I used 17 packages of shims, and the complete circle required 33 sections of 6 shims each.
Next, I used a wood wreath form that I found at Michael's, and used wood glue (NOT hot glue) to adhere it to the back of the sunburst.  I placed heavy objects on it and left it to dry for about four hours. (Nevermind the stained part.  That was from the previous design that I didn't like.)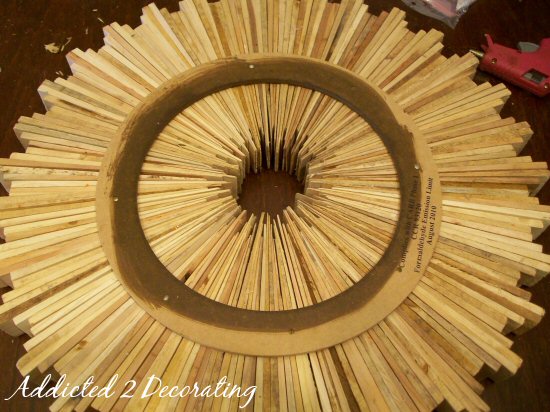 When the wood glue was fully dry, I turned the sunburst over, and adhered a round mirror in the middle, and then used my glue gun to attach 1″ pieces of shim (that I cut with my miter saw) around the edge of the mirror.
And then I added a second row of 1″ pieces to cover the edge of the mirror.
And with that, the construction was finished!
I didn't want to stain the wood, but I did want to seal it.  I only had non-yellowing polyurethane, but I actually did want the finish to add a warmth to the wood, so I opted to use Waterlox that I had left over from my kitchen butcherblock countertops.  You can see how the portion on the left has a warm look to it.
And after two coats of Waterlox, it was finished!  Here's the final result.
Now really…doesn't that look like something you'd see in a designer catalog?!  I don't think anyone would ever assume that it's cheap wood shims!!
If you decide to try this project, here's my advice:  Don't weed through the shims and pick out the "ugly" ones.  Use all of them!!  I had some that were VERY rough looking, but it's all of the variation that gives this piece such a unique look.  I even had a couple of pieces that still had bark on them!  I used 'em all.
Edit: I've had several people ask how heavy this mirror is. I don't have a way to weigh it, but it feels very comparable to my eight pound weight. I should also mention that the finished diameter is about 22 inches.
Pssstt…Did you miss Part 1 of this DIY? If so, click here!
Addicted 2 Decorating is where I share my DIY and decorating journey as I remodel and decorate the 1948 fixer upper that my husband, Matt, and I bought in 2013. Matt has M.S. and is unable to do physical work, so I do the majority of the work on the house by myself. You can learn more about me here.
I hope you'll join me on my DIY and decorating journey! If you want to follow my projects and progress, you can subscribe below and have each new post delivered to your email inbox. That way you'll never miss a thing!