DIY Geometric Wall Design – Part 1
I've made some progress on my bathroom walls, and I wanted to show y'all the design I'm going with. I said I wanted something geometric and/or linear, and with this design I get both of those things. It's all done with painters tape, so it's a pretty time-consuming process. Thank goodness I'm doing it in a tiny little bathroom! Here's my progress so far…
Now keep in mind that that's painters tape. The stark dark blue and white has a dizzying effect, but the finished wall will have less contrast.
I started out trying to do this design that I found on HGTV.com. I spent about three hours and an entire roll of painters tape on that design before realizing that their instructions are junk, and the design doesn't work as the instructions are written. Needless to say, I wasn't amused.
So I had to start over and come up with my own design. I started by marking off 16-inch squares on my wall using a pencil, framers square and level.
Obviously, I enhanced the lines in my photo editing software because my pencil marks didn't show up in the pictures. 🙂
Then using those squares as a guide, I used painters tape to mark off diagonal lines going in alternating directions to create large squares on the diagonal.
And then the fun part started. 🙂
I created a series of concentric squares using the painters tape. I simply used a piece of painters tape as a spacer between each row of tape.
And then I trimmed the corners using a metal straight edge and a razor blade. You can create different looks depending on where you overlap and trim the tape. Initially, I started with this design of four concentric squares with a little Greek key-inspired square spiral in the center.
Again, that center part is nothing but concentric squares that create a spiral by extending some of the pieces of tape, and cutting the pieces strategically so that they turn into a spiral.
The design still wasn't exactly what I wanted, so I tweaked it a bit more. I added a few extensions, cut in a few other areas, and ended up with one big square spiral.
That's what I decided to go with at that moment, so I moved on to other squares, alternating the direction of each row.
And my final tweak was to add one more extension on the outer square so that it wasn't a continuous square, but instead it formed a complete square spiral.
It finally seemed complete, so that's the design I went with on the rest of the squares.
Once I finally got the design details worked out, the rest of the squares went much faster. It's still a slow process, but I occasionally love a slow and tedious project. These types of projects are perfect for turning on a good podcast and getting lost in an intriguing story.
So this is how far I got….
You'll notice that I didn't go all the way to the floor, and that's because I do plan on doing a solid wainscoting on the bottom. That's not really a design decision I made based on a look I wanted, but more a decision based on necessity. Because of the type of toilet that was needed in this bathroom (i.e., an area where plumbing had to go up into the attic instead of down below the floor), there's a big component of the toilet that sits just behind the wall, and there has to be an access panel cut so that it can be serviced if and when needed. So wainscoting is the only way I could think of that an access panel could be disguised.
As you know, I've been planning on using lots of color in this bathroom. But as the design started coming together, and I realized how busy it could potentially be, I started having second thoughts about color. And then last night, I came across this bathroom…
Isn't that pretty? I love the gray and white walls (similar to the colors on my music room walls) with the stained wood vanity. So pretty!
So at this point, I'm flexible on the colors. I do love color, and lots of it, but I don't want to use color just for the sake of saying I've used color. Does that make sense? I mean, in the end, I'm less concerned about the bathroom being colorful than I am about the bathroom being pretty and pleasing to the eye.
Hopefully by Monday I'll have some color on the walls, and we'll see if I made the right decision.
Update:
My bathroom walls are finished! Here's how they turned out…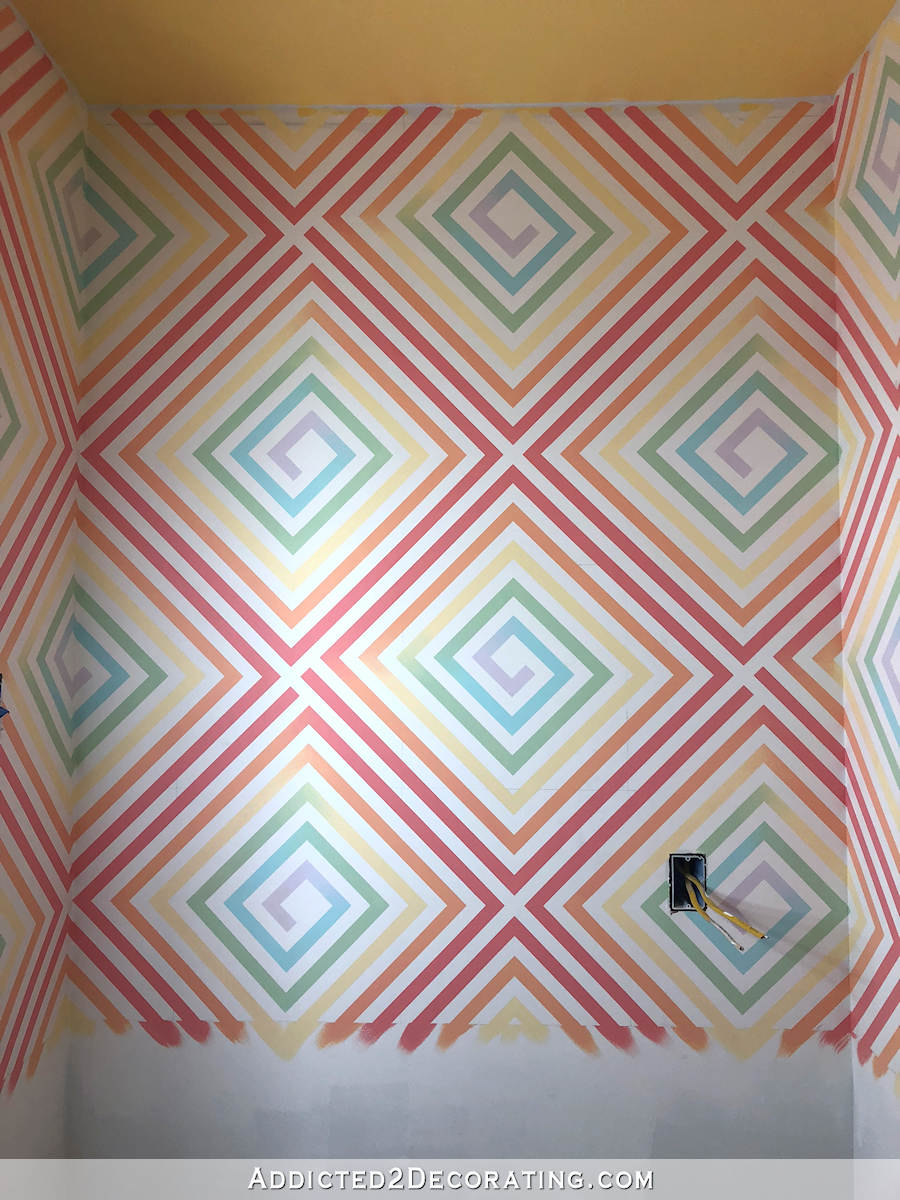 You can find the final post about this project here…
Or you can find a video tutorial here…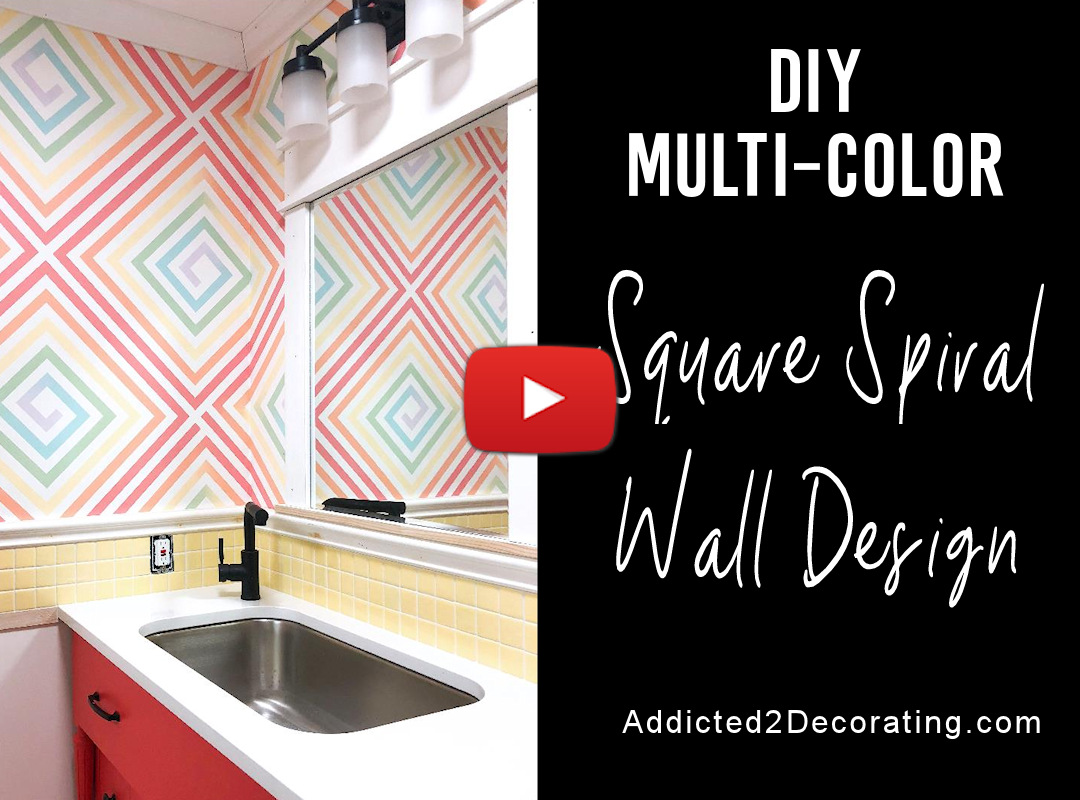 Addicted 2 Decorating is where I share my DIY and decorating journey as I remodel and decorate the 1948 fixer upper that my husband, Matt, and I bought in 2013. Matt has M.S. and is unable to do physical work, so I do the majority of the work on the house by myself. You can learn more about me here.