DIY Geometric Ombre Square Spiral Wall Design – Finished!
Y'all, the painted design on my bathroom walls is finished! Here's how it turned out…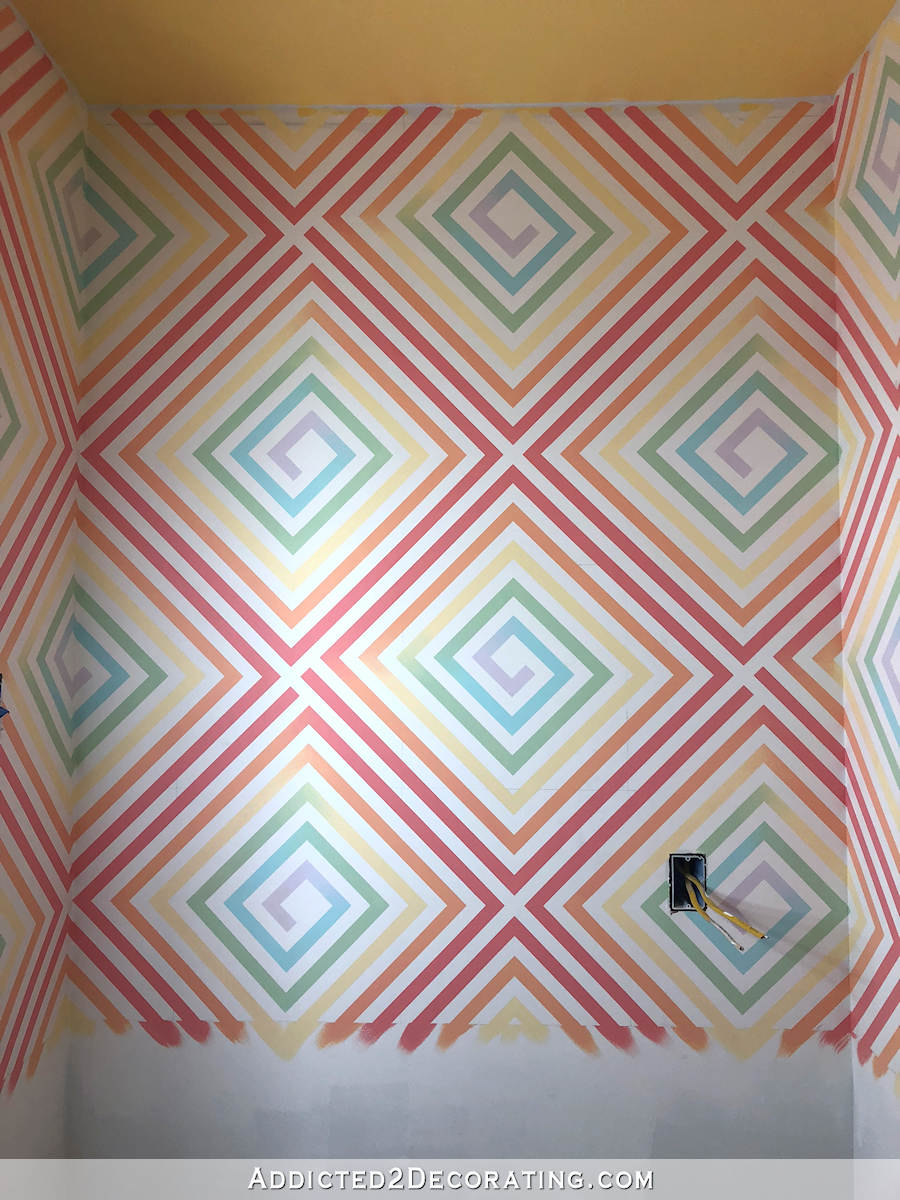 If you missed the first part of this project, you can find it here…
This design started with lots and lots of painters tape — four rolls, to be exact.
After seeing how busy and dizzying that taped off design looked with the stark contrast between the dark blue and white, I realized that the final design would have to have way less contrast. So I chose not to use the original three colors that I had purchased as they were out of the cans.
I came very close to using white and light gray, but after realizing that I not only have that combo on my music room walls, but also on the hallway walls, I decided against it.
Plus, this is a studio! I can do fun things in here that I might not have the courage to do in the main areas of my house. And when I thought about it, the last thing I wanted in my studio was gray and white. I wanted COLOR!
So I went back to the original three quarts of paint I had purchased for the bathroom, but instead of using them full strength, I mixed each one with white in a 1 part color, 2 parts white ratio. For the green, I used the green that is on the back entry walls mixed about 1:1 with white. And then for the blue and purple, I used the same white (Behr Polar Bear) and mixed in a little teal and purple acrylic craft paint to get the colors I wanted.
I had already painted the ceiling with the full-strength yellow paint, so I'm not sure yet if I'll go back and paint it with the softer yellow or just leave it as it is.
I do have one very small area (you'll see it on the end of the purple in the spiral above the window in the picture below) where the tape took the paint off the wall, so it will need repair.
And you might notice some pencil marks here and there. I use Mr. Clean Magic Erasers to remove the pencil marks (don't ever use pencil erasers on your walls!). I purchased one box, which contains six Magic Erasers, and I used every single one of those until they completely disintegrated, and still didn't get all of the pencil marks removed. So I'll get the rest of them removed today.
So each spiral consists of six different colors that create an ombre effect where each color fades into the next color.
To achieve that look, I just painted the first color up to the corner, and then started at that corner with the next color, making sure that they didn't touch so that the colors wouldn't get mixed. Then I used a piece of a kitchen sponge (I cut a sponge into six pieces) to blend the colors into each other.
I originally tried a sea sponge to blend, but it didn't work at all. The air holes in a sea sponge are too big for such fine blending, but a kitchen sponge worked perfectly.
Each spiral took two coats of paint. The blending on the first coat didn't look great, but the second coat was much easier to achieve a soft gradient between the colors.
I wanted to do a video showing the process, but with me, plus two ladders, plus a work light on a tripod all in a tiny little bathroom, there was no way I could get another tripod for my camera in there. But I do have a scrap piece of drywall that I could use to demonstrate a spiral from start (i.e., how to tape it off) to finish. So I'll see if I can get that done soon.
So that's one thing done. Moving on to the next item. I hope to get the flooring installed today, and then I can move on to wainscoting and door casings.
EDIT:
Some of you have noticed a discrepancy in the second photo in this post showing the taped design and the finished painted design. I had originally left a center rectangle untaped, which resulted in a painted rectangle that looked like this…
That center painted rectangle bothered me, so on the spirals that had already been painted, I added three strips of tape and painted the center part white. On the ones that hadn't been painted yet, I added more tape to the design so to eliminate the center painted rectangle. You can see the modified taped design here…
Update:
If you want to see a video tutorial of this wall design, you can see it here…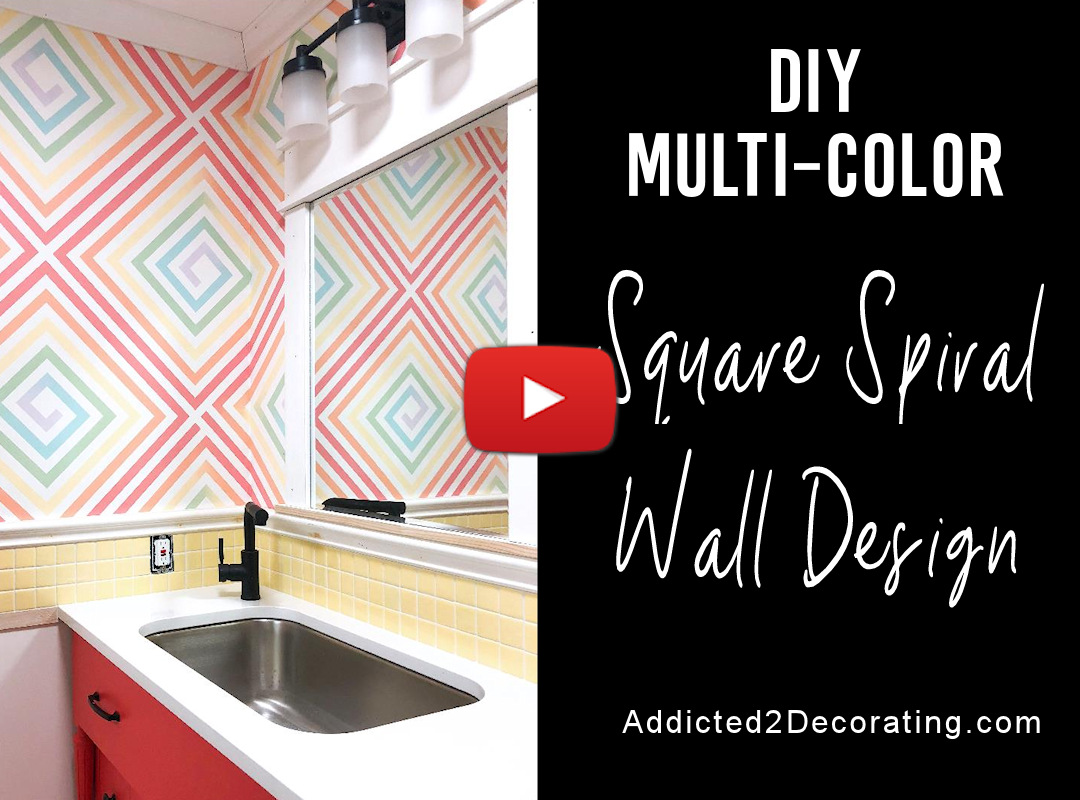 Addicted 2 Decorating is where I share my DIY and decorating journey as I remodel and decorate the 1948 fixer upper that my husband, Matt, and I bought in 2013. Matt has M.S. and is unable to do physical work, so I do the majority of the work on the house by myself. You can learn more about me here.