So, the world is a bit different, huh? To say that the current situation has slowed progress on my mom's kitchen would be an understatement. I think we've all been a bit pre-occupied lately. But we have made some progress, and it's so close to being finished! There are still some pretty big things to do, but we're definitely on the downhill slide towards the goal. So I thought I'd share our progress so far!
We got 20 of the cabinet doors finished and installed, along with the new door pulls. It looks so different now! Here's the window/sink wall…
We don't actually have the walls painted yet, but my mom did get some "cutting in" done a couple of days ago, so we can actually see what the new wall color will look like with the new cabinet color.
The difference is amazing to me! Here's a reminder of how this side of the kitchen looked originally…
We removed the scalloped canopy around the window, made some very simple* new cabinet doors, added some new trim just above the cabinets, filled and sanded smooth the routed lines in the paneling above the cabinets, and took the paint color all the way up to the crown molding. You'll notice that we also removed the dishwasher and replace that space with a cabinet where my mom can store her KitchenAid mixer on a Rev-a-Shelf mixer lift.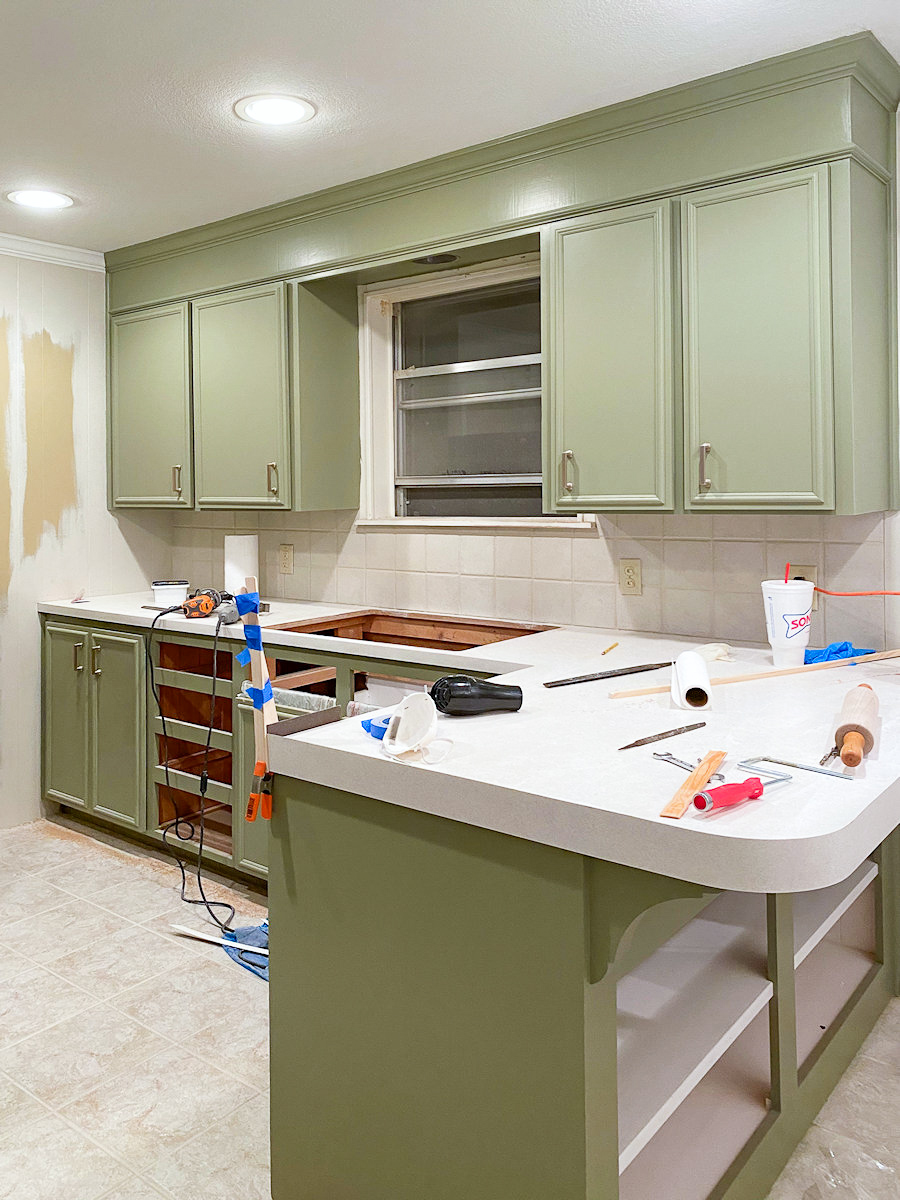 We're still on the lookout for a pretty light to go above the sink. We also need to do some painting around the window, add some trim below the window sill, and find a shade for the window.
As for the other side of the kitchen, here's a reminder of where it started…
And here's how it looks with the changes so far…
It's come a long way, right?! 😀
So right now, the big project we're focusing on is installing the new countertop laminate. And after one smart person asked a few posts ago if it's possible to install new laminate over old laminate, I did a little research. The thought of that was so exciting to me because it would make the project SO much easier, faster, and less expensive.
Well, sure enough. It's possible! So that's exactly what we're doing. Yes, it takes some prep work, and I'll do a post sharing all the details when we're finished. We started working on it yesterday, and we got all of the pieces cut out (that was the hardest part of the whole project) and then started installing the edge pieces on the sink wall and peninsula. We got one piece installed and trimmed, and then got the second piece installed but not trimmed yet. Hopefully we can get this countertop finished today.
And again, I'll share all of the laminate-over-laminate countertop details with you in a future post.
Anyway, I still have several drawers and pull-out shelves to build, but it's getting there! It's a bit disappointing, because the whole reason we started this in the first place was because my mom was going to host a party for my grandmother's 108th birthday. Now it's uncertain if we'll even be able to have that party at the end of April. But either way, we're knee-deep in this project, and there's no stopping now! 😀
Addicted 2 Decorating is where I share my DIY and decorating journey as I remodel and decorate the 1948 fixer upper that my husband, Matt, and I bought in 2013. Matt has M.S. and is unable to do physical work, so I do the majority of the work on the house by myself. You can learn more about me here.
I hope you'll join me on my DIY and decorating journey! If you want to follow my projects and progress, you can subscribe below and have each new post delivered to your email inbox. That way you'll never miss a thing!