Refinishing Wood Furniture With…Mayonnaise? Yes!
Update 4-21-20: Matt and I are fine. Our cats and dog are fine. My mom is fine. My family is fine. 🙂 Hopefully I'll be back to blogging soon.
Y'all, have you ever heard of this? Refinishing wood furniture with mayonnaise?! I'm being totally serious here. You'll notice that today's date is April 6th, so this isn't an April Fool's joke.
Yesterday when I walked into my mom's house (because we're still working on her kitchen!!), she said, "Look at my dining table!"
I glanced over, and noticed that for the first time since we started her kitchen makeover, the table was clear and usable. It wasn't piled with dishes, bakeware, spices, etc., from the cabinets.
I said, "Oh, wow! You have a usable table now!"
But that wasn't what she was trying to show me. What she wanted me to notice was that she had "refinished" her table. Several years ago, she had her dining table refinished, and it looked gorgeous when she got it back. But over the years, the top had been getting little chips in the finish. They were small, but these chips and dings were covering the surface of the table.
Can you see all of these white-ish marks?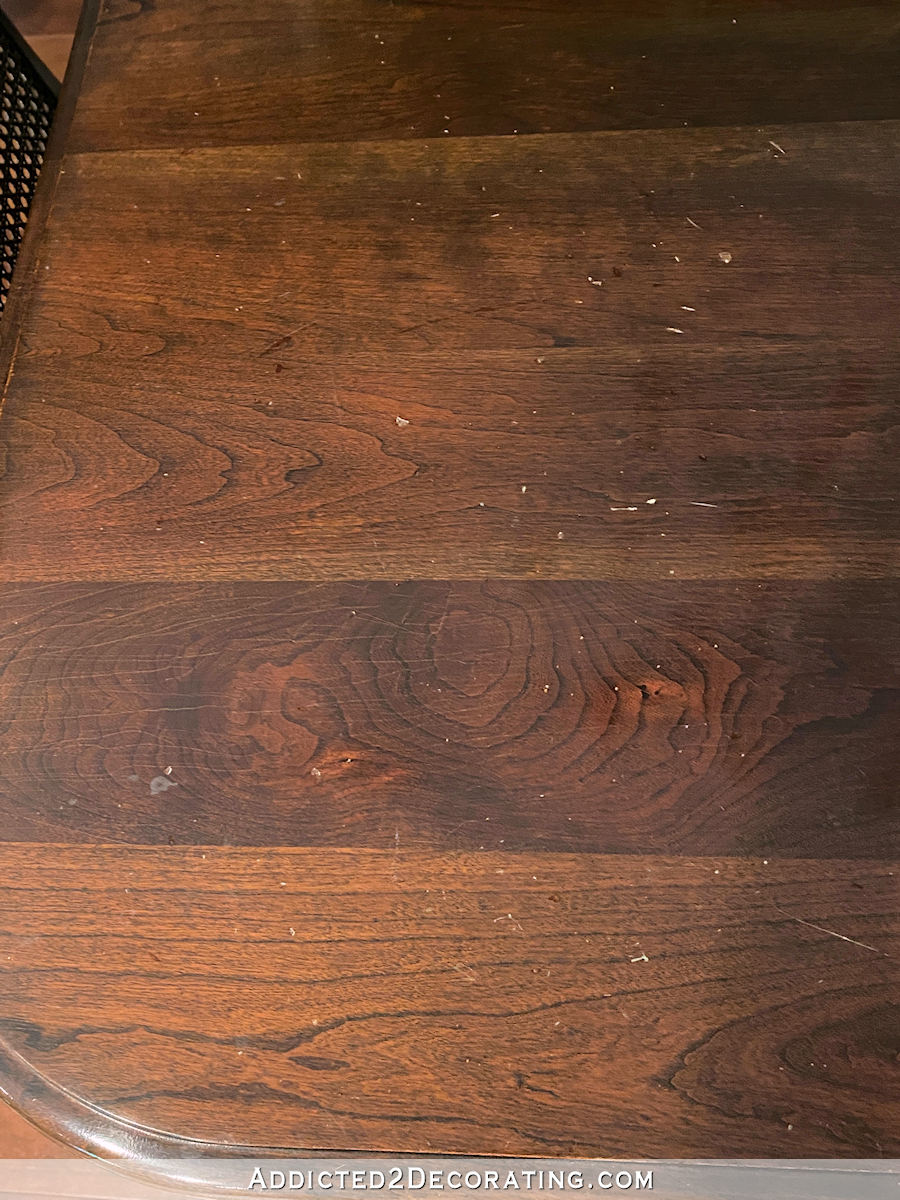 One day a couple of weeks ago, I thought this was sawdust covering the table that I had carelessly brought in with the plywood I had cut for the new cabinet doors. I was shocked when I tried to brush them off, and they didn't move. These marks were all over the table top.
My mom had gotten so frustrated with it that she had pretty much decided she was going to get rid of this table and get a new one. She had tried other products to cover all of the little dings and scratches, like Old English Scratch Remover and those little stain pencils that you can purchase in several colors to cover scratches in hardwood flooring. Nothing she tried worked.
So this past weekend, she remembered hearing about using mayonnaise to cover scratches in wood furniture, and she gave it a try.
Now just so we're clear, you don't just simply wipe mayo over the surface and magically make the scratches and dings disappear. She said that she actually had to put some elbow grease into this, and it took a while. But look at these results!
Can you believe that was done with mayonnaise?! Just plain ole mayo that you probably have in your refrigerator right now!
I couldn't believe the difference. In person, it almost looks like a newly refinished table top.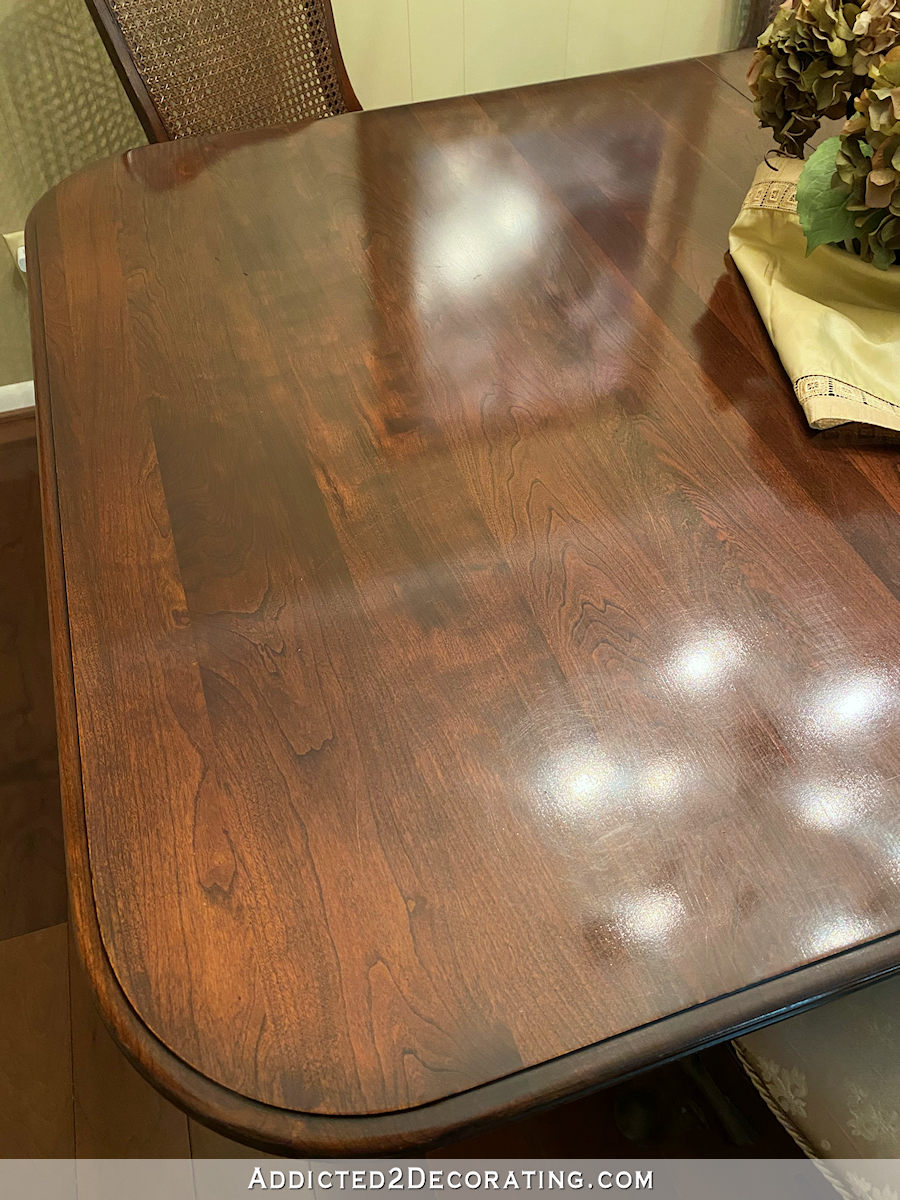 Seriously, have any of you ever heard of this? I don't understand how this could even work, and yet, I see the results with my own eyes.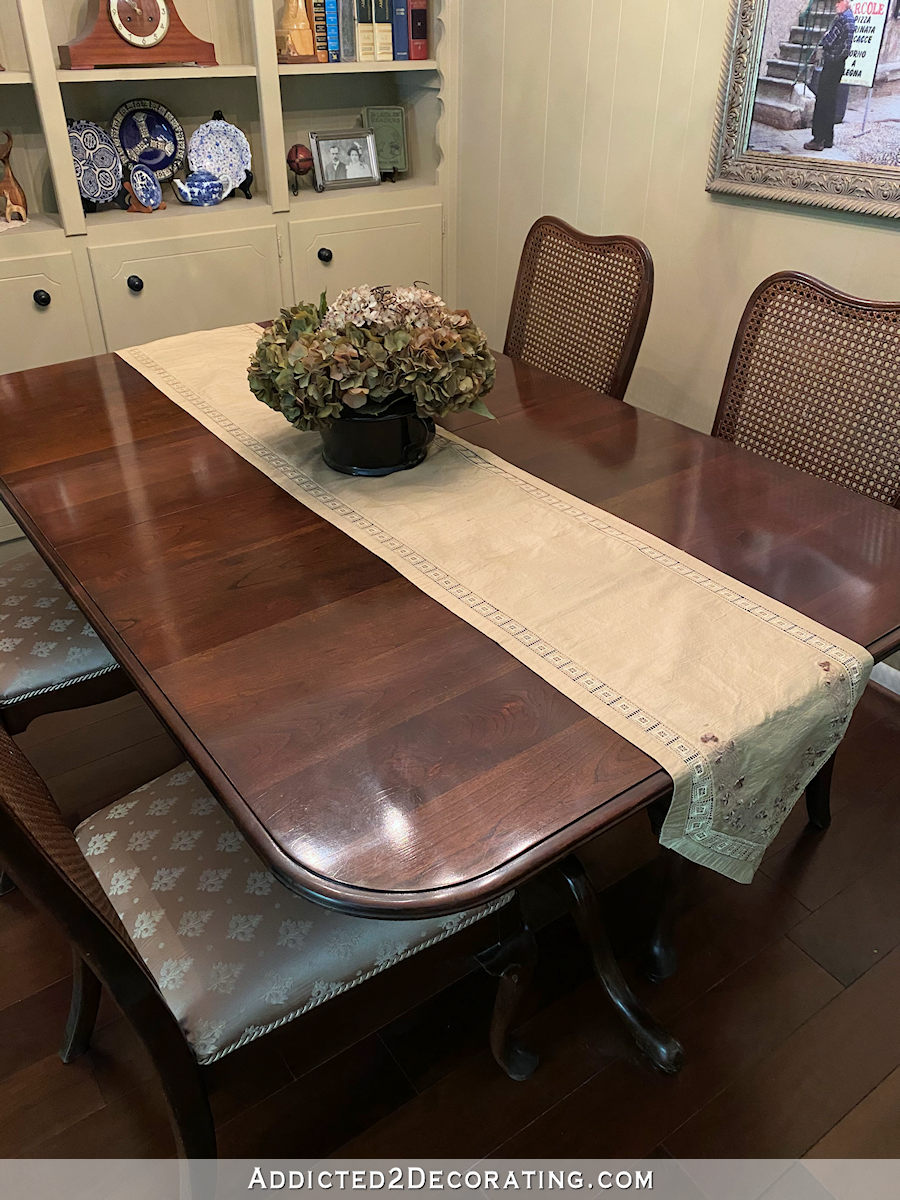 It worked so well on her dining table that she decided to use it on a side table in her family room that had gotten badly scratched and dinged. Here's how it looked before the mayo makeover…
And here it is after the mayo makeover…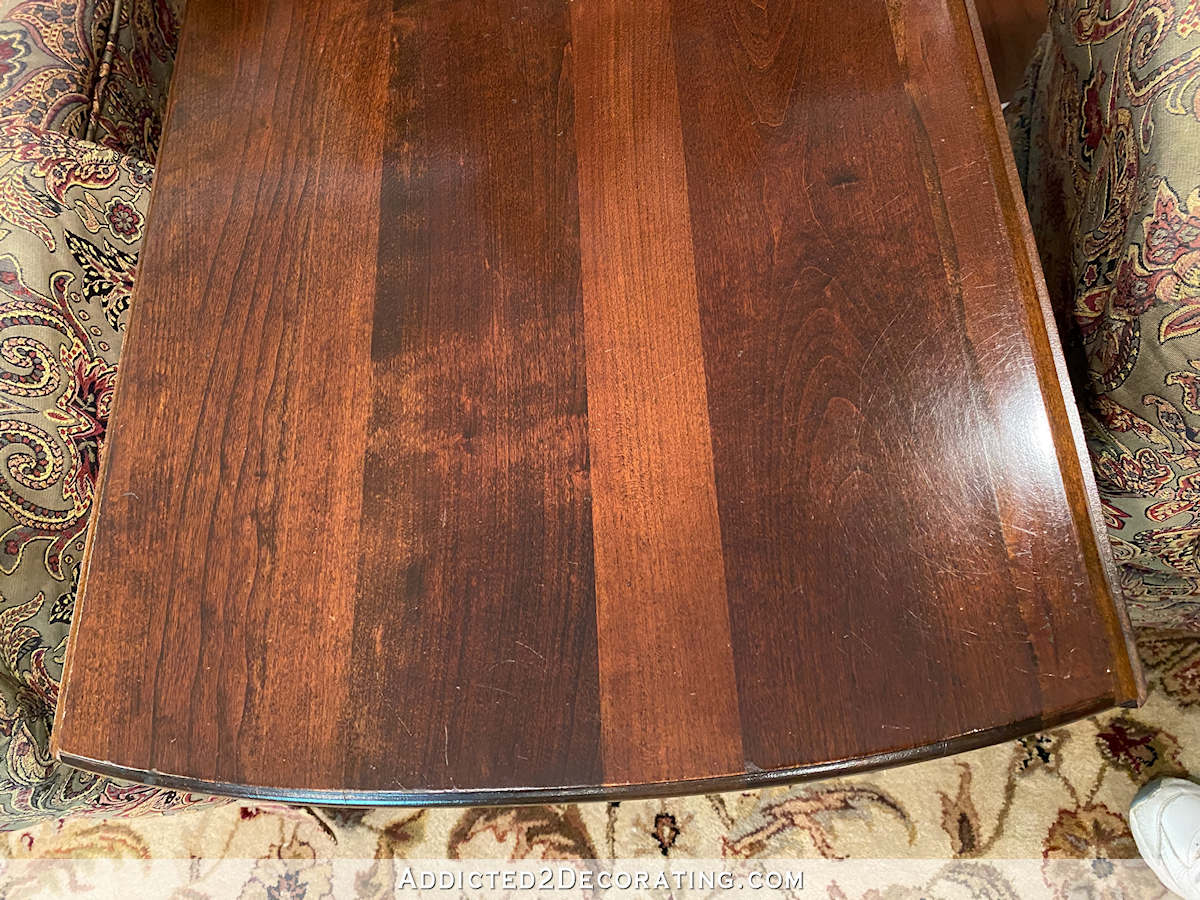 You can see that it's not perfect. You can only remove all of the scratch marks by doing some actual sanding. But for a relatively easy fix with some mayonnaise, a rag, and some elbow grease, this is a remarkable outcome!
So…any chemists out there who want to explain to us how this works? 😀
Addicted 2 Decorating is where I share my DIY and decorating journey as I remodel and decorate the 1948 fixer upper that my husband, Matt, and I bought in 2013. Matt has M.S. and is unable to do physical work, so I do the majority of the work on the house by myself. You can learn more about me here.