DIY Pocket Door Bookcases – Finished!
I can now check off a third major project from my music room "things to do" list because I've finally finished the pocket door bookcases! I finished painting them late last night, and since things in my house seem to take so long to dry lately, I'll probably wait a while to put anything on them. But here are my finished empty bookcases.
I used the same Behr Polar Bear paint color on them that I use on all of my trim.
Now if you're new around here, and wondering why I'm calling these pocket door bookcases, it's because those doors are actually installed using barn door hardware, like this…
And then I built the bookcases and the header above so that it stands away from the wall about four inches — just enough for the doors to slide behind the bookcases when opened. So now, those doors are basically pocket doors.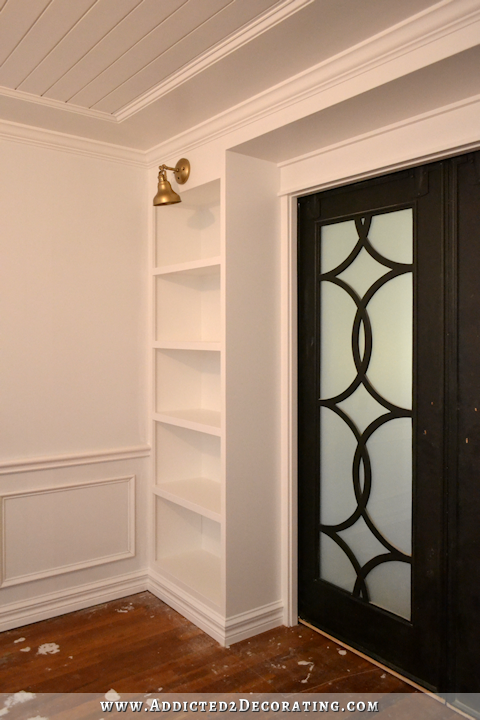 I love bookcases with decorative lighting attached to the outside (as opposed to utilitarian lighting inside each shelf), but I had a heck of a time finding something that I liked, and that was within the price range I wanted to spend. I'm not generally a big fan of the picture lighting style of lights, but that's what I originally looked for. The problem is that every time I found one that I actually liked, it was way out of my target price range. This picture light from Circa Lighting was my absolute favorite…
But that light was just under $300, and I needed two of them. That wasn't gonna happen. But after seeing that light, all of the picture lights that were within my target price range looked cheap and ugly to me. In my opinion, there's just no budget option that comes even close to that gorgeous picture light.
So I abandoned that idea, and looked for sconces. Again, all of the ones that I really liked were very expensive. But then I came across this single light wall sconce when I was in Lowe's, and I decided I could work with it.
It was $35, and what I really liked was that the shade can swivel back and forth just a bit, so the light doesn't have to shine straight down. Since this was going on a bookcase, I liked the idea of the light shining back towards the bookcase just a bit.
So I used some 150-grit sandpaper and sanded everything down so that it wasn't quite so smooth, and then I gave it several coats of Antique Gold paint. I got this at Michael's, and the color is identical to the antique brass sconces that I have in the kitchen.
You have to be VERY careful when using this spray paint because it's very thin, and it runs easier than other spray paints I've used. And when it runs, it's very ugly and noticeable (much more so than with most spray paints). The first time I painted the shades, they both had runs on them, even though I thought I was being careful. So after sanding them down, I tried again and I did many really, really thin layers, and it worked perfectly. After it dried, it was so close to my kitchen sconces, but the ones in my kitchen looked more like lacquered brass, so I added a couple of coats of this clear spray.
It was perfect!
One thing you might notice is that the base has a hole in it at the bottom. That's because this sconce has an optional pull chain. Obviously I don't want to use the pull chain here, so I removed them, but then I completely forgot to paint the little hole covers. So as soon as I get those painted and clear coated, those holes will be filled.
And after I installed them, I realized that I didn't have any extra light bulbs. So I'll have to show you in a future post how they look with the lights turns on.
I'm really proud of how these bookcases turned out, and how the doors actually look like pocket doors. And I think they really help this room to look like more than just a pass through to get to other rooms. It actually looks like it has a purpose now!
If you want more info on how I built these you can check out these posts:
Addicted 2 Decorating is where I share my DIY and decorating journey as I remodel and decorate the 1948 fixer upper that my husband, Matt, and I bought in 2013. Matt has M.S. and is unable to do physical work, so I do the majority of the work on the house by myself. You can learn more about me here.