DIY Fireplace — FINISHED!
I was beginning to think I'd never be able to say this, but the fireplace is finished!  I finished the final bit of painting at 12:18 this morning.  :~D  (Unfortunately, I wasn't able to finish up the trim on the wall, but I'll get to it.)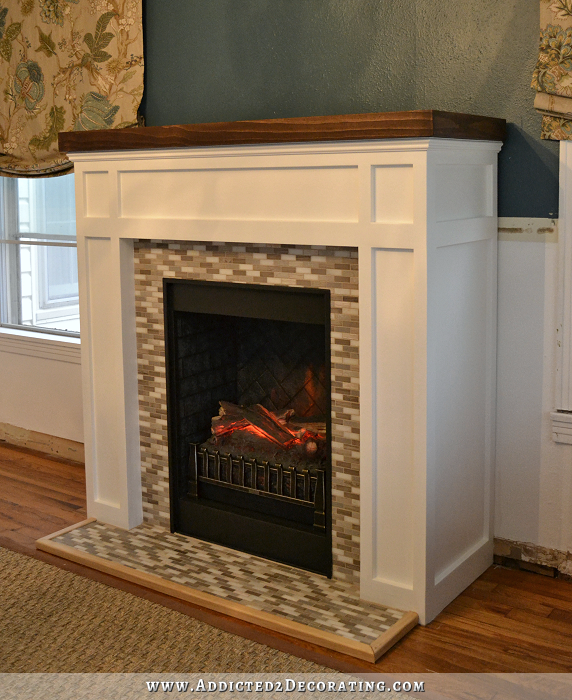 Now I feel like every big "It's finished!" post I do comes with a few "well, except for…" items, and this project is no exception.  I still need to polyurethane the mantel, but I thought it was silly to wait another day just for polyurethane before showing y'all the (almost) finished fireplace.
Also, the trim around the hearth needs some work.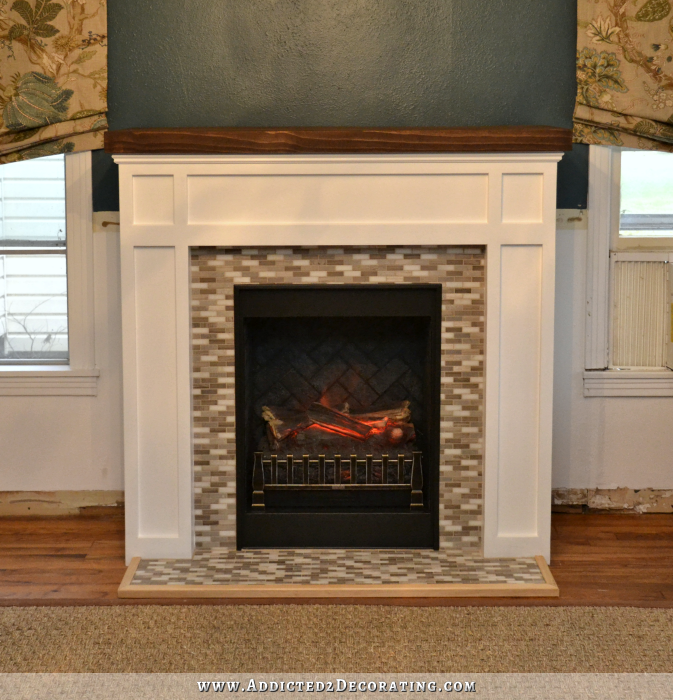 Almost every picture I found of a hearth on hardwood floors had trim around it that matched the hardwood floors.  (Of course, almost 100% of them also had the tile inset into the hardwood floors, but there was no way I was about to cut out my hardwood floors.  I'm not that brave.  So having it raised and adding some trim will have to do.)
Anyway,  I have no idea why I thought I could add some Waterlox (the product I used on my floors) to pine trim and have it come out the same color as my red oak floors.  Obviously the primer, paint and Waterlox fumes had taken their toll.  😀  So I'll have to play around with some stain/Waterlox combos until I find just the right combo to match my hardwood floors so that it'll blend in rather than sticking out like a sore thumb.
But other than those two things, it's officially finished!!
So let me back up just a bit and show you the final steps on this project.
In my last post, the fireplace looked like this…
Obviously, I finished out the main parts by staining the mantel (which I attached to the fireplace with wood glue), and then priming and painting the fireplace.  The trim around the fire box got two coats of black (Black Suede by Behr), and the fireplace got two coats of Polar Bear by Behr, which is the same color I use on my trim, and the same color that I'll use on the wainscoting in the (hopefully) near future.
So the last major element was the hearth.  I started by cutting out a piece of 1/2-inch MDF to fit around the fireplace.
And then I used the same Simple Mat product to adhere the tiles to the MDF.
Remember how I told you that the grout made a huge difference in the color?  You can see that more clearly here…
See how the grouted tiles look way more brown, while the ungrouted tiles on the hearth look so much more gray?  I can't believe the difference, but I'm so glad it turned brown like that!
After getting all of the MDF covered with tiles, and then grouting it, I cut some of this outside corner trim…
…which was the same thing that I used to trim the tiles around the fire box, but this trim was quite a bit bigger.  And I used it to cover the edges of the cut tiles.
Right now, they're still just sitting there.  I'll probably attach them with construction adhesive, but I want to wait until I get the stain color right before attaching them.
So why did I make a hearth when my inspiration fireplace didn't have one?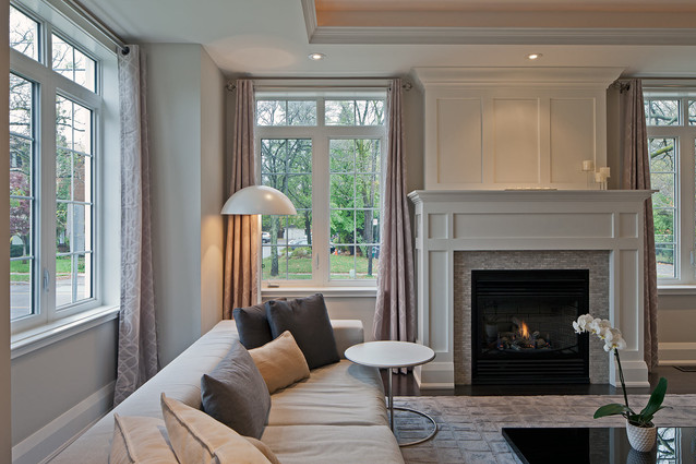 Contemporary Living Room by Toronto Photographers Peter A. Sellar – Architectural Photographer
The main reason is because that fireplace looks like a glass-front gas insert to me, which is why it has vents on it where the hot air blows through.  That's the kind of fireplace we had in our first house in Oregon, and it had carpet right up to the front of the fireplace.  I hated that fireplace.  Having grown up with a real wood-burning fireplace, that one always looked so fake to me.
So since I built mine to have an open front like a real wood-burning fireplace, I decided that it needed a hearth for a more authentic look.  🙂  And that's why I made a hearth.
Now just in case you missed any of the posts/steps of this project, you can find them here:
Part 1 – Building the main fireplace structure
Part 2 – Building the fire box insert
Part 3 – Creating faux bricks with drywall compound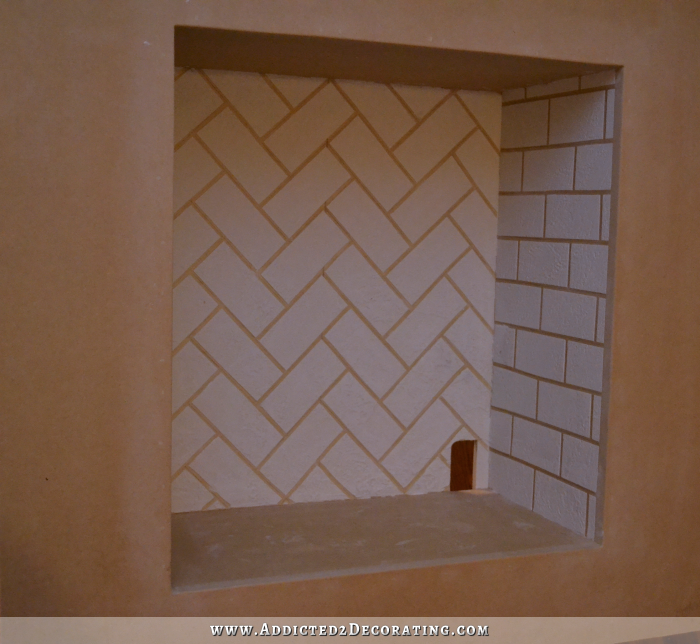 Part 4 – Painting the "bricks" and installing the mosaic tile surround
Part 5 – Adding trim, grouting the tiles, and building the mantel
And Part 6 – Building the hearth, and the big "taaa daaaa!!"  (in this post, obviously) 🙂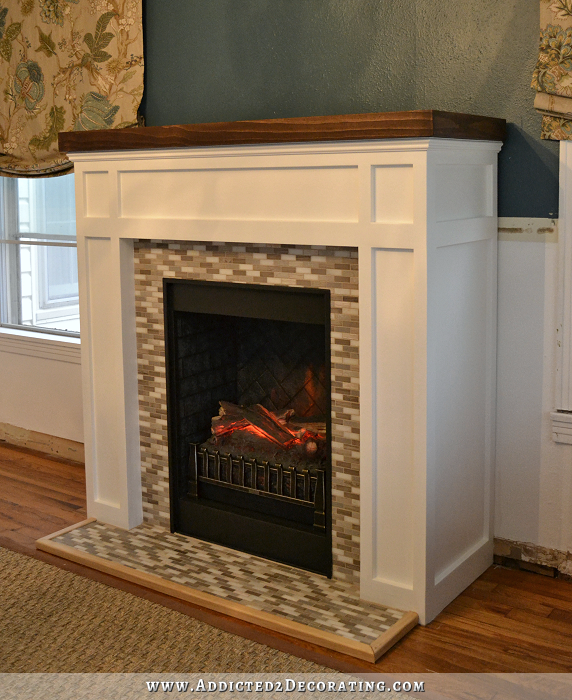 I'm so glad it's finished!  Well, except for those two finishing touches.  Now I can add my wall trim, and get back on track with living room makeover.
Side note:  I will eventually be building an overmantel like the one on my inspiration fireplace.  But that will have to wait until after some other things are done, like removing the polystyrene ceiling tiles and patching/replacing the drywall on the ceiling.
And as far as the cost, here are the details:
MDF, plywood, lumber & trim: $162.45
16-gauge nails: $10.00
Paint: $21.00
Drywall mud: $8.00
1/4″ masking tape: $7.50
8 square feet of mosaic tile: $80.00
Simple Mat: $20.00
Grout: $20.00
Electric fireplace insert: $135.00
TOTAL:  $463.95
Addicted 2 Decorating is where I share my DIY and decorating journey as I remodel and decorate the 1948 fixer upper that my husband, Matt, and I bought in 2013. Matt has M.S. and is unable to do physical work, so I do the majority of the work on the house by myself. You can learn more about me here.