DIY Stained Wood Raised Platform Bed Frame – Part 2
Well, my friends, I didn't get the platform bed frame completely finished like I had hoped.  (Click here to read Part 1 of this raised platform bed frame project if you missed it.) I only had a couple of hours to work on it yesterday, but I did get all of the decorative trim attached, so I wanted to show you how I did that.  Trim always makes such a big difference on a project like this!
When I finished working on it on Sunday, my bed looked like this…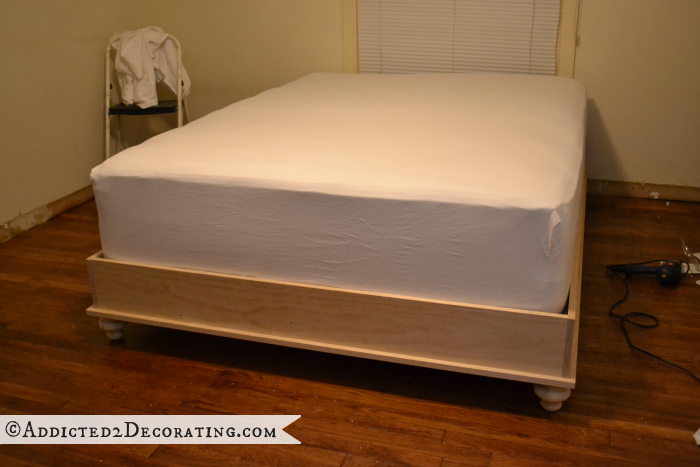 That was definitely a good start, and it was functional at that point, but with cut edges of boards and screws showing on each corner, it was far from finished.
And today, with the decorative trim added, it looks like this…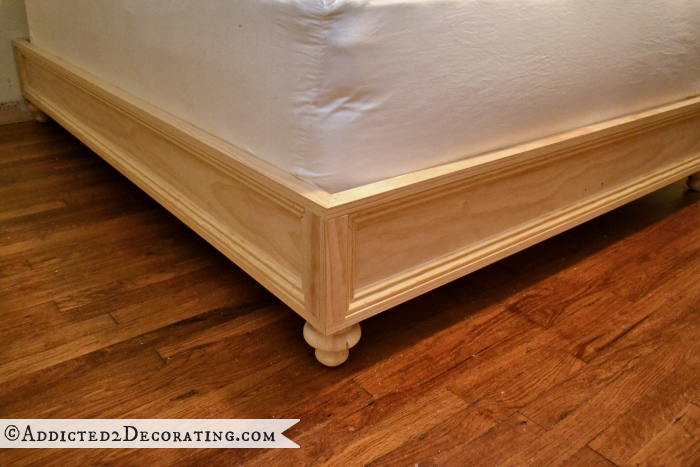 There are no more cut board edges showing, and no more screw heads showing (except for the two right in the middle of the board on the end, which will be filled in with wood filler).  So much better now, right?
Here's how I did it…
Add a "frame" to the top edge:
Just like I did on the bottom edge of the basic bed frame, I added a "frame" with mitered corners using 1″ x 2″ lumber to the top edge of the bed frame.
Cover the screws and cut ends:
Next I needed to cover up the screws and the cut ends of lumber that were visible on each corner of the bed frame.
I did this by cutting pieces of 1″ x 2″ lumber to fit vertically…
Then I added another piece on the other side of the same corner.
Now you can see that I still had an edge showing, but at least it wasn't a rough end cut, so this edge won't stand out like a sore thumb after it's stained.
If I were a proper woodworker with proper tools, I would have run each of those pieces through a table saw to miter the edges so that I'd be left with a perfect 45-degree angle with the pieces meeting right at the corner.
But I'm not a proper woodworker, and I don't have the proper tools.  I'm a DIYer who makes the most of what I have, so I have to be okay with imperfection.  And I figure that's what wood filler is for, right?  Leave the perfection for the true wood workers, and leave the wood filler for the rest of us.  😀
I did make sure that the whole pieces would be visible on the foot of the bed, which is the side that's visible when you walk through the door of our bedroom.  The side with the "seam" is on the sides of the bed, so they won't be the first thing that people see when they glance in or walk into our bedroom.
Add decorative trim moulding:
The last step was to add decorative trim moulding to each side of the bed.  (Note:  I only put this trim on three sides.  No need for it on the headboard side since it's against the wall and will never be seen.)
I attached all of these pieces using 1 1/4-inch brad nails in my nail gun, and shot them through the thickest part of the trim.  Again, these little holes are nothing that wood filler can't handle.  🙂
So now, all of the actual building is finished.
The finishing steps will include filling all of the nail holes, cracks, and the two remaining screw holes on the end of the bed frame with wood filler, sanding everything smooth, and then staining and polyurethaning the whole thing.
Not to shabby, right?  🙂  I'm really hoping I can get everything finished up today.  Quite honestly, I'm a bit scared to stain this thing.  I made it out of pine just to save some money (the really nice pine boards are still expensive, but they're still about half the price as oak), and to have more options with trim, but I generally hate how pine takes stain. I suppose if everything goes sideways with the staining, I can always paint the bed frame and call it good.  🙂  We'll see!
Addicted 2 Decorating is where I share my DIY and decorating journey as I remodel and decorate the 1948 fixer upper that my husband, Matt, and I bought in 2013. Matt has M.S. and is unable to do physical work, so I do the majority of the work on the house by myself. You can learn more about me here.