Last Updated on December 24, 2015 by Kristi Linauer
I managed to get my countertop sanded and get the excess wood cut off of the countertop yesterday.  Know how I did it?
I dragged that sucker outside!  All 12 feet of it!  All by myself!
You know the saying.  Where there's a will, there's a way.  😀
Actually, that's not the whole story.  Here's how the day actually went.
The last picture I showed y'all yesterday looked like this…
The countertop was together, and I had slathered wood filler all over the top.
I wish I had gotten a better picture of the top to show just how uneven this thing was.  The height difference between some of the boards was as much as 3/16-inch.  So to say that there was a lot of sanding needed would be an understatement.
The countertop is 12 feet long, and wedges perfectly between the two walls of the living room.  So needless to say, getting the thing unwedged, and then getting it out the door without dropping it was quite a chore.  But I managed.  Again, all by myself.  🙂
I started off sanding with my electric sander using 80-grit sandpaper.  It was doing the job okay, but was going to take forever.  So when I ran out of sandpaper and needed to go to Home Depot, instead of getting more sandpaper for my rotary sander, I picked up this instead…
Oh yeah…the belt sander did the trick!  It sanded that countertop so smooth, and did the job much faster!
So I got most of it finished, and had about five more minutes of sanding left to do, when my neighbor (yes, the same neighbor) came over and asked me to stop because it was just soooooo loud and she was trying to study (inside her condo….which is about 85 feet away from mine).
(And FYI, Matt, who was sitting inside right by the breakfast room window, said that the noise from the sander — through the wall/window — was quieter to him than a vacuum cleaner. In fact, he was able to watch a video on his computer with no problem…and without having to crank up the volume.)
Long story short, I told her that I had to get my work done, and that I was on a deadline, and that there were plenty of places in town where she could take her books, but I couldn't very well drag my 12-foot solid wood countertop to another location to work.
To put it lightly, I was furious.  I finished my sanding (about five more minutes), but felt like such the bad guy that I then dragged the countertop back inside, got it situated on top of the old cabinets (which are still in my living room) on one end, and a chair on the other, and did the cutting with the circular saw inside.
INSIDE!!!!
My living room is 12 feet by 11 feet.  So just imagine me trying to wedge that 12-foot countertop around to an angle where I could actually work on one end, and then wedge it around again to work on the other side.
It still makes me mad just thinking about it, and I'm actually angry at myself for letting her make me feel like the bad person and shaming me into using my circular saw (and making a complete mess!!) inside my condo just because she couldn't be bothered to go to a library or one of the other 15+ quiet places there are to study in this city.
That won't happen again.
But anyway, on to happier things.  The countertop is sanded, the excess wood has been cut off, and I'm very pleased with how it's turning out.
I don't think that the pictures do it justice.  The top is so smooth and pretty.  I still need to go back over it with 150-grit sandpaper to really smooth it out.
I can't wait to get stain on it, but I have one more thing I need to do before I can stain.
I want to trim out the front edge with cedar 1″ x 2″ lumber, just to give the front edge a nice cohesive look.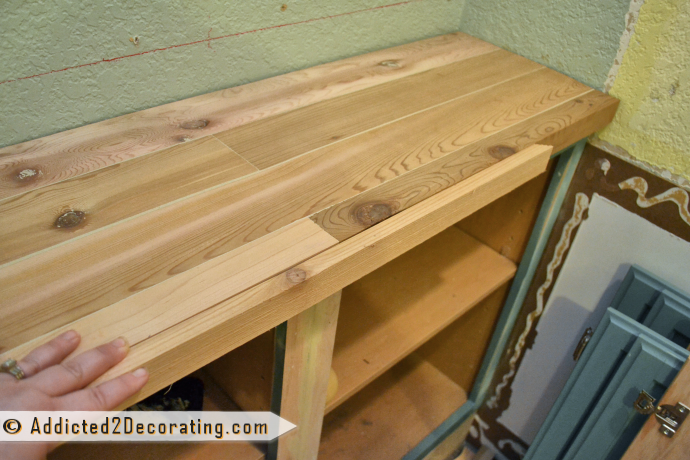 I would have done that yesterday, but the Home Depot I went to was completely out of this size…and a lot of other stuff.  I thought it was quite strange for them to be out of so much, but then an employee reminded me that probably a lot of people from West are going to that Home Depot to get supplies for rebuilding.  So today, I'll head over to the other Home Depot (I love that we have two of them!!) and hope that they have what I need so that I can finish up this countertop.  I'm anxious to get this countertop stained!!
Addicted 2 Decorating is where I share my DIY and decorating journey as I remodel and decorate the 1948 fixer upper that my husband, Matt, and I bought in 2013. Matt has M.S. and is unable to do physical work, so I do the majority of the work on the house by myself. You can learn more about me here.
I hope you'll join me on my DIY and decorating journey! If you want to follow my projects and progress, you can subscribe below and have each new post delivered to your email inbox. That way you'll never miss a thing!