My DIY Wood Countertop Is Finished! (well…almost)
I still haven't polyurethaned the countertop (not sure whether to do that before or after I build the bookshelves), and I haven't decided whether or not I want one more coat of stain on it, but for the time being, I'm calling the countertop finished!
In yesterday's post, I left you with the countertop looking like this…
So to finish off the countertop, I trimmed out the edges in 1″ x 2″ cedar.  I didn't get pictures of that process, because I feel like I've done it so many times on other countertop and table projects that you don't need to see the actual steps again.  And I forgot to get a picture of it before I stained it, but here's how the trim looked…
It's definitely the finishing touch that the countertop needed.
And after filling all of the trim cracks with wood filler and sanding the whole countertop smooth, I did one more thing before staining.  I always sand the edge of the trim by hand to remove the harsh corner on the trim wood.  The difference is subtle, but I think it's very noticeable…
And then it was on to the fun part…the staining!!
First I used wood conditioner.  I've learned my lesson the hard way about leaving out this step.  I won't be skipping it anymore!!
Then I used one coat of Minwax Early American, followed by two coats of Minwax Special Walnut.
I'm contemplating using one more coat of the Special Walnut.  I'm just not sure.  I'm trying to imagine this countertop with creamy white lower cabinets and upper bookshelves.  What do you think?  One more coat, or leave it as is?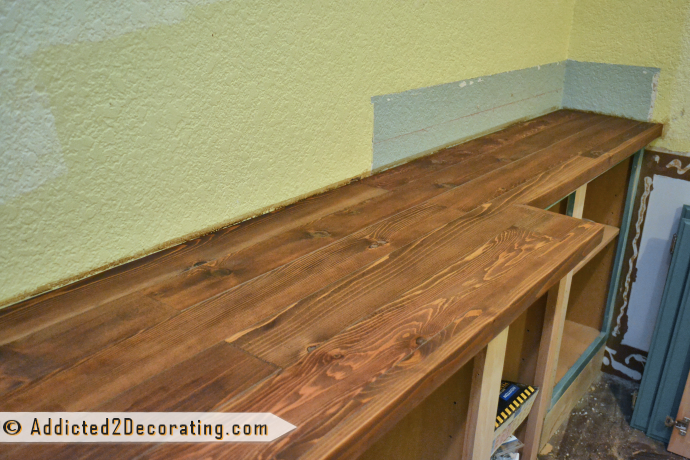 Of course, the polyurethane will darken it just a bit, but I'm still leaning towards one more coat.  And I think applying the polyurethane before building the bookshelves will be easier, although I run the risk of scratching it.
Hmmm…decisions, decisions!
If you missed the other posts on how I built this solid cedar countertop, you can see the actual building process here, followed by the sanding and cutting to size here.
Addicted 2 Decorating is where I share my DIY and decorating journey as I remodel and decorate the 1948 fixer upper that my husband, Matt, and I bought in 2013. Matt has M.S. and is unable to do physical work, so I do the majority of the work on the house by myself. You can learn more about me here.