Last Updated on December 24, 2015 by Kristi Linauer
I decided to make the wood countertop for my built-in bookcase wall before doing any of the painting because I just knew that I'd end up scratching the paint if I did that first. Plus, I think I'll just wait until the upper bookshelves are finished, and then paint the whole thing at the same time. With all of the building, tool usage, and ladder usage to come, the paint would undoubtedly get scratched up if I go ahead and paint the lower cabinets now.
I had several cedar 2 by 4's left over from my elevated garden bed project last summer. Those are what I used for the simple shelves in my bathroom makeover, and I loved how those turned out, so I decided to use them for the bookcase countertop as well.
The dilemma? How in the world do I build a 12-foot solid wood countertop and then move it into place all by myself?
The answer? Build it in place! So that's what I did!
I started with three pieces of cedar 2″ x 4″ lumber, cut to 48 inches long. Using my Kreg Jig and wood glue, I attached them end-to-end to create the first (back) row of wood for the countertop. Then continuing on using the Kreg Jig and wood glue, I added the subsequent rows by attaching the wood to the previous row.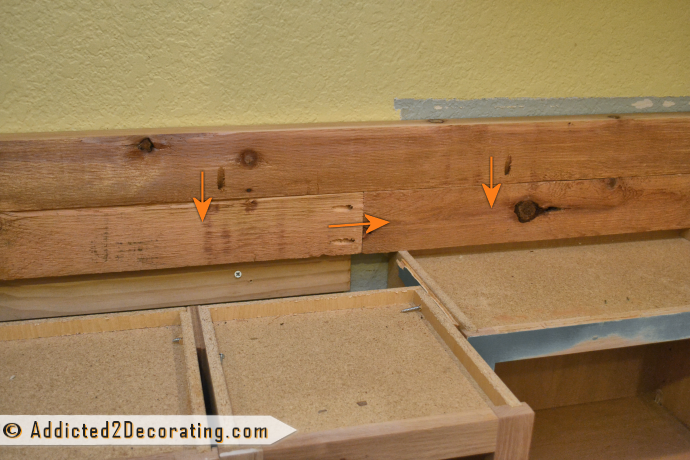 Keep in mind, I was working on the underside of the countertop. None of these pocket holes will be seen from the top.
Here's a view from a bit further away. You can see that I was working on the second row here, and still had a couple of pieces (one on each end) to go.  You can also see all of the pocket holes circled in orange.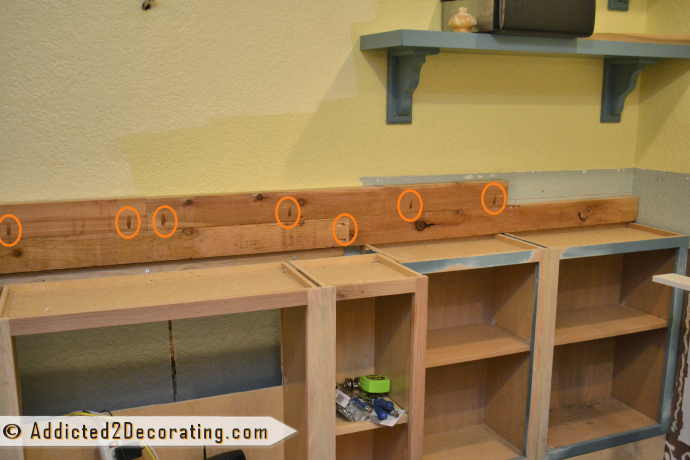 I continued to build, adding more rows, and securing the wood to the previous row using the Kreg Jig and wood glue. I eventually had to stop and remove the bottom shelves on the wall, because I needed more room to build the countertop. 🙂  Here's the whole thing put together.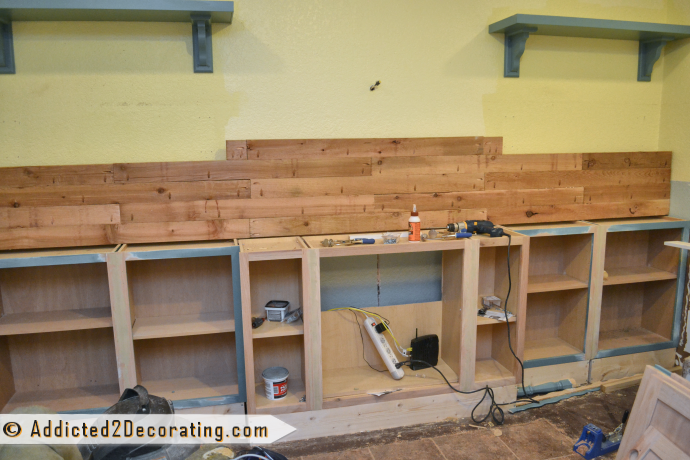 I then carefully lowered the countertop onto the cabinets, and went to town filling all of the cracks with wood filler.
So that's where the countertop project stands right now.  It's far from finished, and I'm still wondering if I can pull this off.  The countertop overhangs the side bookcases by about three or four inches.  Obviously that's way too much, so I need to cut some off.  Don't even ask me how I'm going to manage that!  How am I going to cut it right up to the wall?  No saw that I have will do that.  So I have no idea.
Once I get that not-so-small issue figured out, I think I'm going to trim out the front edge with cedar 1″ x 2″ wood so that the seams where the 2 by 4's are joined together won't be visible on the front edge.
Then I have to sand the whole thing.  That'll probably take a couple of hours using 80-grit sandpaper because right now, that thing is super rough and very uneven.  Sure wish I had a planer!!
I'll be back tomorrow to show you if I pulled it off or not.  I feel certain that I can.  I just have absolutely no idea how at this point.   In case you haven't noticed by now, I kind of make these things up as I go along.  😀  That part of my personality absolutely drives Matt crazy, but I generally make it work in the end, so he's learned to hold his tongue (for the most part).  Ha!
Addicted 2 Decorating is where I share my DIY and decorating journey as I remodel and decorate the 1948 fixer upper that my husband, Matt, and I bought in 2013. Matt has M.S. and is unable to do physical work, so I do the majority of the work on the house by myself. You can learn more about me here.
I hope you'll join me on my DIY and decorating journey! If you want to follow my projects and progress, you can subscribe below and have each new post delivered to your email inbox. That way you'll never miss a thing!