Do Door Casings And Window Casings Need To Match?
As soon as I finish all of the basics in my music room (which I'm hoping will be today), I'm going to get started on my dining room and entryway again, and the first project on my list is to trim out my windows. Remember my windows? They originally looked like this…
And then last October, I had new windows installed. So now they look like this…
And I haven't done a single thing to those walls or windows since. They still look exactly like that, so I'm very anxious to get the drywall finished up and get the windows trimmed out and finished.
But I've been wondering if these windows have to be trimmed out the same way that my doors are trimmed out. On my doors, I've done a very simple casing with a tall top casing to kind of dress it up. Here's the primed-but-not-painted door casing from the dining room to the kitchen…
Once the crown molding is installed, there's only about three or four inches between the top of the door casing and the bottom of the crown molding. My concern with doing that type of trim on my windows is that there won't be enough room to hang a drapery rod, and I have my heart set on black and white striped draperies on those windows. This is a very rough mock up that I did a while back, but you get the idea…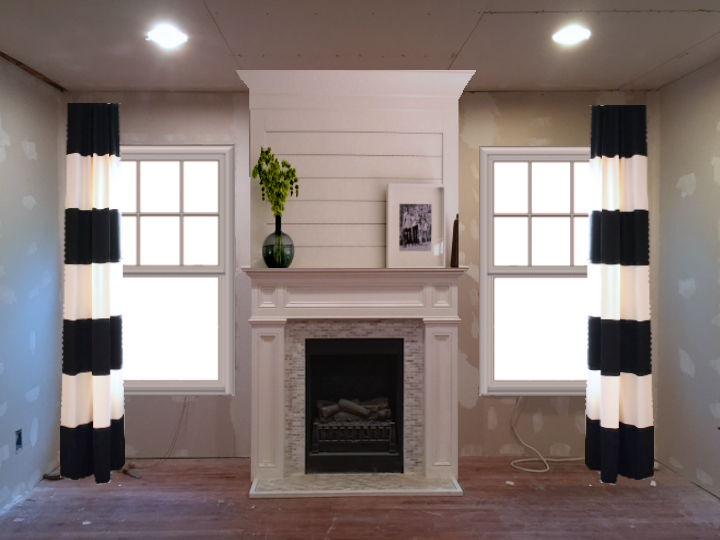 But you can see that once the windows have the tall top header, and once the crown molding is wrapped around the walls (rather than just around the top of the overmantel) things are going to start to get a bit crowded, and I'm just concerned that there won't really be enough room for drapery brackets and a drapery rod. Or I'm concerned that the rod might cover up the very top part of the window casings, which I think would look really odd.
Now I've seen curtain rods installed about halfway down on top fancy casings, so that the very top molding on the casing shows over the curtain rod. Honestly, I'm not a fan of that method of installing draperies, and I really think that works best if you have tall ceilings. Since my ceilings are only eight feet tall, I need my draperies to go as high as they possibly can, or else they'll make my walls seem even shorter than they are.
So it seems that my only option is to do a different-but-coordinating casing around the windows. I've searched and searched on Houzz to see if this is something that's ever done, and try as I might, I can't find even one example of a room with different door casings and window casings.
Victorian Dining Room by Norwich Architects & Building Designers Smith & Vansant Architects PC
In room after room that I found that has both door casings and window casings, they all match exactly.
Traditional Staircase by Austin Architects & Building Designers Tim Cuppett Architects
And I can't remember ever seeing a room in person that has different door casings and window casings.
Traditional Dining Room by Burnsville Design-Build Firms Highmark Builders
It's not that I'm concerned about doing something different or non-standard in my house, but it's just one of those things that I'd like to see an example of before I do it. When I picture it in my mind, I think it'll look fine, but I'd love to see an example of where it was actually done in a room to confirm that it'll look just fine when it's finished and my draperies are installed.
Traditional Bedroom by Allston General Contractors Boston Green Building
So have you ever seen a room or a house where the door casings and window casings coordinate but don't match? And what did you think when you saw it? Did it look good, or did the window casings look completely out of place? And you'll get bonus points if you happen to have a picture that you can send to me. 🙂
Addicted 2 Decorating is where I share my DIY and decorating journey as I remodel and decorate the 1948 fixer upper that my husband, Matt, and I bought in 2013. Matt has M.S. and is unable to do physical work, so I do the majority of the work on the house by myself. You can learn more about me here.