Last Updated on February 19, 2019 by
I finally got all of my the crown molding installed in the dining room and entryway, but let me tell you, it was one of the most infuriating projects I've ever done. There were temper tantrums, tears and lots of yelling. But it's installed. It's not pretty at all (not yet, at least), but at least the entire perimeter of the room has crown molding on it.
I wanted to do the crown molding in this room the same way that I did the crown in the bathroom, with the 1″ MDF boards around the perimeter of the ceiling, and then the crown molding installed against that wood.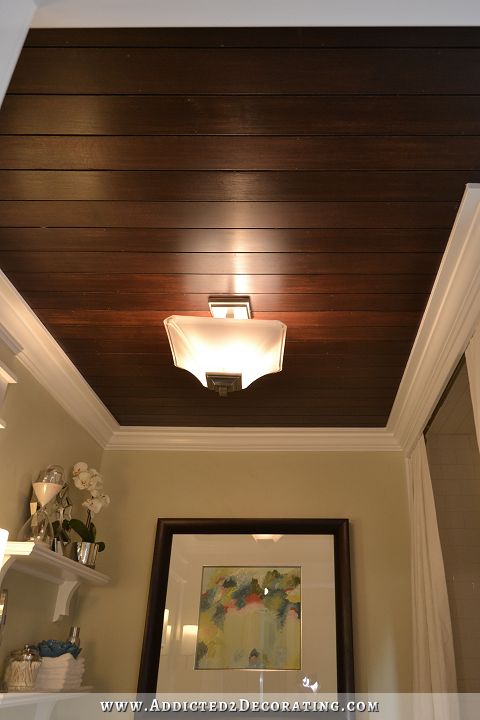 In the bathroom, I use 1″ x 6″ MDF boards, but I wanted to use 1″ x 8″ in the front rooms for a slightly larger reveal since it was going in a much bigger room.
That part went smoothly for the most part. I installed it with construction adhesive (Loctite) and 16-gauge finishing nails. My corners weren't perfect because my none of my rooms have perfect 90-degree-angle corners, but I never bother to measure angles before cutting. I just cut everything at 45-degrees and hope for the best. That's what wood filler and caulk are for, right? 🙂
Then I was ready to cut the crown molding. I don't know if you remember, but when I cut the crown for the music room, everything went perfectly. If I remember correctly, I had that crown cut and installed in about an hour.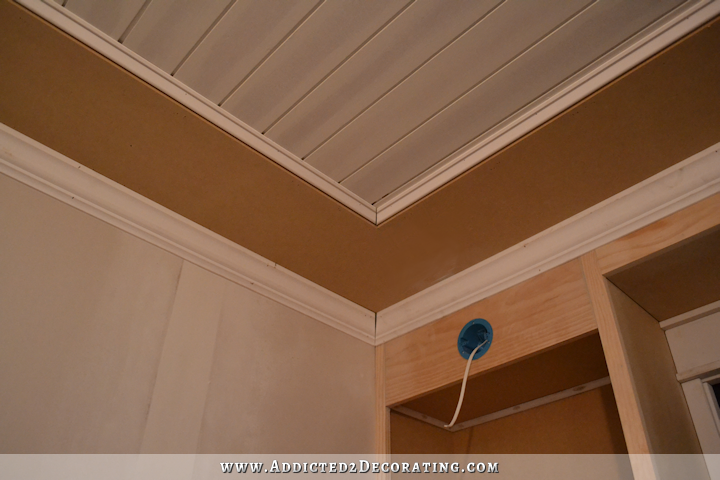 I couldn't believe it! I used my Kreg Crown Pro* crown molding jig, and things couldn't have gone any smoother. Yes, I still had tiny gaps, because again, I never measure the exact angle of my corners, and it's doubtful that any corners in my house are perfect 90-degree angles. You can measure your exact angles to get more precise cuts, but I don't mind the small cracks because they're easily filled with caulk.
So when it came time to install the crown in the front rooms, I expected the same quick and easy process. I felt like I had really found my groove when working with and installing crown molding, so things should go pretty smoothly, right?
Wrong.
First of all, I remember someone commenting on my music room crown molding post about how you should always cope your inside angles because that's the correct way to install crown, and it's far superior to my way of cutting both pieces at an angle using the Kreg Crown Pro, and it's really pretty easy. I thought, "Well, if it's the correct way, I want to learn. I'll give it a try." So I bought myself a coping saw from Home Depot.
Using a coping saw is easy?!? Lies. All lies. 🙂 Seriously, I tried and tried and tried to get that stupid saw to cut through the crown molding (I'm using finger joint pine crown, not MDF), and it was the most infuriating thing I've ever tried. It just kind of chewed up the wood, rather than cutting it smoothly. So I dismissed that idea pretty quickly.
And for the record, I've never had an issue with my crown expanding and contracting to the point where my caulk cracks and leaves gaps in the corners where I have both pieces cut at 45-degree angles. So I decided to stick with the method that actually works for me, and cut everything using my Kreg Crown Pro.
But on this particular day, even that method wasn't working for me. I cut my pieces for my inside corner, and I swear to you, I was left with a gap of more than a half inch!
I'm okay with small gaps that can be filled with caulk, but this was far beyond ANYTHING that caulk could fix!
I was so frustrated, but I thought maybe I just had my saw set on the wrong angle. I've had that happen before, where I thought it was set on 45-degrees, and instead it was set on 40-degrees or something like that.
So I checked. It was set on 45-degrees. That wasn't the problem.
So I decided to actually check the angle of my corner, which is the proper way to use a Kreg Crown Pro, but it's a step I almost always skip. The angle was 89 degrees. Just as I had suspected, it wasn't a perfect 90-degree angle, but it certainly wasn't off enough to account for a more-than-half-inch gap like that!
I decided to just move on. I'm pretty good at fixing bad mistakes like that, and even though it's way more than caulk can fix, I could fix it using other methods, like cutting angled wedges to glue into the gaps before wood filling, sanding, and caulking.
It still wasn't pretty, but I've had enough experience fixing my own major screw ups that I know it'll look just fine when it's all finished.
So I decided that it must have just been a fluke of a mistake that caused it, and just move on to the next one.
But the same thing happened.
Y'all, by this time, I was almost in tears. I couldn't figure out what the heck was going on! Why was the music room so easy for me, and yet I couldn't even get one corner in this room right?! I checked my saw again, checked the angle of the corner again, and nothing was making sense. I thought perhaps I had accidentally purchased a different crown molding this time, with a different spring angle than the last, so I measured the spring angle. It was the exact same as the music room. I tried making some small adjustments to the saw, but nothing I did helped, and in fact, everything I did made it worse.
I can't even express to you how discouraged I was. I thought I had the crown molding thing figured out, and here I was doing everything I knew to do, and I couldn't even get one corner to look halfway decent. I got online, watched the video on how to use the Kreg Crown Pro again to see if I had missed something. Nope. I was doing everything right, and yet it wasn't working.
I tried a third corner. Same thing. More discouragement. More frustration. And this time, just pure anger. I wanted to throw my nail gun through a window so badly.
After yelling to Matt at the top of my lungs, "I'M NEVER DOING CROWN MOLDING AGAIN!!! NEVERRRRR!!!!" I went into the bedroom and threw myself on the bed for a good cry and a good, old-fashioned temper tantrum.
About 30 minutes later, it dawned on me that when I was getting my saw and everything ready to cut the crown molding, I accidentally pushed my Kreg Crown Pro jig off of my work table and onto the concrete garage floor not once, but twice. And the second time, it hit my pile of scrap lumber on the way down. When it fell, the settings must have gotten jarred!
So I headed out to the garage to check the actual jig, and sure enough, the spring angle on the Kreg Crown Pro was set to 45-degrees. The spring angle on my crown molding was 38 degrees. UGH!!! I couldn't believe that I had checked everything else, but it never dawned on me until that moment (and after cutting three of the corners for the room, and after lots of tears and frustration) to check the actual settings on the Kreg jig. I just took for granted that it was all set up as it should be since I had used it for the music room, and I was using the exact same crown molding for these rooms.
I set it to the correct 38-degree spring angle, and sure enough, things fit together as they should (or as good as they ever will for someone who refuses to measure the actual angles of the corners of her rooms). 🙂
Let's just say that this was a huge lesson learned for me. Contrary to what I yelled at Matt at the height of my frustration, I will continue to do my own crown molding. But from here on out, I will check every single setting on my saw AND on my Kreg Crown Pro before I get started cutting and installing crown molding in any other room of my house. It's amazing how well tools work when they're actually set properly. 🙂
Addicted 2 Decorating is where I share my DIY and decorating journey as I remodel and decorate the 1948 fixer upper that my husband, Matt, and I bought in 2013. Matt has M.S. and is unable to do physical work, so I do the majority of the work on the house by myself. You can learn more about me here.
I hope you'll join me on my DIY and decorating journey! If you want to follow my projects and progress, you can subscribe below and have each new post delivered to your email inbox. That way you'll never miss a thing!