Last Updated on December 24, 2015 by Kristi Linauer
I have 77 days left in this year, and I plan to be laser-focused and get as much done during as many of those days as possible.  Last night, I gave some thought to exactly what I want to accomplish during the last 2 1/2 months of this year, and I really tried to be reasonable.  I generally set ridiculously unattainable goals, knowing full well that I can't do it all.  But this time, I tried to be reasonable, and actually (hopefully) set a list of goals that are doable in the amount of time that remains.  Of course, I tried to factor in some downtime, and then there's Thanksgiving.  So with that in mind, here are my new, revised house goals for the remainder of 2015:
1. Get new windows installed in the dining room. My windows actually came in on Monday, but I'm waiting on the installer to have time in his schedule.  He said he can probably install them next Thursday or Friday.  I'll be so glad to have new, matching, functional windows.  And best of all…no more window unit A/C!
2. Finish drywall and install the rest of the picture frame moulding, window casings, and crown moulding in the dining room and music room. I got about 2.5 walls done in the dining room/entryway, but I'm at a standstill in there until the windows are installed.  I'm currently working on the drywall in the music room, and am almost done with mudding and sanding the walls.
3. Build overmantel in the dining room. I almost started this project this past Monday, and then realized that I probably needed to wait until the new windows are installed so that I can get the fireplace perfectly centered.  Right now, the two windows are slightly different widths, so if I build it based on the current windows, it might be slightly off center when the new windows are installed.  But here's the mock-up I did a few days ago, and I get so excited every time I look at it!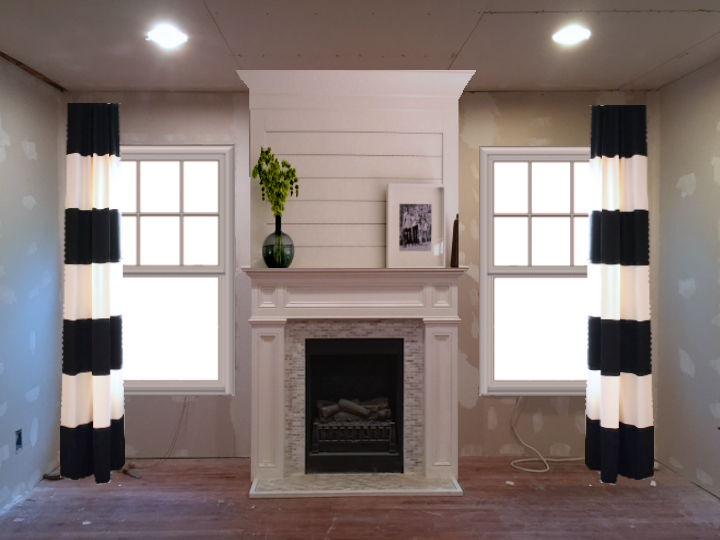 4. Choose a wall color and paint the walls, ceilings, and trim in the dining room and music room. I still haven't settled on a definite wall color.  Unfortunately, in the mid-morning light, Agreeable Gray has very noticeable lavender undertones in this room, and that is not okay with me. (Purples are my absolute least favorite colors.)  So now I'm looking at two other colors.  I've become a tiny bit obsessed with super light, barely-there colors, and I love this barely-there green on the left called Climate Change by Behr.  It has such a light and fresh feel to it, and complements everything in the room beautifully. Or if I want to go strictly neutral, I'm considering Spun Wool by Behr on the right. (That's Agreeable Gray right underneath Spun Wool, and that vertical white strip to the right of those two colors is Polar Bear, which is my trim color).
5. Draw/paint "wallpaper" in the music room. I'm so stinkin' excited about this project, and it's taking all of my self-control not to rush ahead and start doodling on my walls.  But I need ALL of the drywall completely finished in both rooms before I start working on this.  I'd hate myself if I rushed ahead, and then had to clean drywall mud dust off of my newly "wallpapered" walls.
6. Install dining room chandelier. I've had my chandelier sitting in the corner of my breakfast room for months now, and I'm so anxious to finally get it installed!!
7. Give the floors in both rooms a final quick sanding, and recoat with Waterlox. The ability to sand and recoat is the main reason I chose to finish my floors with Waterlox.  I knew they would get scratched and dinged as I remodeled each room, and I needed something that could be repaired easily.  You can't do that with polyurethaned floors.
8.  Paint dining table.  It's going to be solid black, and it's already sanded and ready to go.  This should be quick and easy.
9. Make and install black and white striped draperies in the dining room.  This is another project I'm very anxious to start.  These draperies will set the tone for this whole room.
10. Repair hardwood floor by the expanded opening into hallway. This should be my last hardwood floor repair that I'll need to do, and it's much less involved than the one I had to do in the new dining room/kitchen doorway.  It just needs about three small strips on the right side of that expanded opening.
11. Install casings on doorways in music room, and reinstall sliding doors. 
Those are my definite goals, and I really do think 77 days is a reasonable amount of time to get that stuff done.  But because I'm me, and I like to push it, I also hope to get a few more fun things done, mostly in my entryway.  After agonizing over how exactly I wanted my entryway to look, and reading all of your comments and considering all of your suggestions, I finally made my decision.  I did this cut-and-paste hack job of a mock up to try to convey my plans.  I hesitate to even show you, because as I said, this is just a quick mock up, and I wish instead that I could show you the vision in my head rather than this terrible representation, but this will have to do.
Many of you suggested sconces, but I'm just not a fan of the idea.  What I do love is the idea of pendant lights since they can be "layered" over the artwork like table lamps, but they're not confined to the width of the buffet.  Sconces would take up wall space and dictate the size of the artwork.  And yes, I realize those pendants pictured above are totally out of scale.  Those are monstrous.  😀  As I said, I hesitated to show you this because it's such a poor representation of what's actually in my head.  I won't have giant pendant lights.  I promise.  🙂
I did really take to heart the many suggestions of having a mirror (or mirrors) on this wall.  And since I didn't want to give up my huge colorful painting, I decided to combine the two.  The mirrors will be very subtle, painted the wall color so they just blend right in, but they'll kind of echo the design on my sliding doors.
So, if time remains after all of my other projects, I hope to also:
12.  Paint a large piece of artwork for the entryway wall and make a frame for it.
13.  Make and install two decorative mirrors.
14.  Make and install two pendant lights over the buffet. I already have a design in mind for these.  I'm missing a crucial part, though, so hopefully I can find those
I also plan to have two chairs flanking the buffet, but if I'm being realistic, I can say with almost 100% assurance that I won't have time to get to those this year.
So I guess I better get busy, right?  🙂  No time to waste!
Addicted 2 Decorating is where I share my DIY and decorating journey as I remodel and decorate the 1948 fixer upper that my husband, Matt, and I bought in 2013. Matt has M.S. and is unable to do physical work, so I do the majority of the work on the house by myself. You can learn more about me here.
I hope you'll join me on my DIY and decorating journey! If you want to follow my projects and progress, you can subscribe below and have each new post delivered to your email inbox. That way you'll never miss a thing!