My Finished-For-Now Music Room
I finally finished all of the basics in the music room, and I even made an attempt to clean the floor, but only in the music room. The entryway and dining room floor is still a mess, so kindly overlook that. This is about the music room only. 🙂
I'm going to wait to do all of the decorating projects until the messy projects are finished in the entryway and dining room, so for now, here's how the music room looks…
It's come a long way since the day we moved into this house!
I widened the opening from the music room into the hallway about a foot. It really made a huge difference.
When we bought the house, that opening was only about 32 inches wide, and it had a plastic folding screen on it, and that led into the hallway that had a closet on either side. Things are feeling much more open now.
My favorite parts of this room are the pocket door bookcases. Before I built those, the doors just kind of got lost on that wall.
But now I feel like the bookcases actually showcase the doors better. They frame the doors and make them look much more prominent in the room.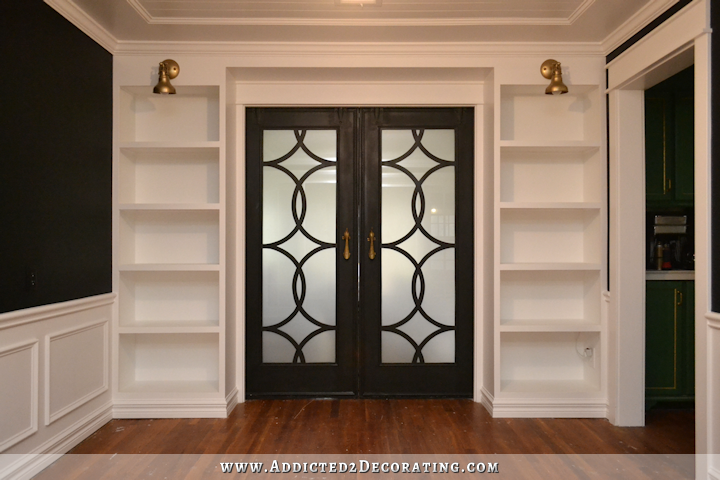 And here's a look back the other way, from the back of the music room towards the entryway. You can really see how much bigger that opening into the hallway is now. And where the ladders are now is where the built-in hall tree will eventually be.
This is the last wall that I finished yesterday. That little sliver of a doorway that you see on the far left is the doorway from the music room into the kitchen.
And finally, here's the straight-on view from the music room into the entryway.
So that's it for now! As much as I'd love to finish up this room completely, it just doesn't make much sense to start reupholstering chairs, hanging artwork, etc., when there are still so many messy projects to do in the dining room and entryway. So now I'll switch my attention to those front rooms and get the drywall finished, the windows trimmed out, the fireplace overmantel built, and all of the trim installed. Once all of the building, sanding, priming, and painting is done in there, I can get started on the decorating projects in all three areas.
Addicted 2 Decorating is where I share my DIY and decorating journey as I remodel and decorate the 1948 fixer upper that my husband, Matt, and I bought in 2013. Matt has M.S. and is unable to do physical work, so I do the majority of the work on the house by myself. You can learn more about me here.