How To Build A Quick And Easy Fireplace Overmantel
I finished the basic build on my fireplace overmantel, and now I just have to wood fill, sand, caulk, prime, and paint. Oh, and I also need to add crown moulding around the top. I had hoped to finish that up last night, but Home Depot was completely out of the trim that I needed, so I'll have wait on that.
My fireplace is electric. It's mainly for looks, but it does put out heat if we need supplemental heating during the winter. I built the fireplace from scratch, and you can find that tutorial here. Then a while later, I decided to give the fireplace a makeover so that it was more traditional in style. I've had the fireplace almost two years now, and I've been waiting all that time to be able to build the overmantel. I had to wait for all of those awful polystyrene tiles to be removed from the ceiling, and for this room to be re-drywalled. So after waiting two years, I'm finally able to get this fireplace finished!
Here's what my new overmantel looks like so far…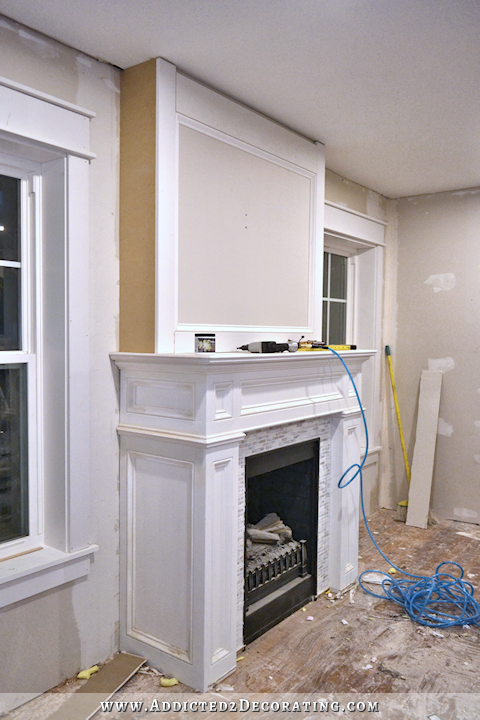 It's basically just a box with some trim on the front. 🙂 I decided against the slatted design, and decided to keep it super simple with just one large framed area on the front. It's the perfect frame for a piece of artwork without making things too fussy.
This was a really quick and easy build. I started by attaching 2 x 4's supports to the wall using my framing nail gun. Remember, I have shiplap under my drywall, so I can shoot nails anywhere and they'll hit wood. If you want to build something like this, and your walls are just drywall, you'll need to either find studs, or use wall anchors.
Next I nailed 2 x 8's to the outside edges of the 2 x 4's, also using my framing nail gun.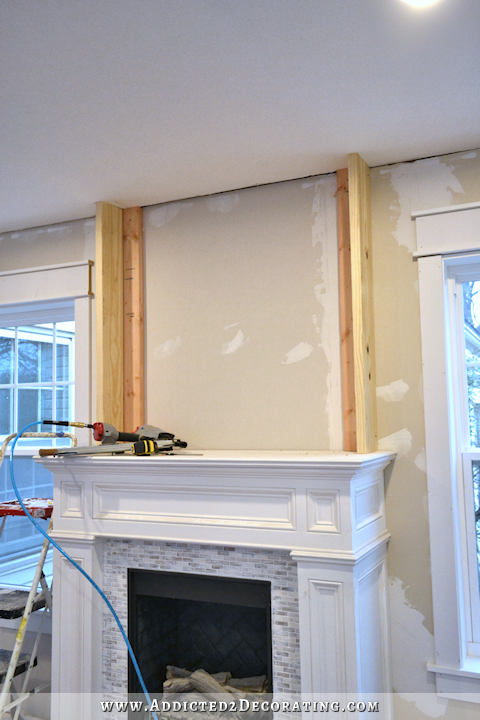 These 2 x 8's created the depth of the overmantel.
And to finish up the basic box, I added 2 x 4's between the 2 x 8's, making them flush on the front.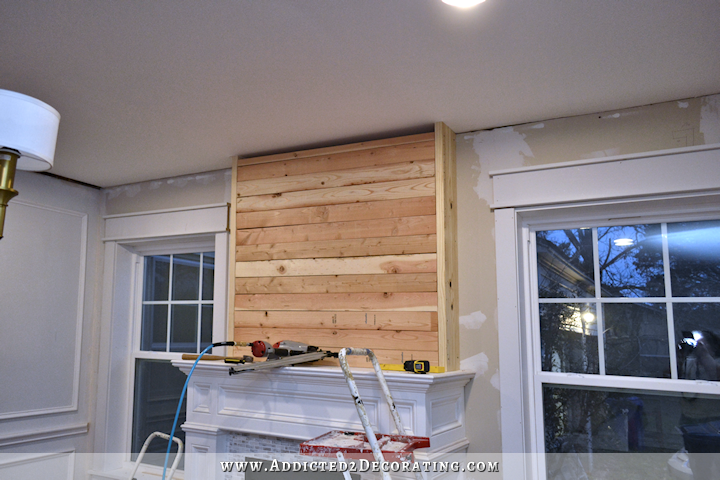 The ONLY reason I used 2 x 4's for this was because it's what I had on hand. If I had had a large enough piece of 3/4-inch sanded plywood or MDF to cover the front, I would have used that. I didn't have any sanded plywood or MDF, but what I did have was a big stack of 2 x 4's, so that's what I used. I just needed something substantial to form the front of the box, and I had plenty of drywall on hand that could be used to cover these 2 x 4's to give me a smooth front. Note that if I had used 3/4-inch MDF or sanded plywood to form the front of the box, drywall wouldn't have been needed.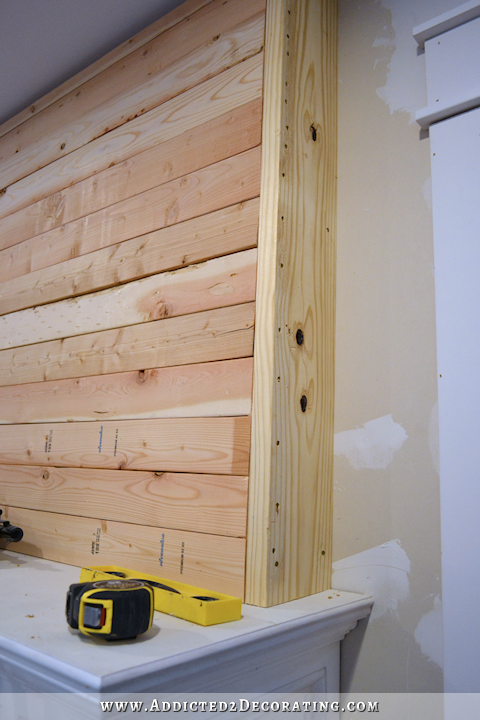 But since I used 2 x 4's to form the front of my box, I did need to add drywall to the front to give my box a smooth surface.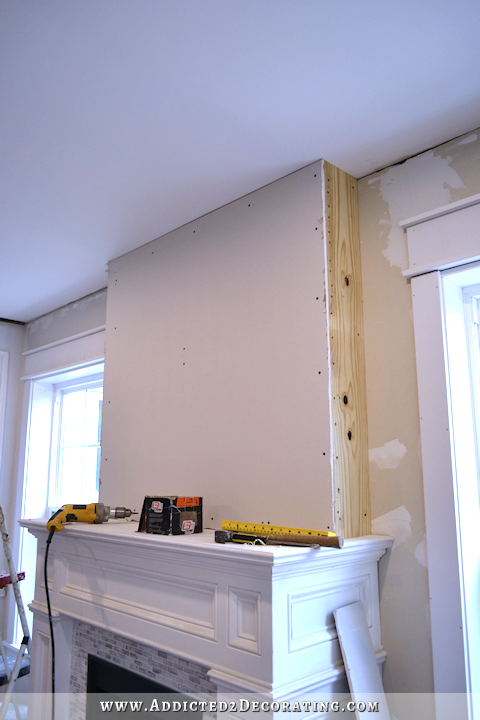 And then I covered the sides with 1/2-inch MDF that covered the edge of the drywall.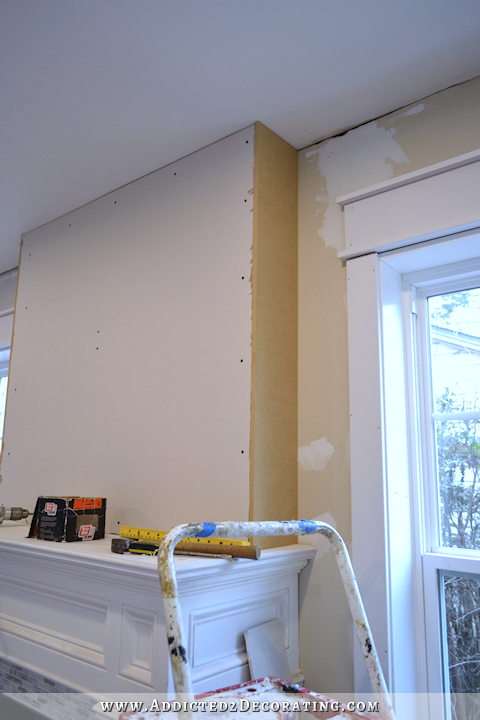 Note that if I had decided to go with the slatted design on the front, I would have added my slats BEFORE cutting and attaching the MDF to the sides, and the MDF would have needed to be 1/4-inch deeper to cover the edges of the slats on front.
With the basic box finished out, I just needed to add the trim to the front. I used 1 x 4 MDF boards, and attached the vertical boards first.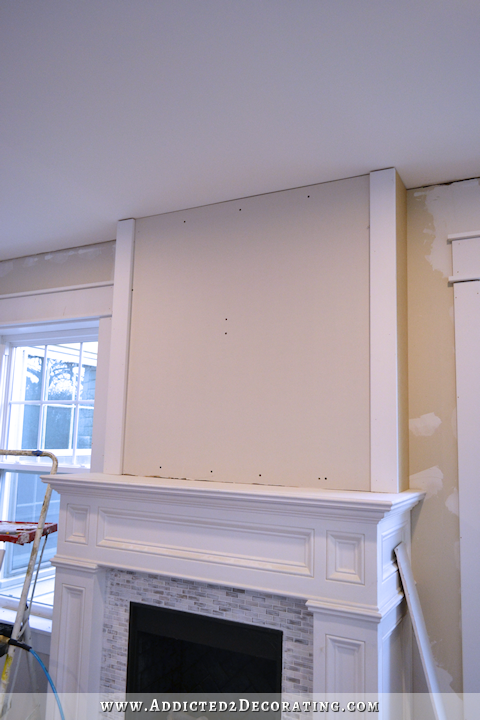 And then I attached another 1 x 4 MDF board horizontally on the bottom. For the top, I needed a wider board because I wanted the same 3.5-inch reveal all the way around, but the top will eventually have crown moulding. So if I had just used a 1 x 4 right up against the ceiling, most of that would have been covered by crown moulding. So I had to measure how far down the crown moulding would come, and then add a wide enough board far enough down on the overmantel so that I would end up with a 3.5-inch reveal to match the other three sides after the crown moulding is installed.
And then finally, I added the trim around the inside of the frame.
This trim is called Base Cap, and it's the exact trim that I used on the fireplace, so it helps to tie the overmantel in with the fireplace design.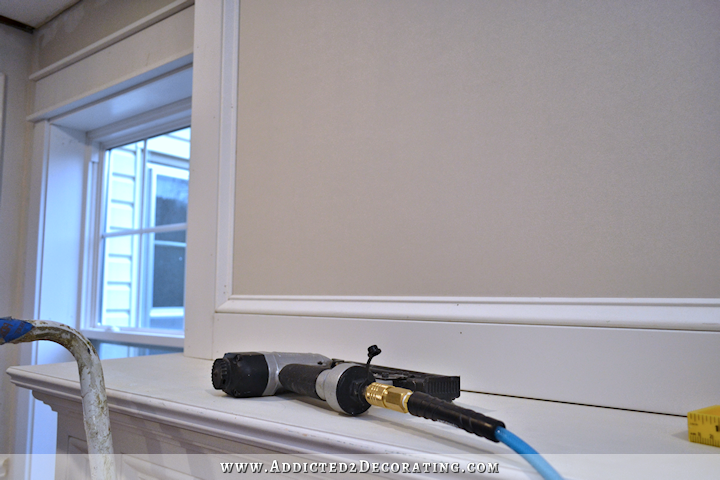 And that's it for now. Like I said, it's basically just a fancied up box. 🙂 I still have quite a bit of finish work to do, and the crown moulding will also really help to finish out the look.
I think it's going to be beautiful once it's all finished out, crowned, and painted all one color.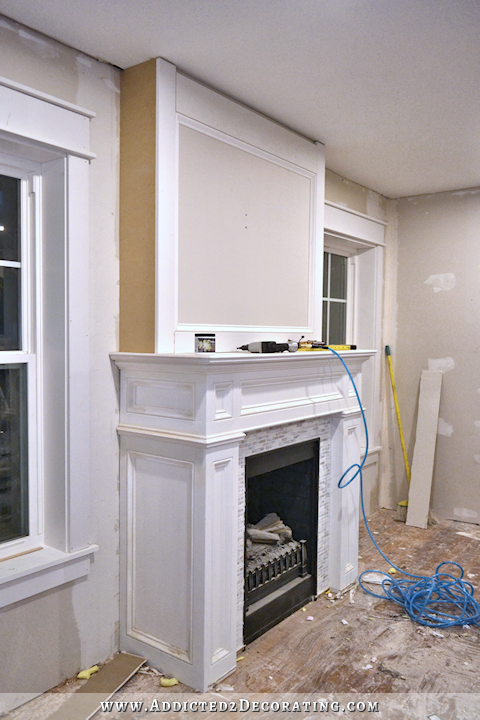 And no, I still haven't decided which color it'll be. But I must say, I was SHOCKED at how many of you liked the mock up that my mom did with the GREEN fireplace!! 😀 I certainly wasn't expecting so many of you to like it! I personally love it, but I'm still working out the design of this room in my head, so I really have no idea at this point which direction I'll go with the fireplace color.
UPDATE: The fireplace overmantel isn't quite finished, but I did finally get the crown moulding installed around the top.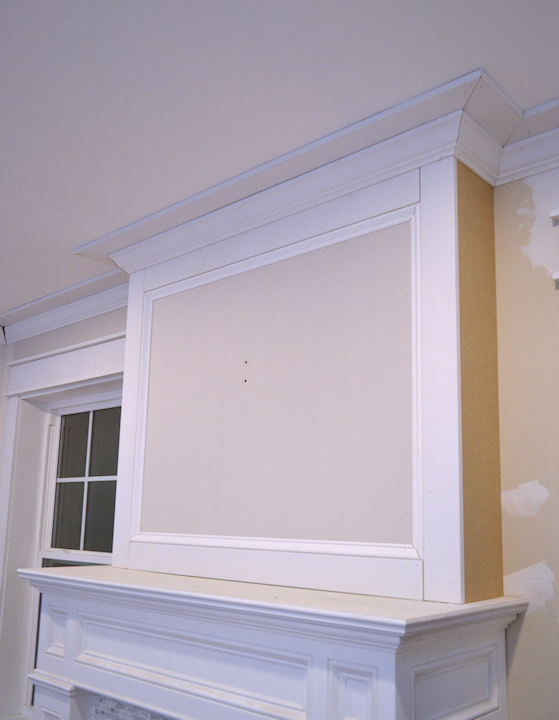 Addicted 2 Decorating is where I share my DIY and decorating journey as I remodel and decorate the 1948 fixer upper that my husband, Matt, and I bought in 2013. Matt has M.S. and is unable to do physical work, so I do the majority of the work on the house by myself. You can learn more about me here.