Dreaming Of Home: Backyard Chickens And Amazing Chicken Coops
I'm pretty sure I've mentioned this a few (hundred) times. But one of the main reasons that Matt and I want to purchase the particular house we're hoping to buy is because it's in the city (I'm a city girl…can't stand the thought of living in the country), and yet it sits on a one-acre lot.
ONE WHOLE ACRE!!
Here's a view of the lot from Google Maps. Check out how much space is in that back yard!!
We have big dreams for that massive back yard, including lots of organic gardens, fruit trees, and yes….CHICKENS!!  And of course, I want it to look amazing, like a beautiful park.  🙂
I hadn't really given it much thought (beyond the fact that I want chickens) until two days ago.  I injured my leg (not to worry…it's better now), so I tried to stay off of it for a day, which meant not working on my living room makeover.  So Wednesday evening, I thought I'd take some time to catch up on blog reading.
My first stop was Tracy's blog, Beneath My Heart.  And what did I see?  Her boys' new baby chicks!
As I sat there reading through all of the comments on Tracy's post, I started getting more and more excited about owning chickens.  And then, of course, I started dreaming about and planning the chicken coop that I'll eventually be building in our own back yard.
To be honest, I don't think I had ever even considered the idea of owning chickens in the city until I "met" Linda at Fingers In The Dirt.  It never dawned on me until reading her blog that it was even a possibility.  But she does it!  Here's where her chickens live in her back yard.
So ever since meeting Linda about a year ago, I've been noticing how this seems to be a growing trend.  I've now come across so many others who own city chickens!
But planning and building the chicken coop will be the fun first step in this adventure.
Of course, the mother of all chicken coops belongs to Heather Bullard.  I'm sure you've seen it.  Simply put, it's amazing.
In fact, they had so many people interested in their chicken coop that they finally had professional plans drawn up that the now sell at a very reasonable price (in my opinion).  I'll probably end up purchasing the plans myself when the time comes.
And then I'm sure you've seen this modern style chicken coop from Karen at The Art Of Doing Things.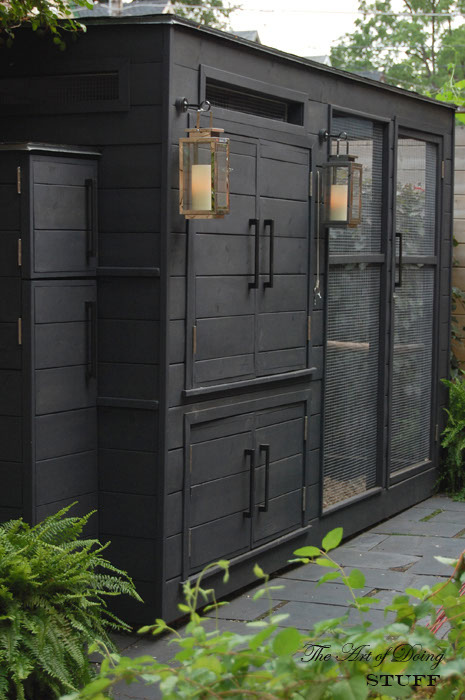 I consider both Heather's and Karen's chicken coops as the "gold standard" for chicken coops.  They're so different, and yet both are so well though out, very well executed, and with amazing results.
That's what I want!!
One common theme that I found from all three chicken owners mentioned above is that it seems like all three started out with the idea that they wanted their chickens to have free run of the back yard.  But all three eventually ended up fencing off a section just for the chickens, and all had the same reason…poop.  😀  It seems that chickens are quite messy, and will use your entire yard (and everything in it) as their bathroom.  So I'll definitely be planning on fencing off an area around the coop that's reserved just for my chickens.
I think my city ordinance requires me to do that anyway, so I may as well plan on it from the beginning.
So what are your thoughts on owning city chickens?  Have you done it?  If so, I'd love to see your chicken coop!!  If you haven't done it, are you considering it?  Does your city allow it?
Addicted 2 Decorating is where I share my DIY and decorating journey as I remodel and decorate the 1948 fixer upper that my husband, Matt, and I bought in 2013. Matt has M.S. and is unable to do physical work, so I do the majority of the work on the house by myself. You can learn more about me here.