Which Living Room Cabinet/Bookshelf Arrangement Works Best?
Happy Monday, y'all!  I'm still trying to figure out exactly how I want to reconfigure the main cabinet/bookshelf wall in my living room.  I'm starting to narrow down the possibilities, and I would love your input.  (Pretty please!! 🙂 )
Remember how my original cabinet design in the living room had standard 24-inch-deep base cabinets in the middle?
They were just too big and bulky…and too "kitchen-y"…for my taste.  So this weekend, I headed to Home Depot and picked up more of the upper cabinets that are only 12-inches deep, and I'll use those in place of the deep base cabinets.  (Don't worry, the base cabinets won't be wasted.  I'll certainly find a use for them!!)
So here are three different arrangements that I'm considering.  I've got more floating around in my head, but these are the three main ones.
First, the simple design.  I like this one because it's pretty uniform, and there's nothing busy about it.
I'm still contemplating bumping out the middle section about four inches or so, just because I have an idea for a way to conceal cords that will require a few inches behind the cabinets.  So the two outer sections with the bookshelves will be 12 inches deep, and the middle section would be 16 inches deep.  But as you can see, the countertop that goes all the way across will be at the same height on all three sections.  I wasn't planning on doing that (I thought I preferred the height variation just to add some interest), but the more I've thought about it, the more I think I like the uniform height.
The second idea would definitely require more work on my part, but it adds more storage and makes some things a bit more functional.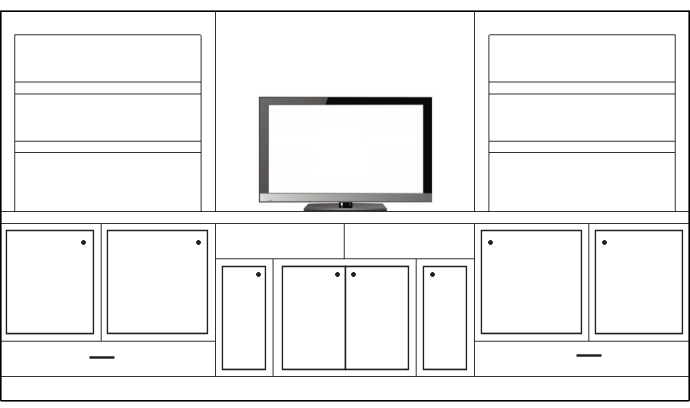 On the two outer sections, I would add a drawer.    Then on top of the middle section, I would create open cubbies where game consoles, DVD players, etc., could be placed.
In the drawing above, I thought I'd try it out and see how it would look with the outer sections of cabinets at a different height, but in reality, I could put the drawers on top and keep all of the cabinets at the same level, like this…
I really do like variation, but my little condo may very well be too small for something with too much variation.  It might be better to opt for version 1 or version 3 just to keep things visually uncluttered.
One of my main concerns with Version 3 is that I'm afraid the extra cubbies will make the entire thing too high to put a t.v. on.  With the cubbies and the countertop, the finished height would be somewhere around 45 inches.  But then again, there are plenty of people who place their t.v.'s above their fireplaces, so I'm really torn.
What say you?
Addicted 2 Decorating is where I share my DIY and decorating journey as I remodel and decorate the 1948 fixer upper that my husband, Matt, and I bought in 2013. Matt has M.S. and is unable to do physical work, so I do the majority of the work on the house by myself. You can learn more about me here.