Last Updated on December 24, 2015 by Kristi Linauer
I may not have a definite design plan for my condo living room yet, but when it comes to the house that we hope to buy this year, I have plans galore.  I daydream about it all the time.  I've even dreamed about it at night on a few occasions.  And on some days, it consumes my mind.
Yesterday was one of those days.
I've decided to start posting some of my ideas and dreams, not only so that I can share them with you, but also so that I can just get my ideas down "on paper" for later reference.  I'll call these posts "Dreaming Of Home".
So what was I dreaming of yesterday?  The exterior of the house!  Here's what the house looks like right now…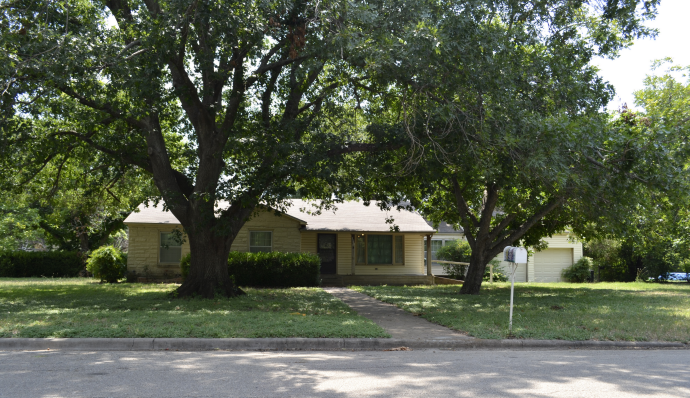 The front porch area, and everything to the right of that, is vinyl siding.  Everything to the left of the front porch is Austin stone, which is a pretty white-ish limestone.
The house is a diamond in the rough right now, but I have such dreams for it!  And even though it might be a while after we move in (perhaps even a few years) before we can save up enough money to tackle the exterior, that won't stop me from making plans right now.  🙂
Truth be told, I dream about the exterior probably more than I do the interior.  That's strange for me, seeing that decorating interiors is what I'm all about.  But I think just the fact that I'll actually finally have control over the exterior of my home has me feeling all giddy, especially after living in a condo for almost seven years, and having no control over the exterior of my current home.
But I find myself dreaming of Austin stone, cedar shake siding, and large front porches.  My mind wanders off into questions of how much it would cost to have a new roof built, with more gables and steeper pitch.  My mind just won't stop.
So my dream, if I could do anything I want to it, would be to first, remove the vinyl siding.  Then I would want to remove the Austin stone from the top portions of the house, and only keep it on the bottom portion.  Then fill in the top areas with cedar shake siding.  I found this gorgeous example yesterday from TR Building & Remodeling in New Canaan, Connecticut.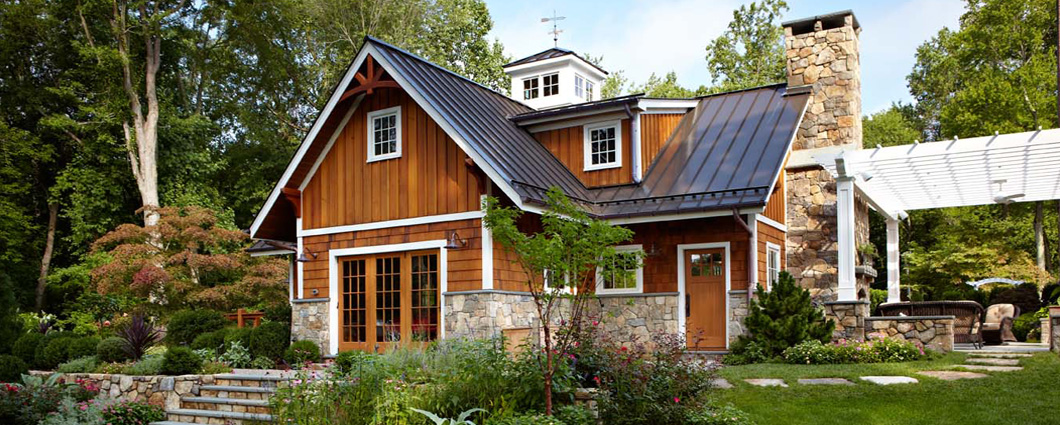 Isn't that beautiful?!  Of course, that's a different kind of stone than what is on our future house.  But I think the contrast between a white-ish Austin stone and the cedar shake siding would be stunning!  (As an interesting side note…that isn't a house in the picture.  It's a pretty impressive man cave and sports car showcase.  Rich people and their toys! 😉 )
There's just something about cedar shake siding that I absolutely love.  Perhaps I love it so much because it's not very common in this area.  And I think it has such a timeless look.
I also really like this lighter color on this house from Joseph B. Lanza Design & Building in Massachusetts, but the darker color is more "me", I think.
I don't think a light color like that would lend enough contrast with the Austin stone to give it that "wow" factor that the top picture has.
Here's a gorgeous front porch with cedar shakes.  This house is by JG Development in Wisconsin.  Oh, how I wish this was mine!

Cedar shakes also look fantastic with siding, as on this house by Emerick Architects in Oregon…
So many possibilities!!  And I love them all!
But then, I always seem to have this picture tucked away in the back of my mind, which was featured a while back in At Home Arkansas (the link to the article doesn't work anymore…sorry!!)…
And that seems very "me" as well.  So really, who knows what I'll end up with.  Right now, I dream of cedar shake siding.  But by the time we actually have the money saved up to work on the exterior, I might be leaning once again to something bright and fresh like the picture above…or I could be on to something else altogether different.
So what do you think about cedar shake siding?  Is it common in your area?  Do you have it on your home?
Addicted 2 Decorating is where I share my DIY and decorating journey as I remodel and decorate the 1948 fixer upper that my husband, Matt, and I bought in 2013. Matt has M.S. and is unable to do physical work, so I do the majority of the work on the house by myself. You can learn more about me here.
I hope you'll join me on my DIY and decorating journey! If you want to follow my projects and progress, you can subscribe below and have each new post delivered to your email inbox. That way you'll never miss a thing!