I got the estimate for the breakfast room back from the drywall guys yesterday.  Now, I've never hired out drywall before, so I honestly had no idea what to expect.  All I did know is that people have been telling me for years now that drywall is one of those things that you should hire out because not only is it really cheap, but the pros can get in and get the job done in couple of days, where it would take a non-pro several days or even weeks.
So when I got the estimate of $2600 for the breakfast room, I was definitely shocked.  And he told me he estimated 20 sheets of drywall, and that the cost included an estimate of $1000 in materials.  Ummmm…do I have the word "sucker" stamped across my forehead?!  I may not do a lot of drywalling, but I'm not a complete novice at it.  And I do know how much drywall costs.  Twenty sheets of drywall at an average of $8 per sheet is $160.  Right?  Am I missing something here?  What else is needed?  Maybe two 5-pound boxes of screws at $50 each.  A roll of seam tape under $5.  A 5-gallon bucket of drywall mud just under $15.  Sandpaper.  Are they using some kind of new math they're teaching kids in schools these days?
So I'm a bit irritated.  Yes, I know I should get more estimates.  I very well may have another tree trimming situation on my hands.  But getting estimates is such a pain, I'd just almost rather do the work myself.  So now I'm weighing my strong distaste for (most) contractors against my strong dislike of drywalling.  I'm not sure exactly which dislike outweighs the other right now, so we'll see.  One thing I can assure you is that I will not ever pay $2600 to have a room drywalled, even a room the size of the breakfast room.
In other happy news, I bought a chandelier for the breakfast room!  I ended up getting exactly what I wanted, but for $200 less thanks to Shelley who commented on yesterday's post.  She told me that Joss & Main had the same chandelier for less.  And then I sweet talked Matt in to chipping in $200 towards the chandelier, which means that only $300 of it had to come out of my decorating budget.  Not too bad!  😀
It was definitely a splurge, but every room needs a splurge item, right?  (And no…drywall doesn't count.)  And I think lighting is such a good place to splurge since it makes such a statement in a room.  This will be beautiful over my dining table against the backdrop of the black stenciled wall!  And I like that it doesn't match, but it coordinates nicely with my kitchen ceiling light.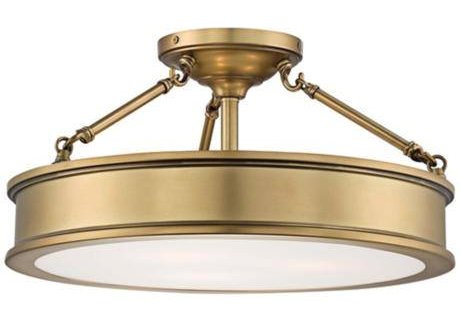 Shelley, who found the discounted light for me, is also the one who found the stencil that I ended up purchasing for the breakfast room walls.
Perhaps I should be paying her a finder's fee!  I know where to go now when I'm looking for something online and can't seem to find it.  😀
Okay, now to answer a couple of questions that I got repeatedly yesterday.
What about the butler's pantry?
By closing up the door at the back of the sunroom, I will in fact be forgoing the idea of a walk through butler's pantry.  I'm really okay with that.  I don't have a need for a real, true butler's pantry (i.e., a place to store extra china, serving platters, etc.).  Nor do I have a need for a actual pantry (i.e., a place to store canned food, snacks, dry goods, etc.).  What I do need is just general storage, which will include a place to store some kitchen items that I don't use very often, like our juicer and juice press (neither of which we use often since we bought our Blendtec), our food dehydrator, etc.  I want to keep those things, and I want to have a place to store them, but I don't necessarily need quick and easy access to them from the kitchen.  So that area could end up looking something like this.  (This is my always-changing final long term plan for the floor plan of our house)…
Y'all know by now that nothing is final until it's actually finished.  And even then, it's subject to revision if I don't like how it turned out.  😀
Isn't black on all four walls too much?
Possibly, but I don't think so.  The fact is that the breakfast room only has one long solid wall, and even it is disrupted by a door.  Almost the entire front wall of the room is windows (10 feet of windows on the 12-foot wall).  The back wall has two big windows.  And I removed half of the fourth wall to open the room up to the kitchen, so there's really only the back half of the fourth wall left — the part which will create the cozy sitting area around the fireplace.
I know dark rooms aren't everyone's thing, but you might have noticed that I tend to like dark, saturated, dramatic colors.  And again, if I don't like it, I'll redo it!  But what's the fun in playing it safe all the time just because there's a possibility that something might not turn out like you envision?  I'm all for taking risks, and then fixing it after the fact if it doesn't turn out.  Because sometimes those risks really pay off.  (Gold leafing kitchen cabinet doors, for example.)
Okay, I'm off to try to finish the kitchen today!!!  No guarantees, because those final touches take so dang long, but if I can have a smooth, uninterrupted work day today, there's a definite possibility that I'll finish.
Addicted 2 Decorating is where I share my DIY and decorating journey as I remodel and decorate the 1948 fixer upper that my husband, Matt, and I bought in 2013. Matt has M.S. and is unable to do physical work, so I do the majority of the work on the house by myself. You can learn more about me here.
I hope you'll join me on my DIY and decorating journey! If you want to follow my projects and progress, you can subscribe below and have each new post delivered to your email inbox. That way you'll never miss a thing!