My Breakast Room Plan — A Completely Different Direction
I'm just so stinkin' excited today, and there are two reasons.  First, my kitchen is almost done.  I know I've been saying that for a while now, but it's really, actually almost finished.  I worked all weekend on all of the little finishing projects — installing baseboards, installing and painting the final pieces of cabinet trim where the sides of the cabinets meet the walls, wood filling nail holes, touching up paint, cleaning the dust off of the cabinets, installing undercabinet lighting, and on, and on, and on.  I would estimate that I have about two more days' worth of little finishing details and touchups before I can wrap this project up with a neat little bow and call it done.
And second, I finally have a clear vision of where I'm headed with my breakfast room.  After weeks of floundering around, jumping from one idea to another, and heading in the wrong direction altogether, it's finally all coming together in my head.  That, to me, is always the fun part of the process.  I love it when the fog clears, and the thousands of possibilities start to drop like flies until you're left with the few that seem perfect for your room.
So last Thursday, I asked y'all to weigh in on the shiplap vs. shake idea for my breakfast room walls.  I've said this before, but the reason that I ask for input is because sometimes some of you come up with ideas that I never in a million years would have come up with on my own.  A lot of times I'll just go with the "majority rules" idea.  Other times, it'll be one or two comments that really catch my attention and get my creative juices flowing…and get me out of my rut.  And here are the comments that did just that…
I'd vote for wallpaper…. but you'd have to find the perfect one. I have not used WP in our homes for years, but when I saw this print via Houzz.. my heart skipped a beat. It's simply elegant. If you look at some other pictures in that house you'll see a touch of elegance. http://www.houzz.com/photos/334264/Wallingford-Farmhouse-farmhouse-dining-room-seattle
OTHER! Drywall, then sophisticated, glam wallpaper to set off that kitchen! That kitchen is way too amazing for either ship lap or shake. Please don't gunk it up with either, I beg you! Glam wallpaper will balance each side of the room. Even just white with thin gold geometric circles or design. Simple, clean, fresh.
I LOVE wallpaper!  So why in the world had that never crossed my radar?  Well, because I was stuck in a rut with the siding idea, that's why!  I had tunnel vision and couldn't "see" anything else in there.
So I got to thinking…if I could put my choice of any wallpaper in that room, what would I choose?  That choice is very simple for me.  I'd use Kelly Wearstler's Imperial Trellis wallpaper in Onyx Gloss from Schumacher.
That wallpaper has been at the top of my "want" list for years now.  I love it just as much today as I did when it first came out.  Here's what it looks like in a room.
Contemporary Dining Room by Saskatoon Interior Designers & Decorators Atmosphere Interior Design Inc.
It's subtle.  It's elegant.  It's black.  (Remember when I said I wanted the breakfast room to be black?)
The only problem is that Imperial Trellis wallpaper is way out of my budget, even with my trade discount, especially for such a large room.  And I do not do accent walls.  Those are just not my style.  If I'm going to choose a wall treatment, 99.999% of the time I'm going to commit to it on all four walls of a room.  There have been very rare exceptions, and may be more in my future, but for the most part I simply hate accent walls.
Also, my mom pointed out to me that using wallpaper in an old house may not be the best idea.  Since old pier and beams are always shifting and settling ever so slightly, my wallpapered walls that look great today might not look so good in a few years as the seams move and shift.
So a stencil is the answer, and I'll use two sheens of black paint (i.e., an eggshell as the base coat and a high gloss as the stenciled design) to create a similar effect as the Imperial Trellis wallpaper.  I've narrowed it down to two stencils.  The first one is this Trellis Allover Stencil from Cutting Edge Stencils.
That is the closest stencil I could find to Imperial Trellis.  It definitely has the same effect.
But then I came across this Teardrop Trellis stencil from Royal Designs Studio, and I think I like it even better.  It doesn't really have that Imperial Trellis appearance to it, but I like that the pattern isn't quite so heavy looking.  I also like that it adds curves to the room.  (I've mentioned before that I naturally gravitate towards squares and rectangles, and have to make a conscious effort to soften things with circles and curves.)
So that's the one I'll probably go with.  I can just picture it in two sheens of black paint.  Beautiful!
Other comments from last Thursday that got my brain working over time were these…
My suggestion would be to have a fireplace on that wall, frame it out with wood in a similar way to your fireplace in the living room, then from the mantle to the ceiling put in shake siding and paint it a dark colour.
Oh my stars! A fireplace on that wall that you see from the kitchen! It would look so GRAND and draw people into that room. Between the gorgeous kitchen and a FIREPLACE! Use wing back chairs at your glorious table, at least two, upholstered in black and white toile. I am not a fan of toile, however, the black and white in that room would be wonderful.
A FIREPLACE!!!!! Why in the heck did I never even consider a fireplace in there?  That's another awesome idea that never even crossed my radar, but I'm absolutely going to put a fireplace in that room.
It won't be on the wall directly in front of the kitchen peninsula.  Instead, it'll be between the two windows at the back of the room, where I'll have a cozy little sitting area.
And I've made the final decision to close up that door between the breakfast room and the sunroom.  It just interferes with furniture placement, and accents the awkward sloped ceiling at that end of the room.  That means that the only entrance into the breakfast room will be through the kitchen (which, by the way, is the reason I've always called this room a breakfast room instead of a dining room).  The kitchen-only entrance is a little strange, but that's okay, because my kitchen is fabulous!  😀
I could go on and on with my plans.  I've been thinking about it and planning it ever since I read those comments on Thursday, and my brain just won't stop!
I need to find an amazing chandelier to go over my dining table against the black backdrop of the walls.  I'd love something like this Metrolume Chandelier in natural brass from Shades of Light…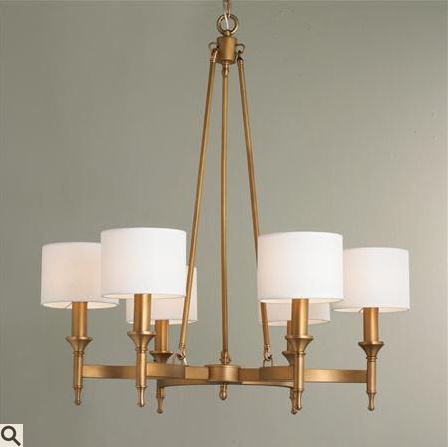 …but there's no way I'll pay almost $700 for a chandelier.
I did find a pretty one at Lamps Plus…
…but I'm not crazy about that center part hanging down that much lower than the rest of the chandelier.  If that wasn't there, I'd snatch this chandelier up in a heartbeat.
Or I could go a totally different direction.  While I would never in my life pay over $1500 for a chandelier, I've had this Greek Key Shade Chandelier from Shades of Light in my "DIY Inspiration" folder for quite some time now.
I can't imagine that it would be that difficult to create something with a similar look inspired by that chandelier…and at a fraction of the cost.
I'm so excited to get started on this room!!  I had the drywall guys come out on Friday to take measurements of the room, and they're supposed to have an estimate ready for me today.  I've never paid to have drywall done, so I really have no idea what kind of price to expect.  I just hope it's within my budget, because I'd like for them to start as soon as possible!
UPDATE:  I just bought a stencil.  I got this one from Sarah M. Dorsey Designs on Etsy.  It's perfect!!!  Thanks so much to Shelley for finding that and linking to it in a comment below!
Addicted 2 Decorating is where I share my DIY and decorating journey as I remodel and decorate the 1948 fixer upper that my husband, Matt, and I bought in 2013. Matt has M.S. and is unable to do physical work, so I do the majority of the work on the house by myself. You can learn more about me here.