Last Updated on December 24, 2015 by Kristi Linauer
After I put forth the question about my breakfast room ceiling the other day, Matt and I had a discussion about vaulting the ceiling.  We both love that idea, and I think that will certainly be the long term plan.  But I think we both agreed that for now, it would probably have to wait.  If the contractor was correct, and his framer would do it for about $1500, that seems like quite a bargain.  But the fact of the matter is that all of these "just $1500" projects are really adding up quickly, and ever since we bought this house, it seems like it's been one $1500+ project after another with no financial recovery time in between.  And really, before I can even think about having the ceiling vaulted, I need to have the floor leveled in the breakfast room.  And of course, that will be done for the bargain price of just $1500.
For now, it looks like I'm living with the low ceiling.  I'll rip down the plywood that's up there and re-drywall the ceiling, but that's about it for now.  (Some of you suggested keeping the plywood and just painting.  Evidently my pictures didn't show the water damage that's present in several areas on the plywood.)
So a couple of days ago, I was thinking about the breakfast room with its low ceiling, and dreading having to work with it, and then I had a thought.  Instead of fighting the "cozy" feeling of that room, why not fully embrace it?  I mean…fully embrace it.  Accent it, even.
As in, paint the room black.  😀
Green, white, and black has been a favorite color combo of mine for several years now, probably ever since the first time I saw the Viceroy Santa Monica, designed by Kelly Wearstler.
Viceroy Santa Monica, designed by Kelly Wearstler
The bathroom, with the beautiful green subway tile, is probably my favorite. That color combo is just so bold.
Viceroy Santa Monica, designed by Kelly Wearstler
There's just something about adding black to a room that adds a look of sophistication.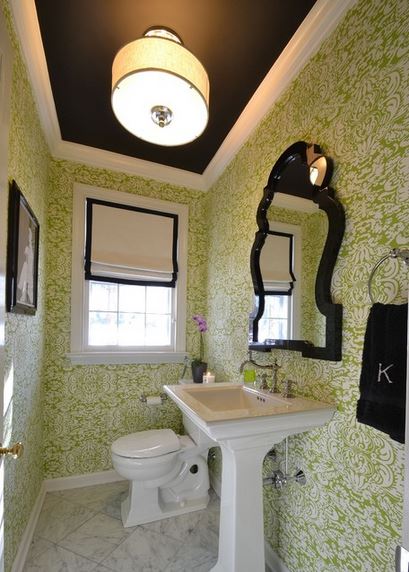 Contemporary Powder Room by Villanova Architects & Building Designers Priscilla Fenlin Interiors
I know lots of black in a room, and especially on the walls, isn't for everyone. But I'm just not one of those people who has to have everything light, white, and bright. I love color, and I love deep, dark hues. I don't find them depressing at all. I find them warm and cozy.
Contemporary Family Room by Atlanta Interior Designers & Decorators Kristin Drohan Collection and Interior Design
Of course, it does help to add lots of white to the mix.
Traditional Kitchen by Chicago Architects & Building Designers COOK ARCHITECTURAL Design Studio
Eclectic Hall by Richmond Interior Designers & Decorators Kathy Corbet Interiors
Contemporary Kitchen by Sydney Architects & Building Designers Greg Natale
So that's the direction I'm leaning right now. I think it would be cozy, sophisticated, and maybe a bit unexpected. I've also considered a really deep midnight blue instead of black, but I keep going back to black.
And if I try it and it looks too dark and depressing, it's just paint, right? What's the harm in trying? 🙂
Oh, and as far as window treatments for the breakfast room go, I won't be doing any kind of drapery panels since the ceiling is low. Instead, I'm leaning towards making my own grosgrain ribbon Roman shades like these from Pottery Barn. I want white shades with wide green ribbon the color of my cabinets.
Can you picture it? White roman shades with green grosgrain ribbon the color of my cabinets, in a black room. Alright, stick with me. We'll see where this goes. 🙂
Addicted 2 Decorating is where I share my DIY and decorating journey as I remodel and decorate the 1948 fixer upper that my husband, Matt, and I bought in 2013. Matt has M.S. and is unable to do physical work, so I do the majority of the work on the house by myself. You can learn more about me here.
I hope you'll join me on my DIY and decorating journey! If you want to follow my projects and progress, you can subscribe below and have each new post delivered to your email inbox. That way you'll never miss a thing!