Exciting House News — A Change In (Floor) Plans
Y'all, I have been absolutely giddy (and totally distracted) all weekend. I've been toying with an idea in my mind for a while now, and wondering how I could present this idea to Matt in a way that he would go for it and not shoot shoot it down immediately.
Well, sometimes I forget that I'm married to the absolute most easy-going man ever, and a man who would deliver me the moon on a silver platter if he could. So our conversation went something like this:
Me: I have this idea for the house. It's pretty big, so keep an open mind. *Then I explained my plan.*
Matt: Hmm…interesting. Make your case.
Me: *Explained the reasoning behind this major change.*
Matt: Sounds reasonable. Go for it!
*Sigh* He loves me. He really, truly loves me. He would have to in order to put up with my craziness, right? 🙂
So what's my crazy idea? I want to enclose the garage and turn it into my office/studio area. I know it sounds crazy, but it's really quite reasonable. I promise. 🙂 So let me explain why I want to do this.
Here's pretty much how our floor plan looks right now, except that this one doesn't show the new pantry at the back of the breakfast room, and it still has the front room labeled as "dining room" even though I've given up on that idea and decided to turn it back into a living room.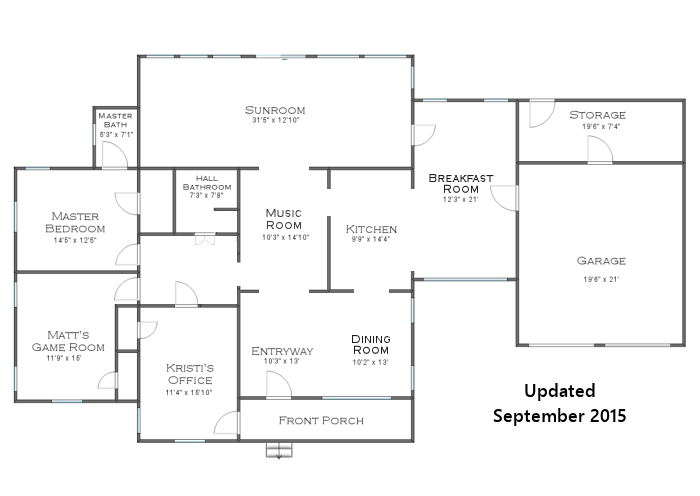 You can see that the bedroom that I've been using as my office is 11′ 4″ x 15′ 10″. It's a very long and narrow room. In order to really maximize the room as an office/workroom, I've been planning on building lots of storage, a built-in desk, etc. You know…the standard office stuff.
But in addition to that, I want a real, actual workroom table that's big enough to accommodate an entire drapery panel with just a smidge extra room. That means that the table would need to be 65″ x 100″ or so.
Well, once I get a 65-inch-wide work table into a room that's 11′ 4″ wide, that leaves me just under 3 feet of space on either side. That's not enough room to built cabinets and still leave enough room to maneuver around the table freely as I work. So for months now, I've been trying to come up with a plan for a table that could split in to and roll to the sides of the room when it's not needed, and somehow incorporate into the built-in storage (e.g., perhaps the halves of the table could be desk space on either side of the room, and then roll together and attach when the big table is needed.)
And that's a fine idea, except that I just don't want the hassle. I don't want the hassle of having to design something like that, or build something like that, or assemble my work table each time I want to use it. And I don't want to have to think about how to incorporate something like that into the built-in storage that I want in the room. I just want an efficient office/workroom where everything I need is already put together and ready to use.
And that just leaves one room in the house that will accommodate those needs — the garage. Here's a picture of the front of the house that I took right after we bought it. Unfortunately, it hasn't changed much. (It will, though.) But just in case y'all forgot how the garage is incorporated into the design of the house, you can see it over there on the right.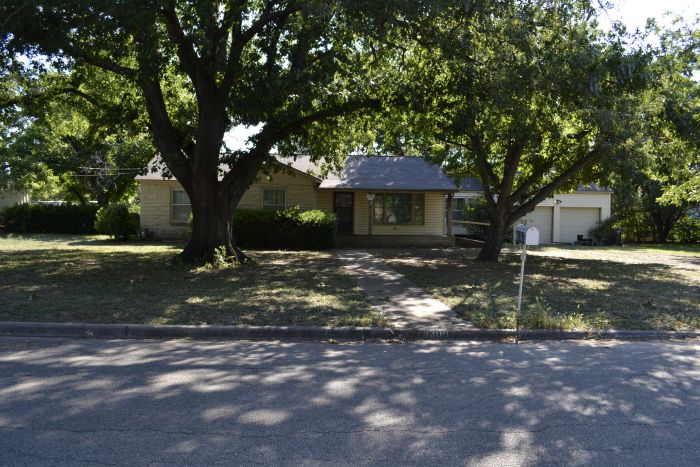 Now here's the interesting thing about this garage. Yes, it's supposed to be a two-car garage, but those garage doors are tiny. Right after I got my new car last year, I was determined to get the garage clean so that I could park it inside out of the elements. Well, I did that about three times before I realized it just wasn't going to happen anymore. The garage door is so narrow that there's only about three inches of extra space on either side of my side mirrors when I pull in. It's a crazy tight fit, and that's with a Honda Civic, which isn't a big car. My truck won't fit through the garage doors at all.
So that's one huge reason why I don't feel bad at all converting it into an indoor space. In order to make that garage usable as an actual garage, I would have to have those garage doors completely reframed and enlarged (both width and height), and then have new garage doors installed. That's very costly, and even if we did that, that garage still wouldn't function efficiently as a garage space for us since there's no way to make it wheelchair accessible due to space constraints.
But also, the garage has the same concrete footing around the perimeter that the entire house has, which means that it's already set up for piers, beams, etc., in order to have the floor be completely level with the rest of the house. (I'll explain more on this in later posts if you're confused.) And once that's done, it'll still have 8-foot walls just like the rest of the house. It's very interesting. It's almost like this garage was built for the possibility of it becoming an indoor space.
Of course, the natural question is, "So where are you going to park? Are you just not going to have a garage at all?"
Well, I probably won't have a garage. I'd be perfectly happy with a carport built at the back of the current garage/storage room. I'm still uncertain about how I want the exterior of our house clad (brick? siding? a combination?), but I'd like the carport to have the same so that it looks like it's actually part of the house and not some "carport kit" that we picked up for $200 at Home Depot. (I have no idea if there is such a thing, but y'all know what I mean, right?) I just took about 30 minutes to look at carport ideas this weekend, and I really love this one…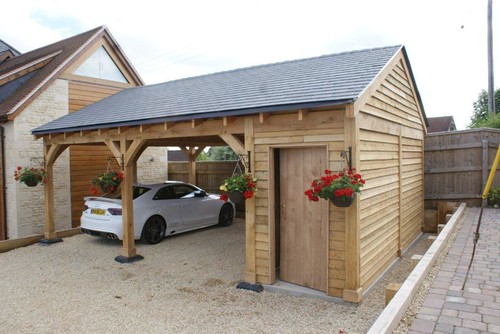 traditional sheds
And ours will be situated right next to the back door on the storage room behind the current garage, with a covered walkway connecting the carport to the house. That means that that door would become our main entrance. I'd also put additional (uncovered) parking back there so that people who come over regularly can also enter through that door, and into a mudroom where dirty shoes, scarves, and coats can be left (during our two weeks of winter every year 😀 ). The only people who would enter through the front would be delivery people and new visitors.
So basically, the new plan would look like this. 
(Please note that this floor plan does not show the other major changes we're planning on making, i.e., tearing down the sunroom and master bath, and adding a family room, laundry room, and new master bedroom, and turning the current master bedroom into the master bathroom. But there's news on that front, too. I'm about to start "shopping" for a general contractor for that project!)
EDIT: Several people have recommended that I add a half bath to the mud room. I had contemplated that, and even asked my neighbor's advice (he is remodeling his own home and has quite a bit of experience). The issue will be running water to that room since it's on a slab, as is the breakfast room and pantry. If the entire are were on a pier and beam foundation, running plumbing there would be no problem. But if I can find a way to get plumbing to that room, I'll definitely add a half bath, which would look something like this…
And if that's not possible, Matt says we can put an outhouse by the back door between the carport and the door. 😀 Okay, maybe not.
So needless to say, I'm pretty darn excited about this plan. There are so many advantages to it:
I'll finally have a big workroom where I can work on my biggest projects and still have plenty of room. I've paid my dues with 10 years of sewing drapery panels on the floor. 😀
We'll actually have a guest bedroom. I'm sure Matt's dad will appreciate that when he comes so that he won't have to cram into Matt's game room and share that space with Matt during the day.
I can stop parking in front of the house. I'll actually have a dedicated space for my car and truck that will be covered, and a space that my car and truck will actually fit into comfortably. And for the first time since we bought our house, I'm so incredibly thankful that our house doesn't have a concrete driveway that goes to the current garage, which would make it glaringly obvious that that room is a converted garage. Since we have no driveway, I can design it and have it poured exactly where I want it, and it'll go to the side of the house and to the new carport.
I'll actually have a real mudroom were regular guests can enter and drop off coats, scarves, and muddy shoes.
Wheelchair accessibility to the carport will be so much easier than wheelchair accessibility from the front porch to the originally-planned driveway. (Wheelchair accessibility through the current garage was never even a possibility due to space constraints.)
The last obvious question is, "What about your tools? I thought you wanted a workshop where you could cut and sand and build stuff!"
I do. And I'll eventually have my very own, properly arranged, and very efficient workshop. It'll be its own separate building somewhere in our huge back yard. (We have an acre of land, so there's more than enough space.) But for three years now, I've been dragging my tools out to the front porch any time I need to use them. It's not efficient at all, but I've made it work. So I can keep doing that for a while, and then when we do build the carport in the back, I'll have a nice, big, covered area were I can set up my tools when I need them. And when they're not in use, we already have a storage building back there where I can keep them.
So I'm going to try not to get too distracted from my original list of goals for this year. Those are still my main goals, and I'll do everything in my power to make sure those things get finished. But Matt also wants me to start interviewing contractors immediately for the big addition we have planned, and he also wants me to start getting bids for my office/workroom. We need someone to pour the rest of the concrete footing (where the garage doors currently are) and to raise the floor on a pier and beam foundation so that that room is level with the rest of the house.
Exciting stuff ahead! 🙂
Addicted 2 Decorating is where I share my DIY and decorating journey as I remodel and decorate the 1948 fixer upper that my husband, Matt, and I bought in 2013. Matt has M.S. and is unable to do physical work, so I do the majority of the work on the house by myself. You can learn more about me here.