Last Updated on February 19, 2019 by
Last week, I had several people ask for details on how I did the trim around my door in the kitchen, so today I'm sharing the details, plus several variations using stock trim from Home Depot or Lowe's.
The trim I used around my door is very simple, both in design and in the skill it takes to create it. I wanted something fancier than just plain trim, mitered at the corners, but I don't think my house calls for anything that's really super fancy with crown molding and such, so this is what I came up with…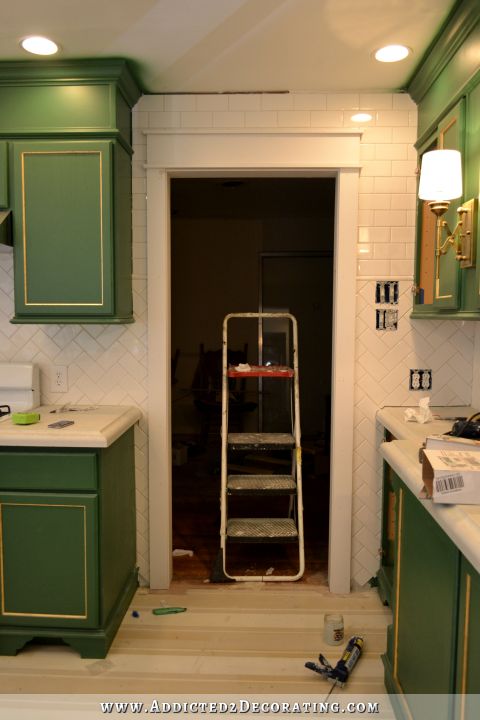 And by the way, there's no door there. I took the photo at night, and didn't turn the light on in the music room, so it's just really dark in there. But there's no door — just an open doorway.
To create this look, you use either plain 1-inch solid wood lumber, or you can use pre-primed MDF boards. I chose to use MDF boards because they're pretty much perfect — consistent thickness and width, and perfectly smooth with no wood grain or knot holes to deal with.
A quick lesson in MDF boards — MDF boards are available in almost all of the standard sizes that regular wood lumber is available in — 1″ x 2″, 1″ x 4″, 1″ x 6″ and so on. But at Home Depot, they have them labeled differently. For example, if you purchase a piece of real wood lumber, it might be labeled as a 1″ x 4″, but the actual dimensions are more like 3/4″ thick and 3.5″ wide. With MDF boards, they're labeled by their exact dimensions. So the equivalent of a real wood 1″ x 4″ in an MDF board is labeled 11/16″ x 3.5″. So from here on out, I'm going to use the dimensions as if I used real wood lumber. None of this 11/16″ stuff. Got it? 🙂
I added trim to the other side of the kitchen doorway so that I could show you how it's done, and my door already had door facings (which yours will as well if you're just wanting to replace existing trim).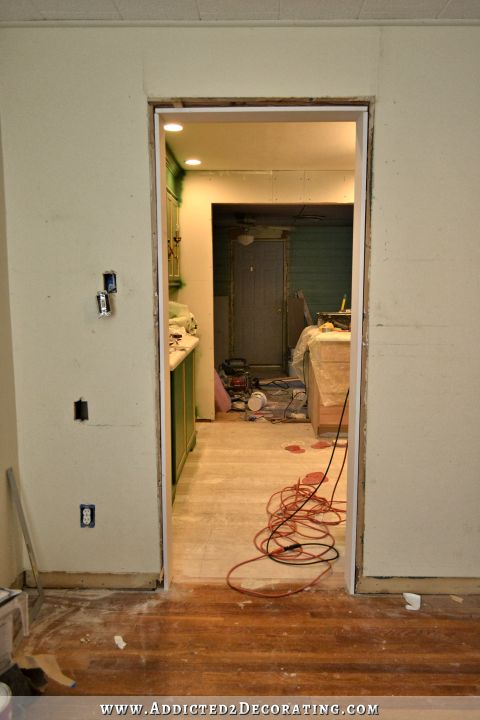 But in the event that you're dealing with a roughed in doorway with no trim at all, here's a close up view of how the door facings are installed. A roughed in doorway (with the 2 x 4's showing) is generally not perfectly level, so you have to use wood shims while installing the door facings to get it perfectly straight. Start with the top piece, shim and level, and then nail into place. Then shim and level the side pieces and nail them into place.
If you have shims sticking out, you can either use a utility knife to score them and snap off the parts sticking out (often requiring a hammer), or you can use your oh-so-handy Dremel MultiMax, which I know you have because I've suggested it about 100 times now, right? 🙂
Now to do the trim, start by measuring the height of the opening. Add about 3/8-inch and cut two pieces of 1″ x 4″ lumber to that length. Attach them to each side, setting them over about 3/8-inch from the edge of the door facings. (You never want the inside edge of the trim to go right up to the edge of the door facings. Leave just a little space to create a tiny inset corner.) I used my nail gun and 16 gauge 2-inch finishing nails to attach mine.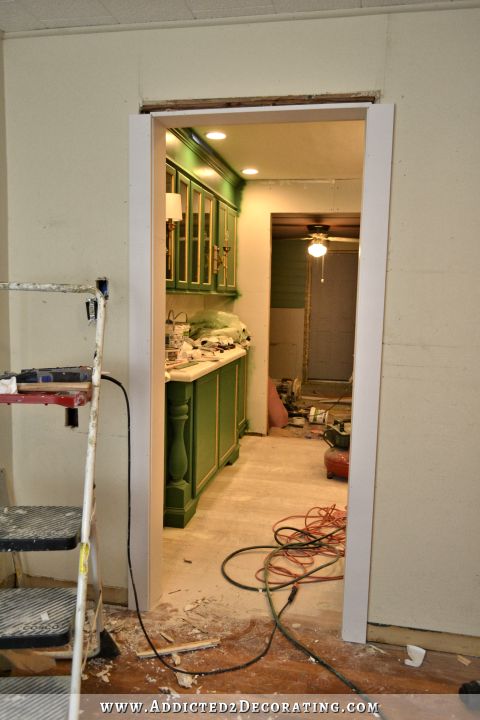 Now measure the width from the outside edge of one 1 x 4 to the outside edge of the other 1 x 4, and cut a piece of 1″ x 6″ lumber to that length. Add one inch to that measurement, and cut two pieces of 1″ x 2″ lumber to that length. Mine measurement was 40 inches, so I cut my piece of 1 x 6 to 40 inches long, and my two pieces of 1 x 2 to 41 inches long.
Place one of the 1 x 2 pieces flat on top of the 1 x 4 pieces so that the 2″ sides are facing up and down, and the 1″ sides are facing front and back. Make sure it's centered perfectly, and nail the board into place. I used 1.5-inch 18 gauge finishing nails to secure mine.
To make the final section, attach the second 1 x 2 to the top of the 1 x 6 using wood glue and nails through the top of the 1 x 2 into the edge of the 1 x 6. I again used 1.5-inch 18 gauge finishing nails in my nail gun for that.
Place a generous amount of construction adhesive on the back of the 1 x 6, place on top of the first 1 x 2, and press to the wall. Then use a few finishing nails through the bottom of the first 1 x 2 into the edge of the 1 x 6, as shown by the arrows in the photo.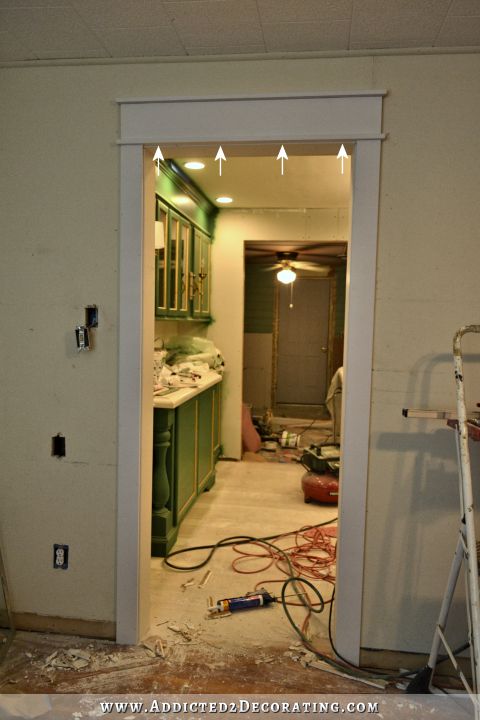 And that's it! Now you're ready to fill and sand the nail holes, caulk all of the corners and spaces between the boards, prime, and paint.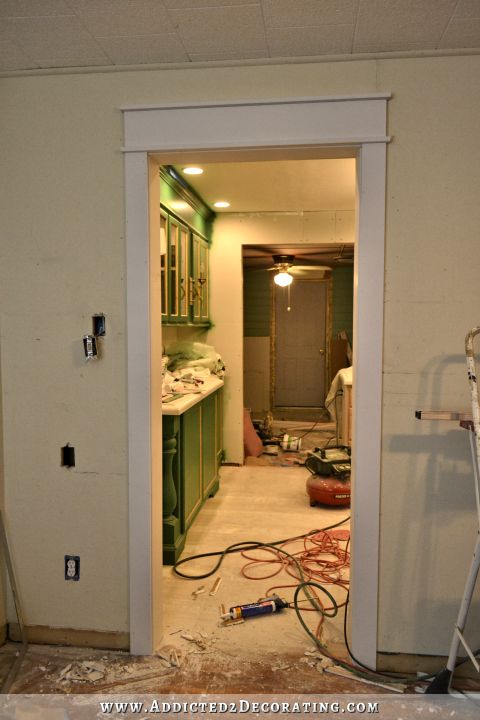 It doesn't get much easier than that. But if that's not quite your style, you can get so many different trim ideas from places like Houzz or even by browsing the trim aisle at Home Depot or Lowe's. Here are five similar variations that I found on Houzz.
To create this first one, you would simply eliminate the two 1 x 2 pieces. For the top piece, you can use the same width lumber that you use for the sides, or you can use the next larger size to create more of a statement. Either way, it's pretty, and it's something different from the standard, ubiquitous mitered corner door trim.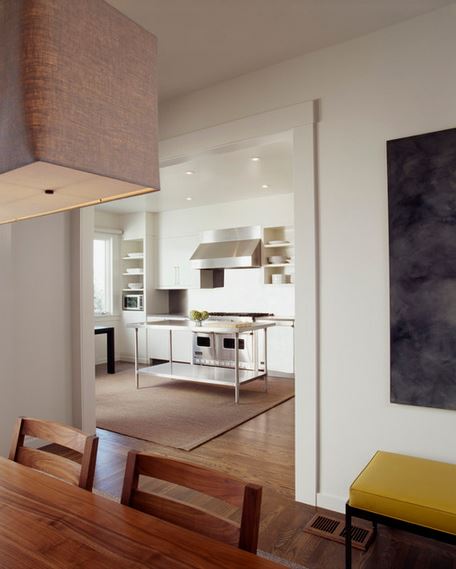 Modern Kitchen by San Francisco Architects & Building Designers Cary Bernstein Architect
This second one eliminates the bottom 1 x 2 piece, and in place of the top 1 x 2, you would use a small crown molding instead.  Using crown molding does take the difficulty level up a notch because you have to miter and wrap the corners, but if you're skilled with a miter saw, that should be no problem.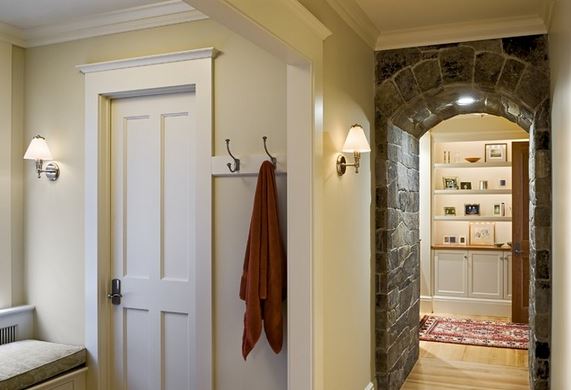 Traditional Hall by Norwich Architects & Building Designers Smith & Vansant Architects PC
I would suggest a very small crown molding for that look, like this one from Home Depot that runs under $1.00 per linear foot.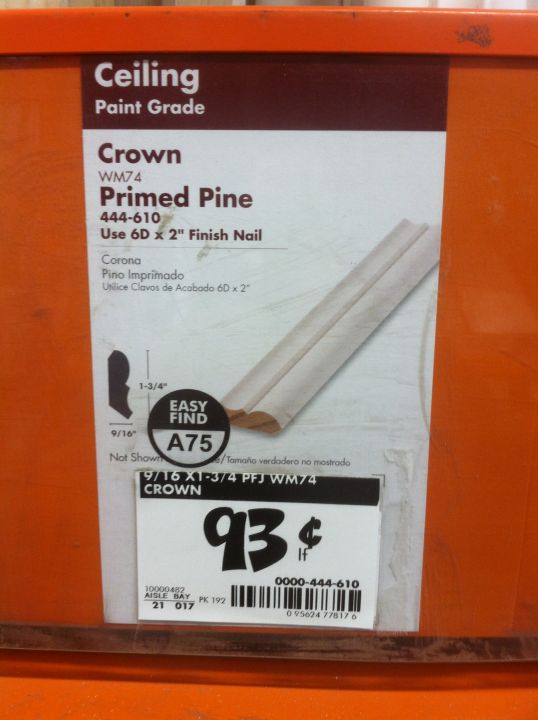 This third idea uses a fancier trim on the sides rather than standard lumber.  Then top that with a 1 x 6 and your choice of crown molding.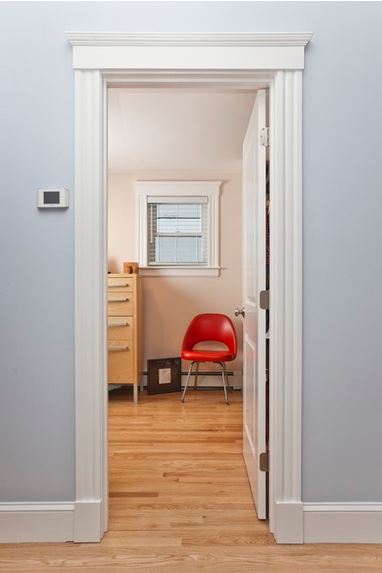 Traditional Bedroom by Allston General Contractors Boston Green Building
My Home Depot didn't have anything quite like that, but I did find two different styles of this fancy grooved door casing trim, which could be used on the sides.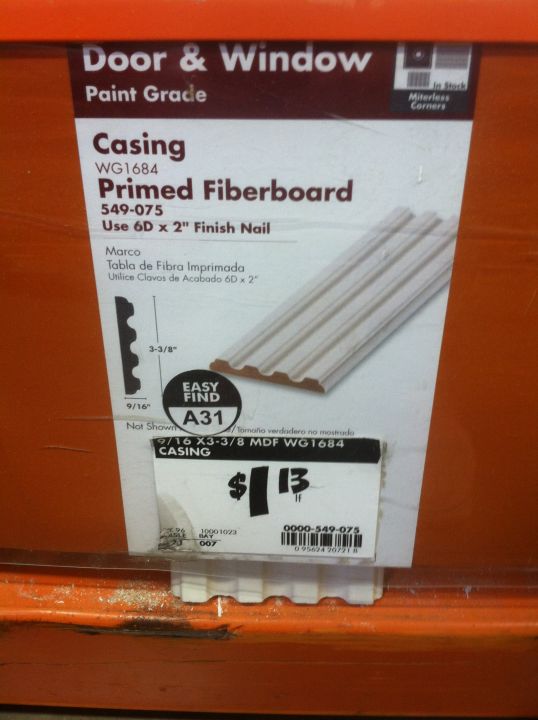 This fourth design is very similar to mine, but eliminates the top 1 x 2. Talk about easy!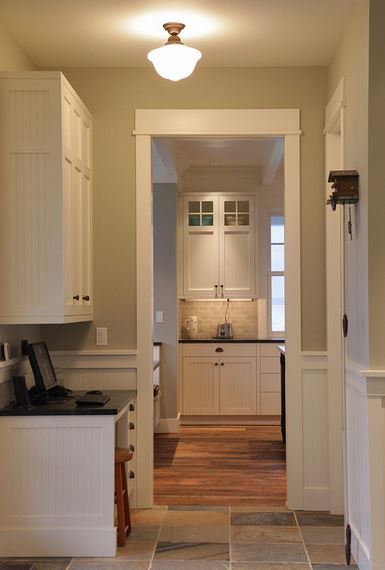 Traditional Hall by Seattle Cabinets & Cabinetry Warmington & North
And finally, this fifth design that I found is the fanciest of them all, but still not difficult.  To create this, use the 1 x 4's or even 1 x 6's as the side pieces, place a 1 x 6 on top, top with crown molding, and then use a pretty molding that is flat on back to create the bottom division.  That piece also has to be mitered on the corners and wrapped, so you'd have to know how to miter corners to create this look.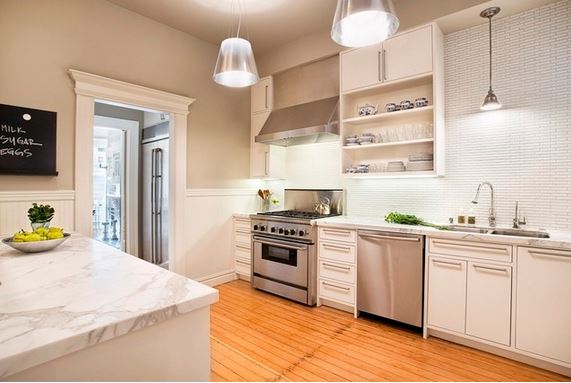 Contemporary Kitchen by Oakland Architects & Building Designers Patrick Perez Architect
For the small molding at the division, something like this from Home Depot would do the trick.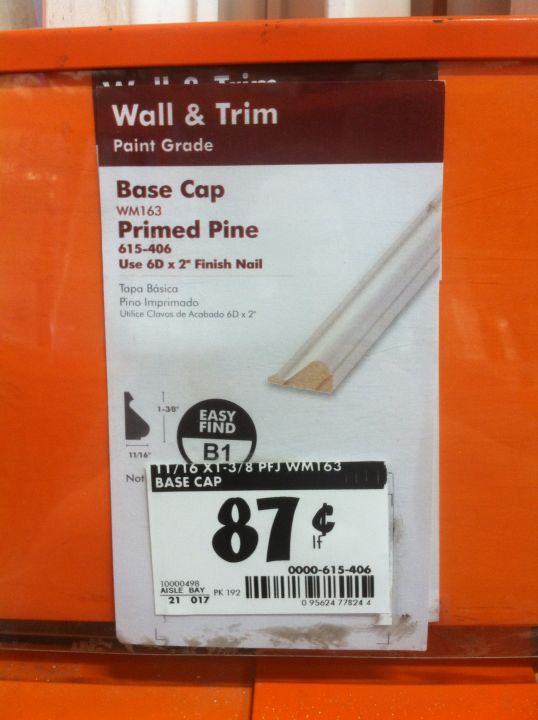 And of course, that's not the only one that would work. It's just the one I would use if I were creating this look. 🙂
The possibilities are really endless. Just stroll down the trim aisle at Home Depot or Lowe's, and let your imagination go. For example, if you wanted more dimension on the side pieces, but didn't want any of the fancy casing trim they have, you can create your own.
Use a 1 x 4 and add strips of lattice to each side to create a dimensional look with a bit of a cleaner, perhaps more modern look.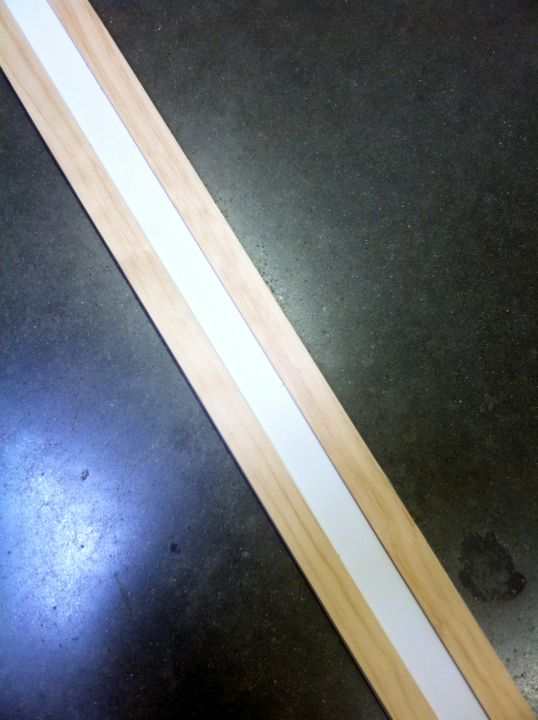 (Sorry for the awful phone pic!)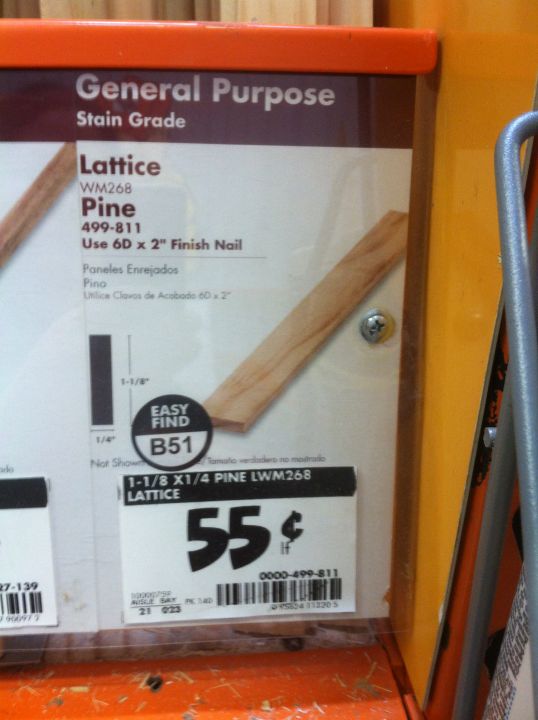 Once everything is caulked and painted, it'll look like one solid piece.
Or if that's too bulky, you could try using strips of screen trim on the edges. Screen trim has rounded edges, so it creates a softer look.
(Another awful phone pic. So sorry!)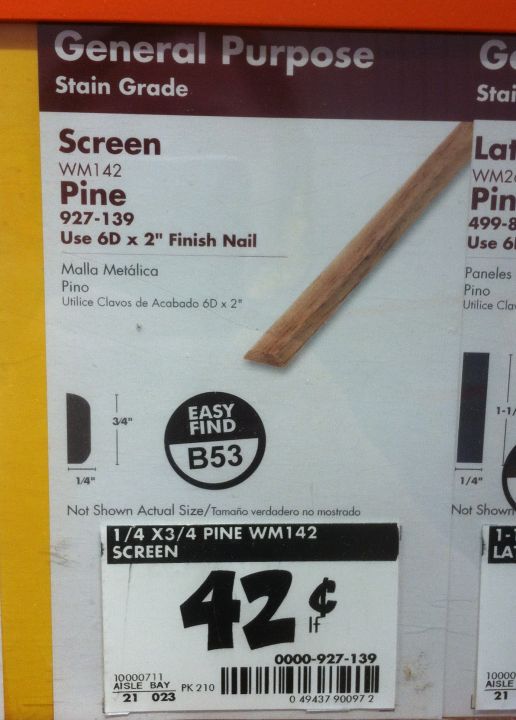 I could go on and on with this all day long. I love browsing the trim aisle at Home Depot and imagining the different things that I could create with all of these different styles and sizes.
So have fun with it!  And remember…there are no "door casing" rules that you have to follow in your home.  If you find a combination that you like, go with it!  And don't worry so much about the labels on these trims.  Just because something is labeled as a baseboard, that doesn't mean you can't use it as a door casing if you think it'll be pretty.  Be creative and have fun!  🙂
Addicted 2 Decorating is where I share my DIY and decorating journey as I remodel and decorate the 1948 fixer upper that my husband, Matt, and I bought in 2013. Matt has M.S. and is unable to do physical work, so I do the majority of the work on the house by myself. You can learn more about me here.
I hope you'll join me on my DIY and decorating journey! If you want to follow my projects and progress, you can subscribe below and have each new post delivered to your email inbox. That way you'll never miss a thing!