Last Updated on December 24, 2015 by Kristi Linauer
I have a confession. Since we moved into our house mid-October of last year, I haven't cooked a single meal in our kitchen. Not one.
We actually didn't even have a stove until about two weeks ago, and quite honestly, I wasn't in a hurry to get one. Not only do I hate cooking, but I was also not anxious at all to have to use our kitchen. It was the most inefficiently arranged room I had ever seen.
It's a very long room, with one bank of cabinets on one end (where the sink is), and another bank of cabinets at the other end.  And on the empty side walls, there's the hookup for the gas range and fridge.
I actually moved the stove and fridge to the same wall, but it didn't really help anything.
With no countertop near the range, and most of the countertop near the sink taken up with dish drying racks (I don't have a dishwasher), a water filter, a coffee maker, and a few other items, there was barely enough room to make a sandwich, much less cook a meal.  And the other countertop was so far away — too far to be of any actual, practical use.
So when my father-in-law got here on February 8th, I had a list of things that I wanted his help with.  And one of the things I had on the list was to move the lower cabinets on that far wall to the right of the fridge to the empty wall opposite the fridge.
I could tell he wasn't too thrilled with that plan, mostly because he didn't actually think it was do-able, and he thought it would take a really long time to get it done.
But yesterday morning over breakfast, he told me that he had cleared out everything from the countertop and cabinets because he was going to tackle moving the cabinet.
So after breakfast, I went in there to help, and we had that thing moved in about 15 minutes!
Then we brought in an extra 24-inch base cabinet that I just happened to have in the garage and stuck it between the range and fridge.
We later put a makeshift plywood countertop on it.  It's not pretty, but at least it's functional for now!
So that was supposed to be the end of the project, according to him.  🙂
I floated the idea of removing the upper cabinets, and he just laughed and told me that wasn't gonna happen.  And he went into the living room and sat down in the chair for a nap.
Well, I was pretty convinced that it was gonna happen, but I wasn't going to nag.  I was just going to let things take their course, because I know him well enough to know that once an idea is planted, he can't rest until it's finished.  He and I are a lot alike that way.
So it wasn't even an hour later that he said, "Okay, let's do the upper cabinets."  😀
They were considerably harder to remove than the lower cabinets.  They were bolted into the ceiling with 5-inch bolts (!!) plus nailed every which way with big, long nails.  But after about 30 minutes of prying and pulling, we finally got the first cabinet removed.
And in the process, we uncovered some of the most beautiful wallpaper you've ever seen.  😀
And, of course, we ruined some of the polystyrene ceiling tiles.  (Oh, darn!)
So with that victory under our belts, he sent me off to the Mexican restaurant down the road to pick up our victory lunch.  (That was actually the deal — he said he'd remove the cabinets if I bought him a taco salad from the Mexican restaurant.  A small price to pay, if you ask me.  And I'm sure I got the better end of that deal.)  😀
I told him that he was absolutely not allowed to remove the second cabinet by himself, and that he was to wait until I got back.  But he's about as independent as I am.  When I got back, the second cabinet was down, and I proceeded to rip the faux tile wall board from the wall.
I couldn't believe what a difference it made in the room!  Even with everything still a complete mess, it already felt way more efficient to me.
Plus, I was finally getting a glimpse of how this room will feel after I remodel.  If you'll remember, this is the floor plan I'm planning for the final kitchen.
And now that I can see it, I think I'm going to love it.
I do remember a few of you questioning this layout, and suggesting that I move the fridge to the empty wall at the end, and add more cabinets on either side, making it more of a "U" shape.
I tried that, and as soon as I moved the fridge to that wall, it made the kitchen feel so tiny and cramped.  I didn't like it at all.
This arrangement makes everything feel so much more open and spacious.  Plus, it's what I'm used to.  My mom's house (the house I grew up in) is arranged like this, and this is also the arrangement I had in the condo, except that my kitchen is bigger than both my mom's kitchen and the condo kitchen.
But I did remember the suggestion that a few of you gave me to leave a bit of room to the right of the fridge so that the door will open wider, and add a cabinet to that side for storing broom, dustpan, and similar skinny items.  I think I'm going to love that idea.  (And obviously once that second doorway behind the fridge is closed in, I'll have another outlet added for the fridge).
This actually makes me so excited about this kitchen.  I don't need or want some big, huge, fancy gourmet kitchen.  That would be money wasted on me.  But I do want a nice kitchen, and I've been doubting that I would ever be able to make this kitchen efficient.  But now I see that I can, and I'm getting excited about starting on the real remodel!
And since we had already destroyed some of the polystyrene ceiling tiles, I just went ahead and removed all of them.
This has to be one of the saddest things ever for me regarding this house, because it looks like they put these things over perfectly good drywall.  I had assumed that they were trying to cover up drywall problems, but every area I've uncovered so far looks like the drywall was in perfect condition.  But taking down all of those 1 x 4's that they're stapled to is absolutely wrecking the drywall.  It's so incredibly frustrating to me.  I honest to goodness have no idea why anyone would do this.
And it also amazes me how much taller the ceiling looks just by removing them.  I've only gained about 1.5 inches, but it feels like I've gained a foot.
So that's where my kitchen remodel stands right now.  😀
I really have no idea how much time and effort (and money!) I'll spend on it at this point, because at some point in the future, everything in here will go (with the exception of the range and fridge) and be replaced with everything new.  So anything done now will just be temporary, and that feels like a big, huge waste of time and money to me.  But we'll see.  I don't think I'll be able to live long with that jungle/camouflage motif on the far wall.  I'll probably at least end up painting in here just to cover up all of the crazy patterns and drab antique white everything, and to bright up the room.
I will be saving all of the cabinets, though.  They're my future garage storage and workbench!  😀
EDIT:  After reading your comments and suggestions, I've decided that in the final remodel, I'm going to flip flop the range/fridge side with the sink side, and then open up the wall completely between the kitchen and the dining room.  That will make the sink area look more like an island than a bank of cabinets against a wall.
So here's the original floor plan of our house.  The room labeled "Den" is the one that will eventually be our breakfast room/dining room.  (Nothing too formal, probably.)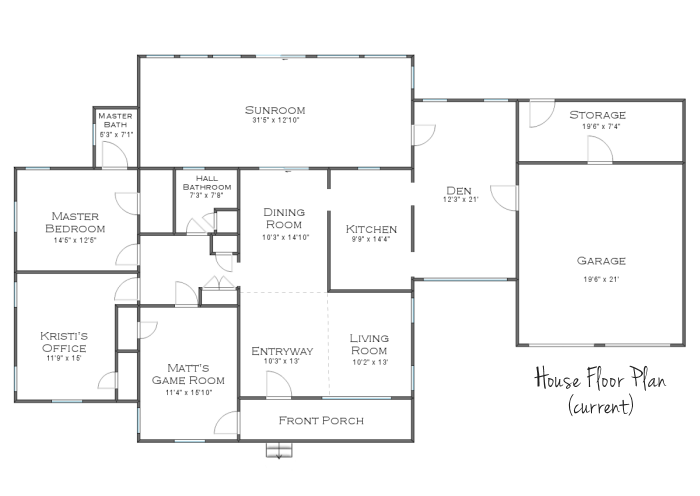 So I'm thinking that if I knock the wall out between the kitchen and future dining room (marked "Den" above), then that will open up the kitchen, allow for more natural sunlight through the big wall of windows at the front of that room, and make the kitchen feel bigger even though it'll remain the same size it is now.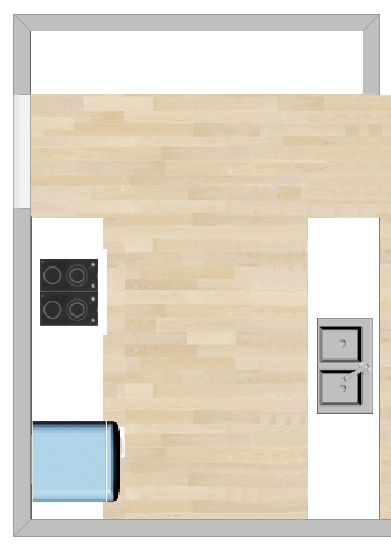 I didn't do anything with the wall of cabinets (where the sink is currently) in the drawing above, but obviously it'll need some reworking as well.  Exciting!  😀
Addicted 2 Decorating is where I share my DIY and decorating journey as I remodel and decorate the 1948 fixer upper that my husband, Matt, and I bought in 2013. Matt has M.S. and is unable to do physical work, so I do the majority of the work on the house by myself. You can learn more about me here.
I hope you'll join me on my DIY and decorating journey! If you want to follow my projects and progress, you can subscribe below and have each new post delivered to your email inbox. That way you'll never miss a thing!