First The Bedroom-To-Master Bathroom Conversion, Then The Addition
Matt and I have finally reached a compromise on the addition. If you'll remember, Matt was ready at the beginning of the year to start on the addition. I wasn't. And I'm still not.
If you're pretty new around here, let me explain. Right now, our house looks something like this…
But we plan to eventually tear down the existing "master bathroom" (I use that term lightly) and sunroom, and add a family room, utility/laundry room, and master bedroom. Then the current master bedroom would be converted into a master bathroom. That would look something like this…
And no, I still don't know where the master bedroom closets would go. 🙂 But that's not important right now.
While Matt has been ready to get started on this addition, I've been dragging my feet. Why? Well, first of all, we'd have to take out a loan to get the addition done. Our plan has been to save up the money and then do the addition, paying for it all in cash. But it's hard to save money when we keep spending it on other things. The garage-to-studio conversion, the carport, and the new front sidewalk were in the $65.000 range, plus all the other expenses for smaller projects that add up along the way.
We've managed to do everything on the house so far in cash, so the thought of taking out a big loan just hasn't set well with me. The last thing I want is to end up with a finished house and a mountain of debt.
The idea that we could go at our own pace, pay in cash as we go along, and still have a roof over our head along the way is the main reason we wanted a cheap fixer upper instead of a new build house in the first place. So I've been very stubborn about changing course on our original "cash only" plan, even if that means it takes us 10 years to finish.
Also, when Matt told me he was ready to get started on the addition, my studio still looked like this…
Everything that needed to be done in the studio, half bath, and storage closet still felt daunting and overwhelming to me, so the thought of starting the biggest project of all — a big multi-room addition — in the midst of an unfinished studio wasn't something I could handle.
But now I've made a huge amount of progress on the studio, and I feel like I can see the finish line on that area of the house. But while I'm open to starting something new, I'm still not open to lots of debt.
But this weekend, I had an epiphany. The only part of the addition/big remodel that we really need NOW is the new master bathroom, which will include things that will make Matt's life so much easier, like a curbless, accessible shower.
It would be nice to have a big family room with a comfy sectional sofa and a TV, but as long as there are projects to be done, I don't really sit and watch a lot of TV anyway. And while a big new master bedroom with French doors looking out to the back yard would be amazing, we already have two other bedrooms in the house. And while I can't wait to have a dedicated laundry room with plenty of storage and organization, my washer and dryer currently work just fine in the sunroom.
None of those things are imperative right now. The only thing that we need now is the master bathroom. And guess what! That room doesn't need to be built, because it's already part of the house. It just needs to be converted from a bedroom to a bathroom. And that's something we can do without taking on debt.
So our tentative plan right now is for us to move out of the master bedroom and into the front bedroom. But before that can happen, that room will need some work. Since Matt and I will using that bedroom during at least one winter, it needs new windows, insulation and drywall. The three bedrooms all still have the original windows. None of them close properly, and they're very drafty. Plus, that bedroom is the one that used to have the side door that went out to the front porch…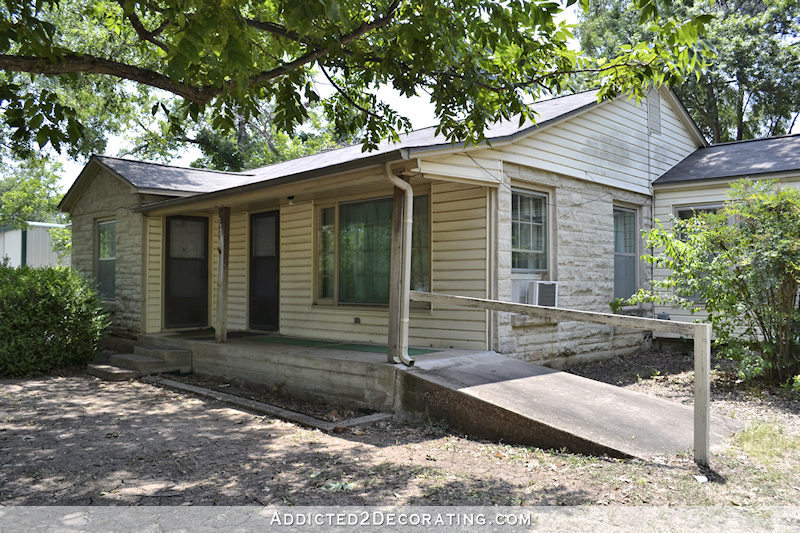 When we had the new siding installed, I had them remove that door and cover over the opening.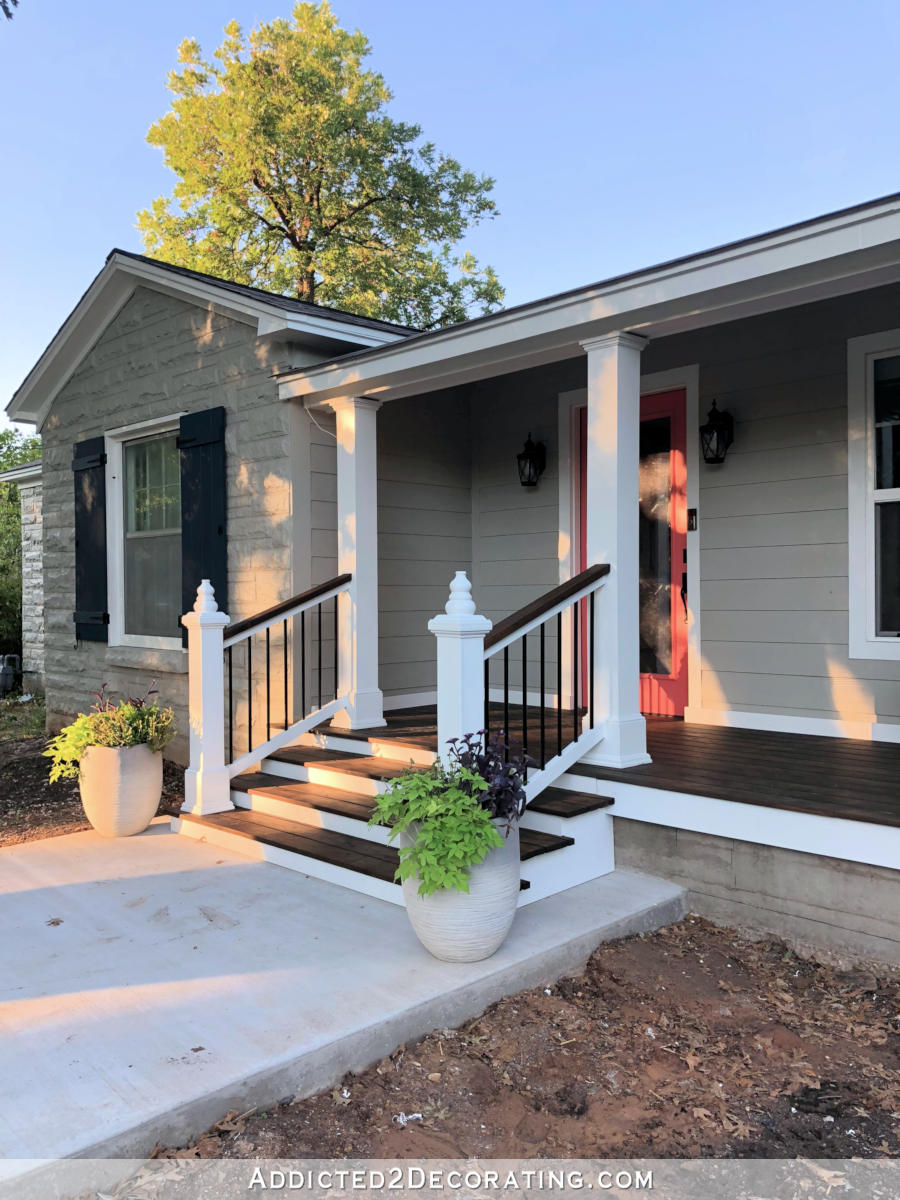 But inside the bedroom, you just see studs and sheathing. There's no insulation or drywall covering the inside, so in the winter, that adds to the draftiness in the room, along with the old windows that don't close properly.
That's also the room with the side window that still has the window unit air conditioner. The A/C isn't needed to cool the room since we have a central HVAC unti, but I tried to remove it and couldn't get the window to close. I mean, it won't budge at all, so I put the A/C back in. I'll be so glad to get rid of that eyesore!
So step one of this process will be to do some general updating on the front bedroom, and get us moved from the current master bedroom into the front bedroom.
Then with the master bedroom cleared out, we can start tearing down the current tiny "master bathroom," and begin transforming the master bedroom into the new accessible master bathroom.
Since our final plan for the master suite included a doorway from Matt's game room into the accessible master bathroom anyway, that will be our main access into the bathroom until the addition is complete, when it will be accessible via the new master bedroom.
And until we're ready to move forward on the addition, we'll just move the exterior door that currently goes out to the back yard (and specifically into Cooper's fenced in yard) from its current location into the spot that will eventually be a doorway from the bathroom to the new master bedroom.
I haven't talked to our contractor about this yet. I mean, I literally just came up with this plan on Saturday and talked to Matt about it, and he was on board with it. But I think this plan will work. And it will allow is to move forward on the most important part of the addition, while holding off on the rest, and hopefully preventing us from having to take on debt.
I'm cautiously optimistic about this plan, so we'll see if we can actually pull this off.
Addicted 2 Decorating is where I share my DIY and decorating journey as I remodel and decorate the 1948 fixer upper that my husband, Matt, and I bought in 2013. Matt has M.S. and is unable to do physical work, so I do the majority of the work on the house by myself. You can learn more about me here.