Formulating My Plan To Build A Console Table (Sofa Table)
Good morning, lovely people!  I have another one of those "scattered mind" posts today as I share with you my thoughts on one of my next projects.
While I haven't yet decided what I want to do about a sofa in my living room (buy a new one or reupholster the one I have?), I'm quite a bit more certain about what type of console table I want sitting behind the sofa.
Ever since I rearranged the furniture in the living room back in November, I've been on the hunt for the perfect sofa table to create my "entryway." And of course, because I'm me, I want to build something rather than buy new. 🙂
When I first started looking, I had in mind that I wanted something like this Tivoli Console Table from Pottery Barn.
Something like that would be very easy to build. (Seriously, folks! Buy a Kreg Jig!) But I finally decided to go in a different direction. The fact is that spindly turned wood legs are something that I could very easily go overboard with in my house…kind of like nailhead trim, stripes, and diamond tufting. I'm drawn to those four things like a moth to a flame.
But in my living room, I already have chairs, lamps, and a coffee table ottoman with spindly turned wood, and I'll be adding a bench in the entryway with turned wood legs and details (more on that soon, I hope!), so more spindly turned wood on the sofa table would be too much.
So as I continued my search, I came upon this Sasha Scalloped Console from Horchow, which retails for $2329.00.
I like that it's curvy and feminine, while also having a modern look to it. And on top of that, it would be relatively easy to build. I wouldn't use that finish on it. I'd paint mine instead.
But I also found this table very interesting.  It's the Fabiani Console from Horchow, which retails for $1139.00.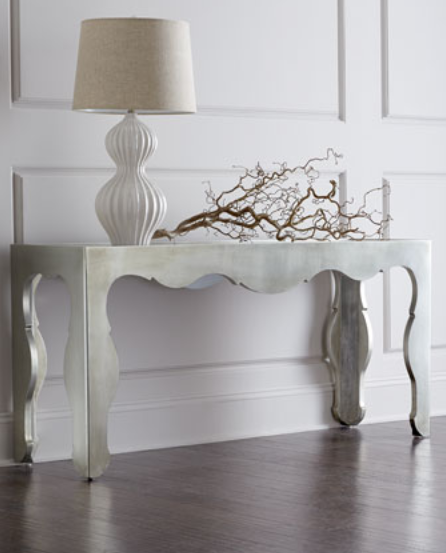 I would paint it also, and not in a metallic paint like theirs.  I like that the scalloped design has a bit more visual weight to it, but I don't like the open ends.  It looks a bit messy and busy to me.  And I'm not completely sold on this particular scalloped design.  I'd probably come up with my own.
So I have this idea of combining ideas from the two tables:  The closed ends of the first one with the thicker scalloped design of the second one.
As far as the scalloped design, I keep going back to the mirror I made for the tiny bathroom at the condo.
That mirror is one of my favorite things I've ever made — firmly within the top ten — and I'm kind of sad that I made it, and then we left so soon after that.
The problem is that I love the scallops on that mirror so much that I had actually planned to use that shape on another project that I'm planning in the spring.  Remember a while back on my Facebook page when I showed you these screen doors on a house that I drive past at least once a week?
That house caught my eye because it has the same front door/side door setup that we have on our house, and I absolutely love the way these antique screen doors look with that kind of door configuration.  (Until I saw these, I was convinced that I wanted to get rid of our side door and install a window there.)
But after a pretty exhaustive search, I haven't been able to find a reasonably priced version of these doors, nor have I been able to locate any old ones at ReStore or other second hand stores.
So, as you might guess, my plan is to make them, but I wanted to use the scalloped design from the mirror, which I think would add a bit of an updated twist to a vintage design.
So that's where I am on this project right now — trying to decide on a scalloped design for my sofa table, and wondering on which project I want to use the scalloped design from the mirror.
I'm open to input!  🙂
Addicted 2 Decorating is where I share my DIY and decorating journey as I remodel and decorate the 1948 fixer upper that my husband, Matt, and I bought in 2013. Matt has M.S. and is unable to do physical work, so I do the majority of the work on the house by myself. You can learn more about me here.