Buffet Makeover – Coral Buffet With Stained Top And DIY Beaded Drawer & Door Pulls
I got my buffet makeover finished, and I LOVE how it turned out!  I've been needing some warm colors in my life and in my house (since I naturally gravitate towards greens, blues, and blue-green), and this was just the shot of warmth and energy I needed.  Here's how it turned out…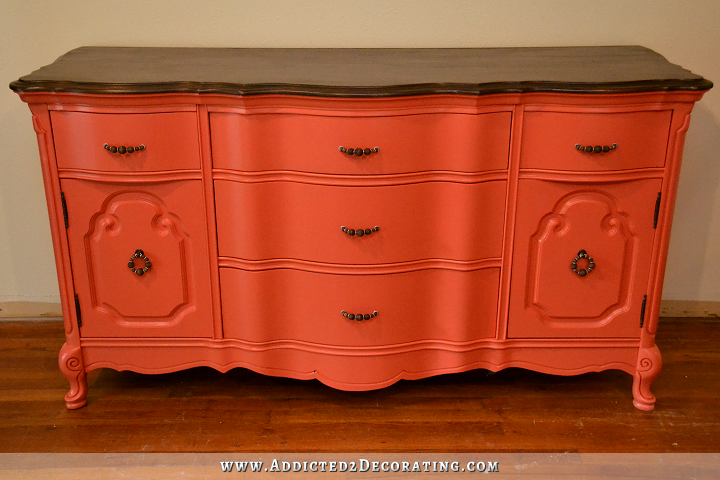 And to refresh your memory, this is how it started out…
The color I used is Behr's Japanese Kimono in a satin finish.  And since I always prep my furniture before painting (sanding, caulking and wood filling if necessary, priming with Zinsser oil-based Cover Stain, and sanding again), I just buy the regular Behr paint (i.e., the cheapest stuff) instead of the more expensive stuff.  I ended up brushing instead of spraying, mostly because moving this big thing outside just didn't appeal to me.  I wanted to paint it in place.  When I paint with a brush, I always use Floetrol paint conditioner (or Penetrol, if I'm using oil-based paint).  I share all of the details of my brush-painting process here.
Now I know you're thinking, "Kristi, that's not one of the four colors you showed us!"
And you would be right.  🙂  Here's the deal…
I've had it in my mind all this time that this buffet needed to be some sort of reddish, pinkish, raspberry color.  But I decided that way back when I thought I would be using that big Jacobean floral print that had lots of reds and pinks in it.  Then I ordered a yard of that fabric, didn't like it, and changed directions with the P. Kaufmann Pattern Play Tutti Fruiti fabric (shown tacked to the wall in the photo above), and it has completely different colors.
So as I was reading your comments about what color to choose, I kept coming across comments suggesting that I mix my own color.  I tried that, and mixed probably 15 different colors.  But the comments that really struck me were the ones that suggested I should go more orange.  Then I realized that the red in that fabric actually leans very orangish red.  I happened to have a sample of Japanese Kimono that I purchased about a year ago for my front door, and it was definitely more orange/coral, so I decided to try it out, and it looked fantastic!  It doesn't match the color in the fabric, but it complements it much better than any of the red/pink colors.
And after stripping all of those paint samples off of the top, and seeing what beautiful wood was underneath all of that paint and the original finish, I couldn't bring myself to paint it.  Y'all know how much I love stained wood (e.g., countertops and such), and I find it very hard to take a paint brush to such pretty wood like this.  So instead, I stained it with Rust-Oleum Dark Walnut stain, and then sealed it with two coats of Minwax Polyurethane in a satin finish.
I didn't bother filling the original holes from the hardware because I was sure I could find replacements.  I was wrong.  The holes were 3.25 inches apart, and apparently hardware today is a pretty standard 3 inches or 3.75 inches.  So I decided to follow the lead of one of my favorite bloggers and make my own beaded drawer pulls.  I used unfinished wood beads (available at any craft store in the unfinished wood craft section) and stained them in the same Dark Walnut stain that I used on the top.
For the ring pulls, I took apart some brass ring pulls that I had (just removed the brass ring) and replaced it with my own beaded ring to coordinate with the other pulls.
I love the way the beaded handles turned out.  I'm indifferent about the ring pulls, but since I couldn't find anything else to coordinate with the handles, they'll stay for now.
So I finished my first official project for my entryway and dining room.  I couldn't be more pleased with it, and I love that it's not green or blue.  🙂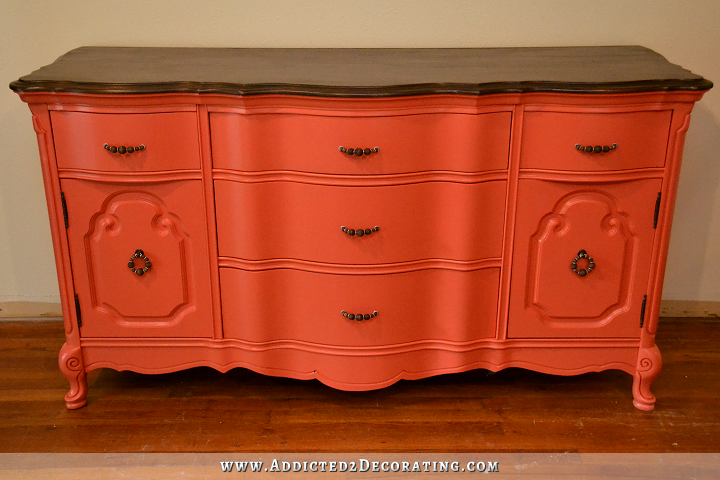 UPDATE:
I've had a couple of people request a picture with the fabric, so here are the two together.
Addicted 2 Decorating is where I share my DIY and decorating journey as I remodel and decorate the 1948 fixer upper that my husband, Matt, and I bought in 2013. Matt has M.S. and is unable to do physical work, so I do the majority of the work on the house by myself. You can learn more about me here.