Forward Momentum (Dining Room Rug Purchase, and More!)
I don't really have any new news or progress photos to share with you today.  I just want to say…
I'm so stinking excited!
And yes, I'm still blabbering on about finally having a clear plan and a vision for my house.  😀  It's just been such a good and encouraging week.  I've felt such a renewed excitement about my house, and a renewed excitement about working on projects, DIYing, decorating, and just all around getting things done.
Even when I've gone into the entryway and dining room, and have been reminded that before I can get to the fun stuff (the decorating!), I still have lots of mundane work to do like taping and mudding drywall…
…it hasn't dampened my excitement one single bit.
And even when I'm faced with the unbelievable mess of all of the stuff that we unloaded from the condo over the last two or so weeks, and just dumped in my dining room (after filling up the garage completely, so I really have no place for any of this)…
…it hasn't fazed me.
Before this week, things like that would have completely taken the wind out of my sails.  But now?  Not so much.  I just have this attitude that I need to get in there and tackle it so that I can get on to the fun stuff.
And speaking of the fun stuff, I've actually started making purchases!  I'm not dragging my feet this time.  I'm not second-guessing my plan.  I'm just diving right in!
First, remember the new fabric I chose for my shower curtain?
The online store where I ordered it was out of stock.  They wrote and said it could take up to four weeks to get more in, so I cancelled that order.  I could have ordered it somewhere else (and paid $5/yard more for it), but I decided instead to just make do with what's available locally.  So I have a plan (third time's a charm, right?), my new fabric is in hand, and I will probably have my new shower curtain finished this weekend.  The new one will be a complete departure from the fabric above, but it'll be pretty, simple, light, and most of all…finished!
No more waiting!  It's time for action, people!  😀
And after I read all of the comments on my rug post two days ago, I decided that I wasn't going to wait on that either.  I wasn't going to allow myself to overthink this one, or make a decision and then change my mind a thousand times.  Nope!  I made up my mind, and ordered a rug.  And you might be surprised, because I also forced myself to get out of my "sisal rug" comfort zone.
Here's what I ended up buying…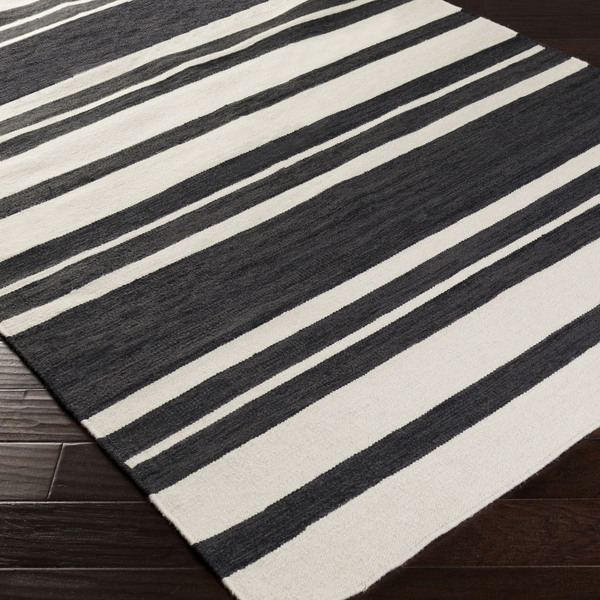 Yep!  Black and white stripes!  I figured if anything could get me out of my comfort zone, it would be my beloved stripes.  And I decided that I really do want to step out of my comfort zone just a bit.  I can already envision my awesome floral chairs and solid black table sitting on that.  I think it'll be amazing!  And it's a flatweave rug, so it shouldn't be a problem for Matt.  (We have the seagrass rug in our bedroom, and it doesn't give him any problems.)  It'll arrive next Tuesday.
And speaking of floral fabric…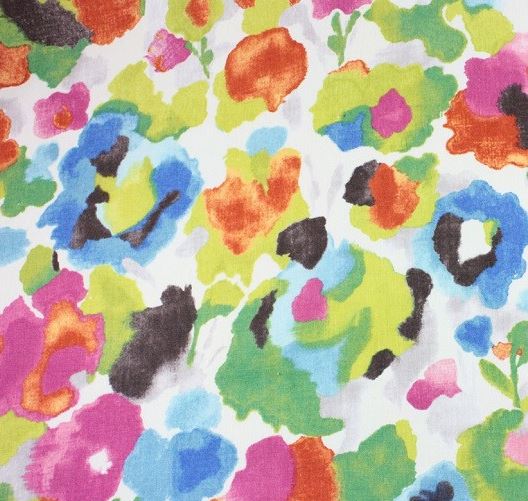 I haven't ordered it just yet because I'm still waiting on that sample with the green in it.  Once I have that in hand, and I'm sure it will blend with everything else, I'm ready to order.  I have my yardage calculated, and I'm ready to go!
And my drapery fabrics…
The green fabric has been ordered and is on its way.  It's supposed to be here on Monday.
As far as the linen, many of you convinced me that I should go with white instead of oatmeal.  I actually love the idea, so I found a sample of beautiful creamy white linen locally at JoAnn Fabrics, and I also have some samples on the way from Gray Line Linen.  As soon as I figure out which one works best with my other selections, I'm ready to place my order for the 24 yards that I'll need.
I'm just so darn excited!  I mean, to have a plan is one thing.  But to actually start making purchases in order to put that plan in place…well, that makes it real.  I feel like I have some serious momentum building up here, and I don't want to do anything that would bring that to a halt.  I just want to keep moving forward, not obsess over details, and get it done.  I'm so anxious to see my bathroom finished, and then see the dining room and entryway come together!
Addicted 2 Decorating is where I share my DIY and decorating journey as I remodel and decorate the 1948 fixer upper that my husband, Matt, and I bought in 2013. Matt has M.S. and is unable to do physical work, so I do the majority of the work on the house by myself. You can learn more about me here.