The Furniture Arrangement That Changes Everything
Sometimes I get so stuck on an idea that I can't see past it. I can't think "outside the box", because my brain is so stuck on that one, initial idea.
Example? My furniture arrangement in my living room. Here's how I had it just the other day when I showed y'all my living room progress.
And if this is your first time seeing it, please keep in mind that this room is only about 20% complete.  🙂  I still need to make an upholstered ottoman, reupholster the sofa, make draperies, refinish/restore the antique bureau, and select or make some artwork and accessories for the room.  It's far from complete at this point.
But back to the furniture arrangement…
The idea that has been stuck in my brain for so long now is that I wanted to build a separating wall between the living room and the entryway — nothing too closed in, but something really open that just gives definition between the two spaces.
So my brain latched on to that idea and couldn't see anything else. In my mind, since there would be a wall there eventually, my sofa either had to go against the wall where the chairs currently are (tried that, and it looked way off balance), or it had to go against the window. Those were my only two options.
And then Sheila over at Beyond The Portico left a comment and suggested a completely different furniture arrangement — one that my stuck-in-the-box brain hadn't even considered as an option. As soon as I read her suggestion, I got up and started moving furniture, and it was perfect!!! Here's how it looks now.  (Sorry for the dark pics.  I took all of them late at night.)
Y'all, this furniture arrangement changes everything!!! Matt just laughs at me now, because ever since I switched things around, I just LOVE my living room, and I've voiced my love for my living room about a thousand times.
As per Sheila's suggestion, I plan on getting (or making) a sofa table to go behind the sofa (a.k.a., the floral monstrosity) to give even more definition between the living room and the entryway.
But I still have a very wide entryway, so there's plenty of room for a sofa table.
I really can't even believe how much of a difference a furniture arrangement can make.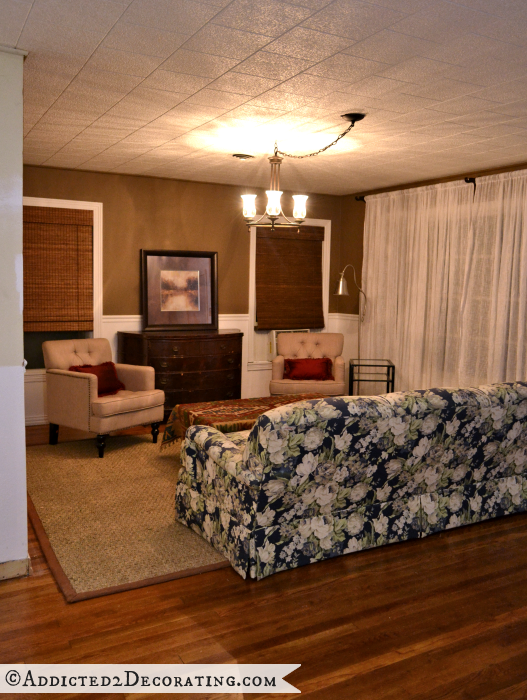 In fact, I love it so much that I've decided that not only do I no longer want to put up a separating wall between the living room and the entryway, but I also no longer want to switch out the tall windows for smaller ones, or add built-ins along that wall.  Although I still might add a fireplace at some point down the line, because it would look beautiful between the two chairs.
Also with this arrangement:
Everyone in the living room can enjoy the big front window.  No one has to sit with their back against it.
My big window has been "freed up".  No large piece of furniture in front of it, so that means that my draperies will make more of a statement rather than being suffocated by a big sofa.
I have plenty of room for both of my end tables now.  (I just need to put the other one together now.)
And there's plenty of room on each side of the sofa for Matt's wheelchair to get past so that he can join the conversation when people are over.
And speaking of Matt, since I no longer feel the need to put up walls, the wide openness of the house will be much easier for him to maneuver around.
What a difference a furniture arrangement makes!  So let my "can't see outside of the box" mental block be a lesson to you.  If you have a room that you like, but you feel like something is "off," it might be the furniture arrangement.  Or if you have a room that you feel needs a whole lotta work (like lots of built-ins, additional walls, etc.), you might just need a different furniture arrangement.
Before I rearranged the furniture, I enjoyed looking at this room, and dreaming of what it would look like when it was finished.  Ever since I rearranged this room, I love being in this room and actually using it.  What a difference!
Addicted 2 Decorating is where I share my DIY and decorating journey as I remodel and decorate the 1948 fixer upper that my husband, Matt, and I bought in 2013. Matt has M.S. and is unable to do physical work, so I do the majority of the work on the house by myself. You can learn more about me here.