I decided that my buffet needed new lamps. I really liked those glass ball lamps, but the more I looked at this wall and how things were progressing, the more convinced I became that I was missing an opportunity to bring in some color with those glass lamps.
So I started searching for new lamps, and found that the ones that really appealed to me were lamps that look like this…
via Wayfair
And then it dawned on me that I already had something that looked very similar to that! Let's travel back a couple of years and remember these floor lamps that I bought for the front room when I was planning on using it as a living room.
Remember those? Well, I don't think I told y'all, and I don't really remember the details, but somehow one of the lamps got knocked over and part of the base broke. They're made of resin, not wood, so the force of the fall just cracked it right open. But I didn't throw the whole thing away. Those lamps went together in sections, so I just threw away the section that was broken and put the rest in my stash. Since I love turned wood and things that look like turned wood, I figured I may be able to use the pieces for some crafty project.
As it turns out, two of the sections went together perfectly to create a table lamp. I just screwed them together, and voila!
After putting the pieces together, I sprayed it with Rust-Oleum spray primer and then painted it with Rust-Oleum Meadow Green in a glossy finish.
Since I didn't want to spend money on new lampshades, and since I have no immediate plans to use the glass ball lamps, I just used those lamp shades for my new lamps. (The shades that were original to the floor lamps were HUGE and wouldn't work on table lamps.) Since the original silver color on the shades didn't work in the room, I covered them in some scrap off-white linen that I had in my fabric stash, and then added some black trim that I found at Joann Fabric for 99 cents/yard.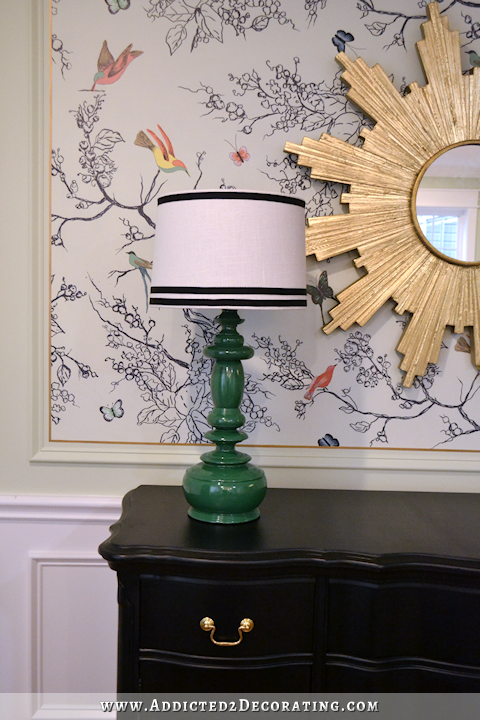 Full disclosure: I actually haven't rewired the lamp yet. So right now, it's purely decorative. 😀 I have everything I need to wire it, but I just ran out of time. I was actually hoping to get the second lamp finished so that I could show you the pair of lamps on the buffet, but I wasn't able to get the second lampshade finished in time last night. But at least you can see the direction I'm heading now.
Oh, and did you notice that I replaced the center mirror on the sunburst mirror that I made last weekend? If you'll remember, I had originally used a plain beveled-edge mirror that I had in my stash just as a placeholder so that I could see if I even liked the sunburst mirror in the room and on that wall.
It turns out that I really do love that sunburst mirror, so when I headed to Hobby Lobby to check out their decorator fabrics, I stopped by the mirror aisle and found the perfect mirror with the perfect frame that was already the exact color of my sunburst. And it was on sale for 50% off! I think I paid $9 for it.
Now I love it even more! It definitely has a more finished look to it.
If you're wondering the status of my draperies…well, I haven't started on them yet. 🙂 I want to install all of the hardware and drapery rods, and then measure for the finished length of the panels. And I can't make them until I know the finished length. BUT, I was still waiting for some of the hardware to arrive before I could install the rods. The rest of my order finally arrived yesterday, so now it looks like I've run out of excuses. It looks like I'll be sewing this weekend. 🙂
---
---