My Decorating Struggle: Area Rugs
On yesterday's post, someone urged me to be sure to write down all of the details of my decorating plan so that I wouldn't forget between now and when I actually get to the decorating.  That was great advice, so last night I started making some detailed notes.  And that's when I realized that my decorating plans always seem to have something missing — area rugs.
I never know what the heck to do when it comes to area rugs.  I don't now if it's that I'm just very picky, or maybe that I have very boring taste when it comes to rugs, but I find that I just simply don't like most area rugs.  I love the idea of area rugs.  I like the function of area rugs (to define various areas of the home).  I like the softness that area rugs can give to a room.  But it's the design of the area rugs available that seem to stump me.  And so I always seem to tend towards something that is very neutral, possibly with some texture, but little or no actual design.
So let's take the dining room and entryway, for example.  The plan is:
Three walls will be painted white (Behr Polar Bear).  The fourth wall — the wall to the left as you enter the front door — will have wainscoting similar to that in the bathroom, minus the tile.
Since it's a larger room and a wider wall, the sections will be larger.  And I'm also considering doing the upper section of the wall as well. It would be this general configuration…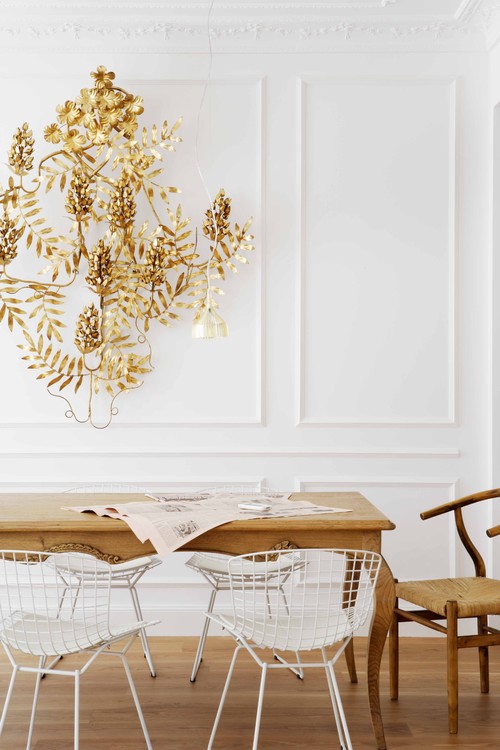 Midcentury Dining Room
…but obviously not that style.  The style would be that of my bathroom walls.
In fact, it would probably look more like John & Alice's living room that I decorated back in 2011, but instead of the wall being painted blue, mine will be white.  And instead of the recessed panels being covered in blue chenille fabric, mine will be covered with light neutral grasscloth (similar in color to the linen I plan to use on the draperies).
Are you still with me?  'Cause I'm just getting started!  😀
My dining table will be painted black.  Solid black.  Nothing distressed or antiqued…just solid black.
The fireplace will remain just where it is in the picture above, sitting between the two smaller windows.  I plan to build an overmantel, painted white to match the fireplace, and I'll hang some artwork on it.
The windows flanking the fireplace, as well as the other large nine-foot window, will be dressed in the linen draperies with the green accent along the leading edge.  I'll be adding a black accent to either side of the green trim so that the white and oatmeal aren't right up against each other.  I have some other linen samples on order, so I might go with one that's oh-so-slightly darker for a bit more contrast.
A few of you suggested replacing the oatmeal/natural linen with white because the white in the trim makes the oatmeal linen look "dirty."  I really think the addition of the black trim will fix that.  Also, right now I'm not considering white simply because in my mind, it's this oatmeal-colored linen on the dining room side of the room that makes the light, natural-colored grasscloth work on the entryway-side of the room.  In my mind, without the natural-colored linen on the one side of the room, the natural grasscloth on the other side makes no sense.
Anyway, the two fully-upholstered captains' chairs at the dining table will hopefully be covered in the floral fabric pictured above.  Unfortunately, they sent me a small sample that didn't include even the tiniest spot of the green that's in the fabric.  I have another sample on order, and have specifically asked for the green to be included.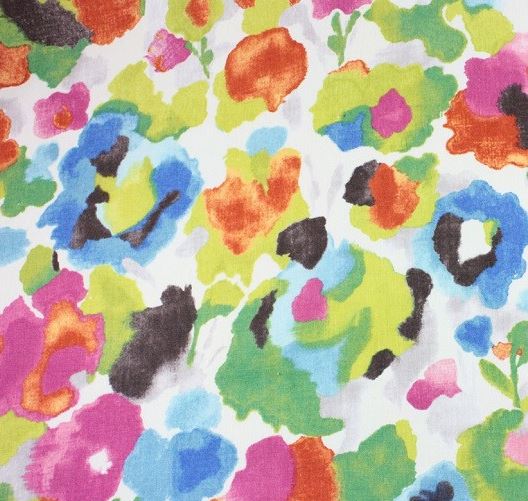 The colors in general seem to be a little bit "off" in that picture, though.  The flowers that look purple in the picture above actually look more dark pink in person.  The blues look more turquoise and teal to me.  So I'm crossing my fingers that the green is actually what I'm looking for, because I love this fabric!
The rest of the chairs will be slipcovered Parson's chairs.  I haven't found the perfect style just yet, but I like ones with slipcovers that show legs.  And I really like how this one combines the oatmeal and the white linen.
via Custom Slipcovers By Shelley
However, I am not a gathered ruffle kind of person, and I don't think my house is a gathered ruffle kind of house.  🙂  I am a pressed, tailored pleat kind of person, so if I can take the above slipcover inspiration, but make it more tailored and pressed, that would be perfect for me.
And then back to the entryway side of the room, I'll be using my new-to-me buffet on the panel + grasscloth entryway wall.
Right now, it's a bit drab.  I plan to wake it up with color, and I'd like that color to be the deepest, richest pinkish red color that will complement the floral fabric of the captains' chairs.
And last, flanking the buffet on that wall, I will finally use my favorite chairs that I've been waiting years to reuphoslter and use.  I can't find a picture right now, but they're kind of like wingback chairs, but not.  They're more transitional in style.  Anyway, they'll be upholstered like this…
via Design Sponge
Yep, black with white piping.  But mine aren't quite wingback chairs.  And mine have tufted backs (where I plan to use white buttons).  And mine is skirted to the floor.  I wish I could find a picture, but you get the idea — black with white piping.
So, that's probably a lot to take in.  I know.  But I can see it clearly in my mind.  What I can't see, however, is what kind of area rug will work under my dining table with all of the above.  I always default to some sort of sea grass rug.  They're definitely my favorite, simply because I love natural textures (linen, grasscloth, sea grass rugs, woven baskets).  And quite honestly, I think they almost always look good in a room, and they can be used with so many different styles of decorating.
I think it would look fantastic under my black dining table.  It's a neutral that wouldn't compete with the bright colors I want to use, while at the same time it would complement the other natural elements (linen and grasscloth) I want to use.  But then I think that I gravitate towards it simply because it is my "default" setting.  🙂
If I were forced to get out of my comfort zone, I think I could consider something like this…
via Overstock
I like both the ivory (the one that's flat) and the black (the top rolled one).  I do NOT do gray, so that's not an option.
I like the subtle pattern in it.  I worried that it might make my eyes crazy, but the reviews on the rug are great, and only one that I read mentioned the pattern making her eyes crazy only until she added furniture.  Then she said it was fine.  So I like the pattern, and I like that it's still neutral and won't compete with other items in the room.  But I'm just not sure if it's right.
Persian rugs (and anything Persian rug-inspired) are generally my absolute least favorite rugs of all.  They just look so unbelievably busy to me, and I don't think I've ever seen one that has colors that actually appeal to me.
And these geometric rugs…well…I don't know.  They come in all kinds of patterns, and almost every "color + white" combo imaginable.  I used to really like them, but then it seems like they became so ubiquitous that I just got sick of them.
via Overstock
I did see this one that I really like, though.  Again, it's the combo of oatmeal and white that I just seem drawn to.
That is such a pretty rug!  I could definitely see that in my dining room, and I think it would look very nice against my dark wood floor.
So I'm kind of stumped when it comes to area rugs.  I guess it's not bad to stick with what I love — natural, light, neutral, and nothing with lots of color or pattern on it.  I can't see that anything else would work with what I have planned for my dining room.  Can you?
Addicted 2 Decorating is where I share my DIY and decorating journey as I remodel and decorate the 1948 fixer upper that my husband, Matt, and I bought in 2013. Matt has M.S. and is unable to do physical work, so I do the majority of the work on the house by myself. You can learn more about me here.