Resin Bathroom Countertop, Take 2 (Stone Coat Countertops vs. ArtResin)
Oh, hey there, strangers! 😀 So last week kind of got away from me. It was just one of those weeks where I had so little motivation to do anything. But I did manage to make progress on one project — my resin countertop in the half bathroom. So I want to share with you my thoughts about the new resin product I tried (made specifically for countertops), plus my thoughts on resin countertops in general.
So to recap, a while back I made a countertop for my half bathroom using two layers of MDF, which I primed, painted, and then coated with resin.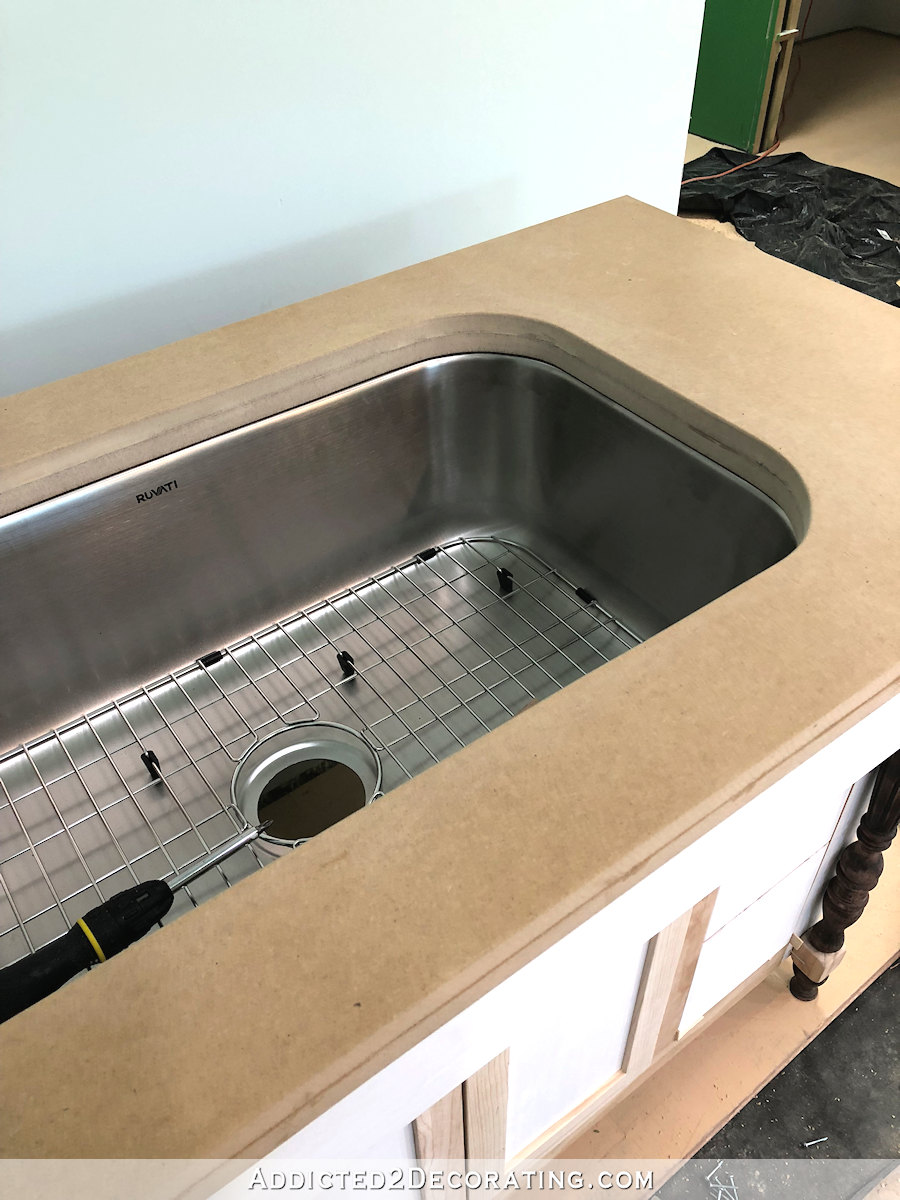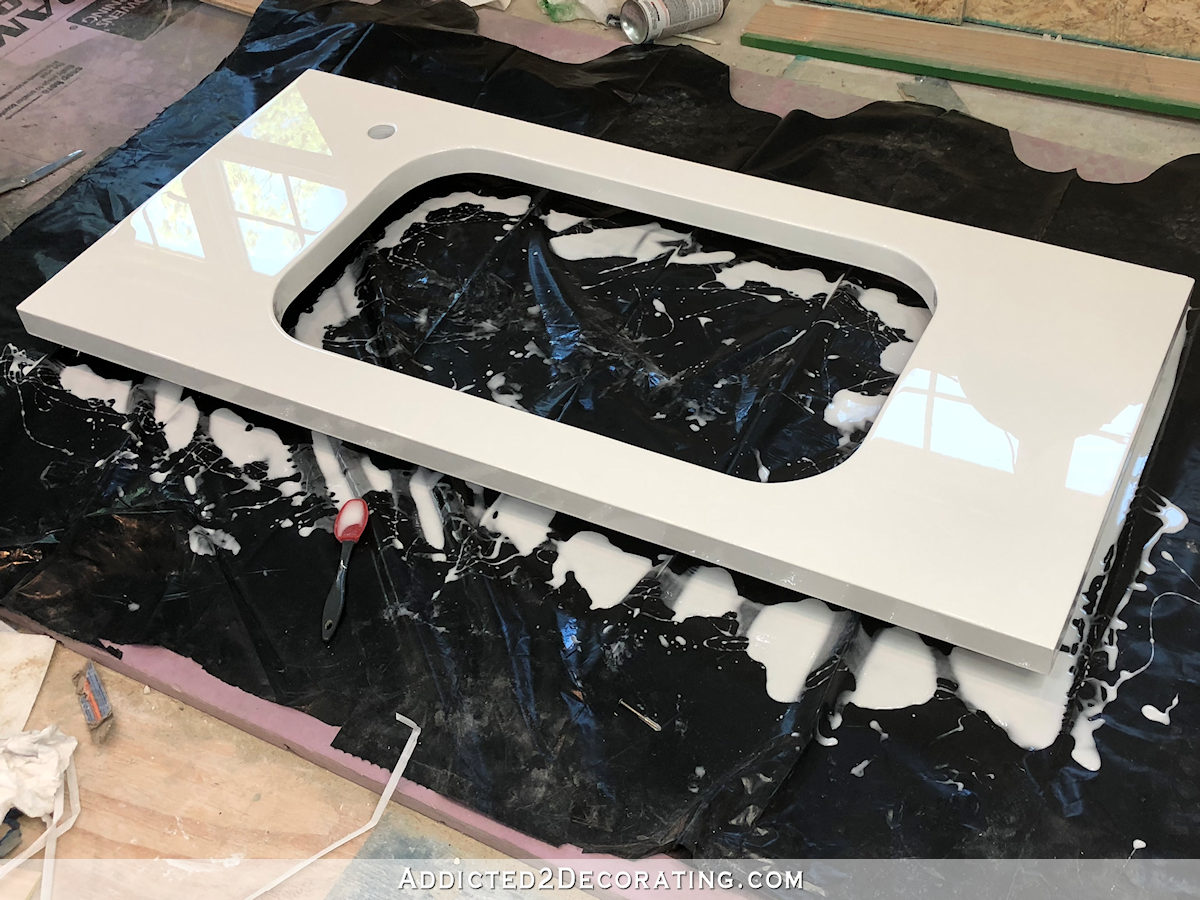 If you missed that project, you can find it here…
But when I made that countertop, I used a resin product called ArtResin. As the name would suggest, it's formulated specifically to coat artwork, and not really intended for heavy use surfaces like countertops. But it's all I had on hand, and so I decided to use the ArtResin as the first coat, and then order a resin that's actually made for countertops for the second and final coat.
So that's what I finally got around to doing last week. I sanded down the first coat using 150-grit sandpaper and wiped off all of the dust. For the second coat, I used Stone Coat Countertops resin.
Just like ArtResin (and probably every other type of resin) it comes in two parts — a resin and a hardener. For this brand, you mix these together in equal parts, stir thoroughly, and then it's ready to use. They don't recommend using latex paint to color the resin, so I purchased one of their color additives. The white wasn't as bright as the previous white that I had used in the ArtResin, but it was fine.
I did almost panic at first, because as I was mixing the two parts together, I poured the resin first. It's MUCH thicker than ArtResin, and I was sure there was something wrong with it. But then I opened and poured the hardener, and it's much thinner than ArtResin. So once it was all mixed, it was pretty much the came consistency that I was used to working with.
I really liked working with the product. I used gloved hands to spread it around, and it spread and self-leveled really easily. Then I used the propane torch to get the bubbles out, and that was also a very easy process.
So overall, the process of working with ArtResin and Stone Coat Countertops resin was almost identical. I didn't see any noticeable differences.
And just like any other resin, I had to babysit my resin countertop for about two hours before it was set enough to stop dripping and to be out of danger from flies and lint that may land on it. I think the last time I dug a piece of lint out of the resin was about 90 minutes after I poured it, and it still smoothed out perfectly with a little help from the propane torch.
But even after babysitting it for two hours and scraping off drips with a wood stir stick, I still had drips when I came in the next morning to check my dry countertop.
This wasn't a problem for me because I was working with such a small, unattached countertop, so I could just flip it over and sand off the drips.
But if you're working on a large attached countertop (like a kitchen countertop), I honestly don't know how you're supposed to avoid all of those drips, or how you get rid of them after the countertop is dry. I guess you could use a small sander, like a Mouse or even a Dremel Multi Max with the sander attachment, but that seems very tedious to me.
Anyway, with the drips sanded off, I put the countertop into place.
It basically looks exactly the same as it did before. But of course, the purpose for using a different brand on the second coat wasn't to make it look different, but to make it more durable.
One big difference that I noticed is that the Stone Coat Countertops resin did much better on vertical areas. The ArtResin left the vertical areas a bit textured, like an orange peel type of texture. But the Stone Coat Countertops resin was smooth on the vertical areas. I still don't have perfectly smooth vertical edges because I wasn't able to sand out all of the texture from the ArtResin, but it's much improved from before.
So how about that durability?
Well, I poured this countertop last Wednesday, and this is Monday. And this morning, I ran my fingernail over the surface with some pressure, and I left behind these scratches…
The razor blade is there to give my camera something to focus on. 😀
So is Stone Coat Countertops resin a whole lot more durable than ArtResin? Well, I don't see any evidence of that. I do see a big difference in the way the two resins perform on vertical edges. Stone Coat Countertops wins that battle with smooth edges as opposed to the orange peel vertical edges that ArtResin leaves behind. And though I don't have personal experience with this, the Stone Coat Countertop resin is heat resistant to higher temperatures than the ArtResin.
My Thoughts On Resin Countertops
Now, having tried two different brands of resin on a countertops and geting pretty much the same result, here are my thoughts on resin countertops.
Resin is a great cost-saving option to give you the look of a solid surface counteretop. But if hairline scratches bother you, this surface in it's ultra-glossy state will drive you crazy.
BUT…there might be an answer to that. Remember my experiment with creating a matte/satin finish on a resin countertop? If you missed that, you can see it here…
So I'm definitely going to do that on this countertop. This is going to be a hard-working studio sink, and the last thing I want is to worry about scratching the countertop. If it has a matte/satin finish, those little hairline scratches won't show up.
Addicted 2 Decorating is where I share my DIY and decorating journey as I remodel and decorate the 1948 fixer upper that my husband, Matt, and I bought in 2013. Matt has M.S. and is unable to do physical work, so I do the majority of the work on the house by myself. You can learn more about me here.