Last Updated on October 8, 2017 by Kristi Linauer
I finally met with the guy about my countertops yesterday, and while I don't have any actual progress to share with you (he said he's booked until mid-December or so), I was so unbelievably excited that I had to share what I learned.
Now if you're confused about what I'm talking about, I'm referring to the local company called Garage Force (it's a franchise, so there might be one in your area) that applies polyurea coatings to garage floors and interior floors (concrete, tile, etc.). The one here in Waco has never done a countertop before, but evidently that's just because no one has ever asked. Interestingly, just within the last two weeks, I'm the second person needing concrete countertop help to contact him, so now he'll have two countertop projects to add to his portolio.
Anyway, you can read more of what I had to say about polyurea here.
So I was incredibly anxious for him to see my countertops and tell me what could be done. As I shared the other day, my countertops are not only stained in areas (because I didn't use a very good sealer)…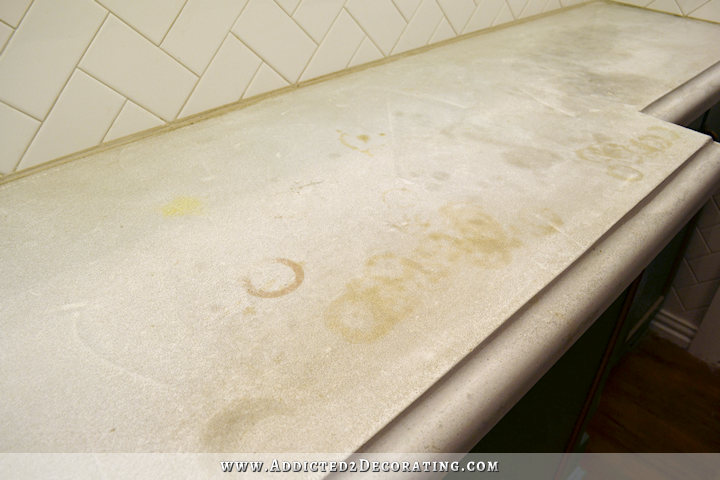 But because I was a complete concrete novice,  there are areas on my countertops that didn't get thoroughly floated and were I was left with rough areas with pits and divots where gunk can settle. You can see what I'm talking about in this next picture. See those bright white spots?
That's from concrete stain remover that I used. It goes on as a liquid, and you let it dry completely until it's all white, and then it brushes off as a powder. I generally use a razor blade or scraper to get the powder off, and you can see how it settled in the pits and divots. And unfortunately, the two roughest surfaces just happen to be the two next to the stove since those are two countertops that we poured first.
I'm also not fond of the color variations in the concrete. See the ogee edge? To me it just looks filthy, but that's just the variations of color in the concrete. It seems to have become more pronounced over time.
Anyway, he brought samples, and I wish to goodness I had thought to take pictures. But I was too excited and distracted to remember to snap pictures. But here are the questions I asked:
Q: What are the color options? I only see a few on the brochure, and none of those will work in my kitchen?
A: They can mix their product in any Sherwin Williams color. All I have to do is give him the the color name/number, and he can order those colors.
Q: What about all of those pits and divots in the countertop? I'd like the countertop to be very smooth when finished, so do they have a way to fill those areas before applying their product?
A: They actually grind the surface of the concrete before they add their products, so the grinding process should level out the uneven surfaces.
Q: Will he let me try to scratch his sample with a knife?
A: "You can try." 🙂 And try I did. I got my sharpest knife, and with quite a bit of pressure, I tried to cut into the clear coat. While it did leave a barely visible mark, I was unsuccessful at cutting through the material.
Q: Can I put hot pots and pans directly from the stove onto the countertop?
Nope. It can handle pretty high heat, but it's just better to use a hot pad under pots and pans from the stove.
Q: What is the process?
First they prep the surface by grinding the concrete to a smooth finish. Then the actual coating is three different steps — a base coat (which I assumed was a type of primer), a color coat, and then a clear topcoat. The clear topcoat can actually be used over regular latex paint, and in fact, his sample boards were done with regular latex paints.
The product dries pretty fast. All three coats — base, color, and topcoat — can gerenally be applied in one day.
Q: What different sheens are available for the topcoat? Will I be stuck with a super shiny countertop?
A: The sheen of the topcoat depends on an additive they add to the topcoat, so it can pretty much be as shiny or as flat I want based on how much of the additive they use. The satin finish felt very smooth, but the flatter the finish, the rougher the surface felt. So a super flat finish with their product is probably not appropriate for kitchen countertops.
Q: What if, after a couple of years, I do see some scratches in the countertop?
A: They can just recoat with the clear coat, and those scratches will disappear.
I'm telling you, I am so excited!! Now I just have to make a decision about color/design.
The option remains for me to do my own painted design, which would allow me to paint a marble look on my countertops if I want to. I have watched all of the "how to paint faux marble" videos I can possible find on YouTube, and this video by Danika Herrick is by far the best with the most realistic result, in my humble opinion. I've watched this particular video about 15 times, at least. Here's a screenshot of the not-quite-finished product from that video…
But here's the deal. I've wanted to try my hand at painting faux marble for a very long time now, but I just don't think that my countertops are the right place for me to experiment with that. There's such a fine line between faux marble that looks real, and faux marble that looks like cheap faux marble. I'm so scared that I'd end up with the second. I think I'd be better off saving that DIY experiment for something like a coffee table.
Plus, I have a feeling that I'll have the absolute best results on my countertop (as far as the strength and durability of the coatings) if I just let him use his products 100%. They've clearly got a good thing going, and I think if I mess with that layered system at all, by substituting their products for a layer of latex paint, I probably risk reducing the strength and durability of the finished product. I don't know that for sure, and I didn't even ask, because by the time he got to my house I was already about 80% sure that I didn't want to paint my own design.
So that leaves me with two other options. Well, three, actually. The the third option is a marbled metallic look, and while it does come in white, and it is very beautiful, I think that's best left for garage floors.
So the first of the two real options is just a solid white. Plain white. Solid, plain white. When I look at pictures of solid white counteretops online, I actually really like the look. It's just so bright and clean, and I'm ready for bright and clean countertops.
I like those. I mean, I really like those. My hesitation with solid bright white is that I feel like they'll show every crumb and smudge left behind. Also, in the event that the surface does get a few scratches here and there, there's nothing to camouflage it with a solid white surface. Of course, three of the four countertops above are way glossier than what I will have (I'm going for a satin finish), and the glossier the finish, the more it shows imperfections as well.
The other option is to do a two-color finish. While he can't and won't replicate a specific granite or marble look, the final look might actually be a granite-ish look. And he can make the two colors stand out or subtly blend as much as I want them to. I told him if I go that direction, I definitely want a VERY subtle look. I imagine something like this…
I mean, it's super subtle, but enough variation to give it some interest. That photo above is Mystery White granite (or is it marble?), which looks like this…
And again, while I don't think he can actually replicate that look, the subtlety of the variation of color could be quite similar, or I could even have him blend it more. For example, I could select the Sherwin Williams equivalent of the Benjamin Moore Revere Pewter that I'm using on my upper cabinets, and then a much brighter white as the main color.
Right now, I'm leaning towards the two-color option. I think it just gives a bit more visual interest than a solid white slab of concrete. But he offered to make up some samples for me, so I'll probably have him do one that's just solid white so I can get a better idea of how that will look.
I'm so excited! 😀
In not-so-exciting news, the grasscloth wallpaper for my breakfast room is on backorder until December 9th. 🙁 I'm bummed about that.
UPDATE:
My concrete countertops have been refinished! Click here to read more about the process and see how they turned out…