How To Fill Wood Grain On Oak Cabinets Before Painting

One of the things that has bothered me the most about my green cabinets has been the wood grain in the cabinet doors. These cabinets are oak, and wood grain in oak is very visible and deep compared to most other wood species. And during the mid afternoon when the sunlight in the kitchen is the brightest, the grain is so prominent on the cabinet doors that it actually looks like some of them have a subtle decorative pattern painted on them.
Before repainting them, I wanted to fill the grain so that it would at least be dramatically minimized. On oak with really deep grain, I think it might be almost impossible to make the grain completely disappear, but I'll be happy with just minimizing it.
To fill the grain, I used this wood filler called Timber Mate, which you can find here on Amazon*.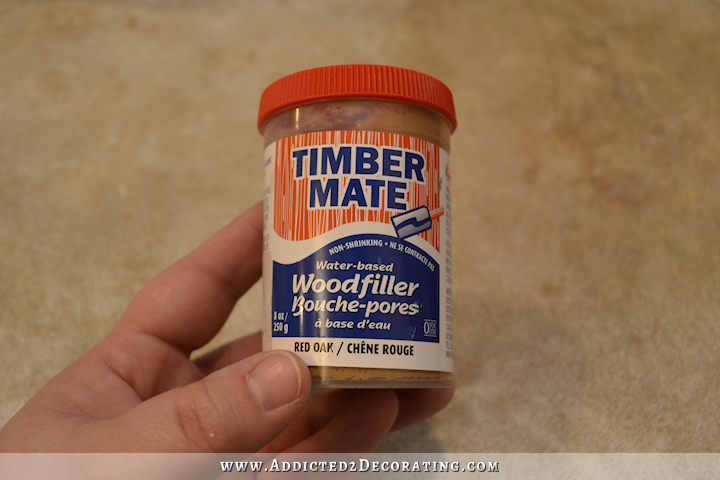 It actually comes in different colors. I happened to have Red Oak since I originally bought it to fill cracks in my red oak floors. It comes in 8-ounce jars, or quart containers, and it's a very dense product. Not only that, but it stinks to high heaven. It smells like formaldehyde to me. Every time I open it and get a whiff of that smell, I flash back to high school biology class when I had to dissect a cat. 🙁
Anyway, I just scooped out a big spoonful into a bowl, and then added some water and mixed it up until I had a thick paste.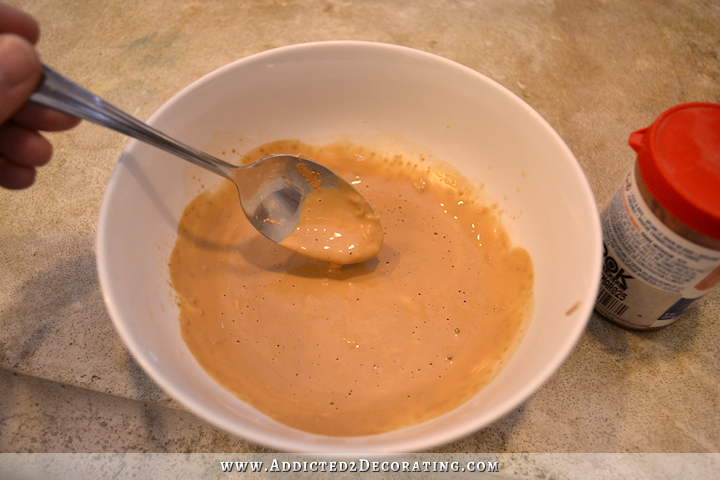 And after lightly sanding the cabinet door with 150-grit sandpaper, I brushed the paste over the entire surface.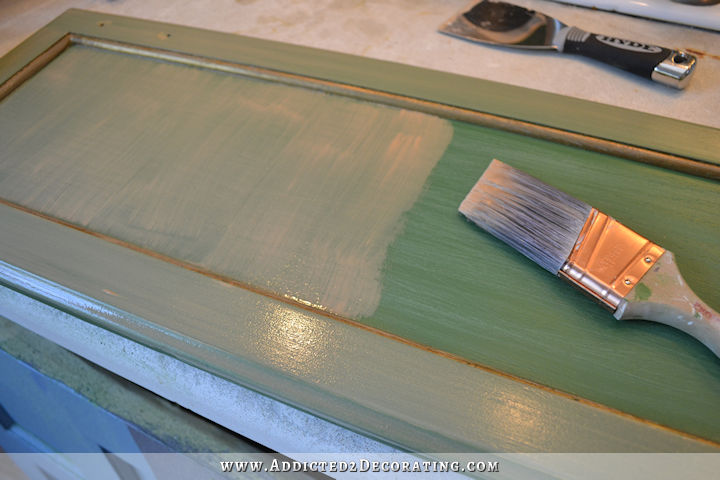 I put it in front of a box fan, and it took about 30 minutes or so to dry. Then I  used 150-grit sandpaper to sand the entire surface. You can see here how the Timbermate settled into the wood grain.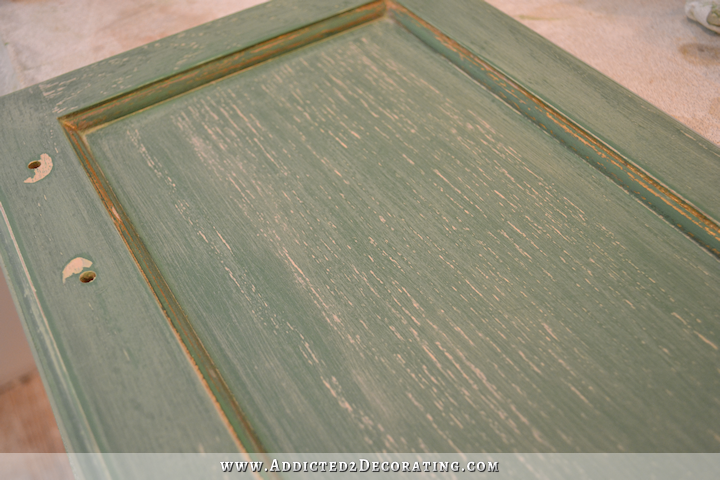 I don't have a door that's completely dry yet, but when I do, I'll take a picture and add it to this post to show you the difference. Now again, it doesn't make the grain go away completely on this type of oak that has such heavy, deep graining. But it does minimize considerably. Of course, you can add another coat and sand again. That would probably help even more.
Another thing that helps to minimize the grain even further is to paint the cabinets with a paint brush instead of spraying. I love my Critter sprayer* and use it when I can. It makes painting cabinets and furniture so much faster and easier. But when it comes to oak, I've noticed that actually dragging a brush across the surface pushes the paint down into the grain and fills it more, where spraying doesn't really have the force to push paint into the grain, so it actually accents it more.
If you get nervous at the thought of painting cabinets with a brush, I've written about my process and my painting tips here.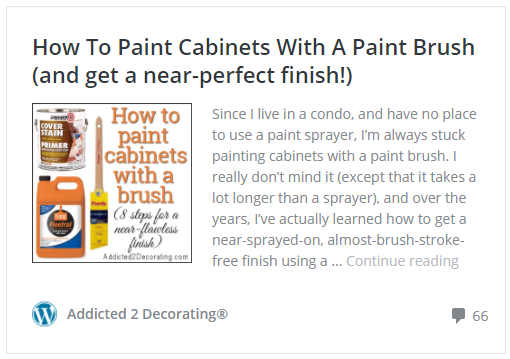 So my kitchen cabinets are coming along. 🙂
In other news, I have brand new drywall in my hallway, so that's ready to be primed and painted. Then I can install new doors on the bedrooms, install a new light fixture, and build my hall tree. I'm still waiting for my wallpaper for the breakfast room to arrive, and I still haven't heard back from the guy about spraying my countertops. So I may be jumping around from room to room for the rest of the year, just getting as much done as I possibly can in the next 48 days. (Wow! Only 48 days left in this year!!)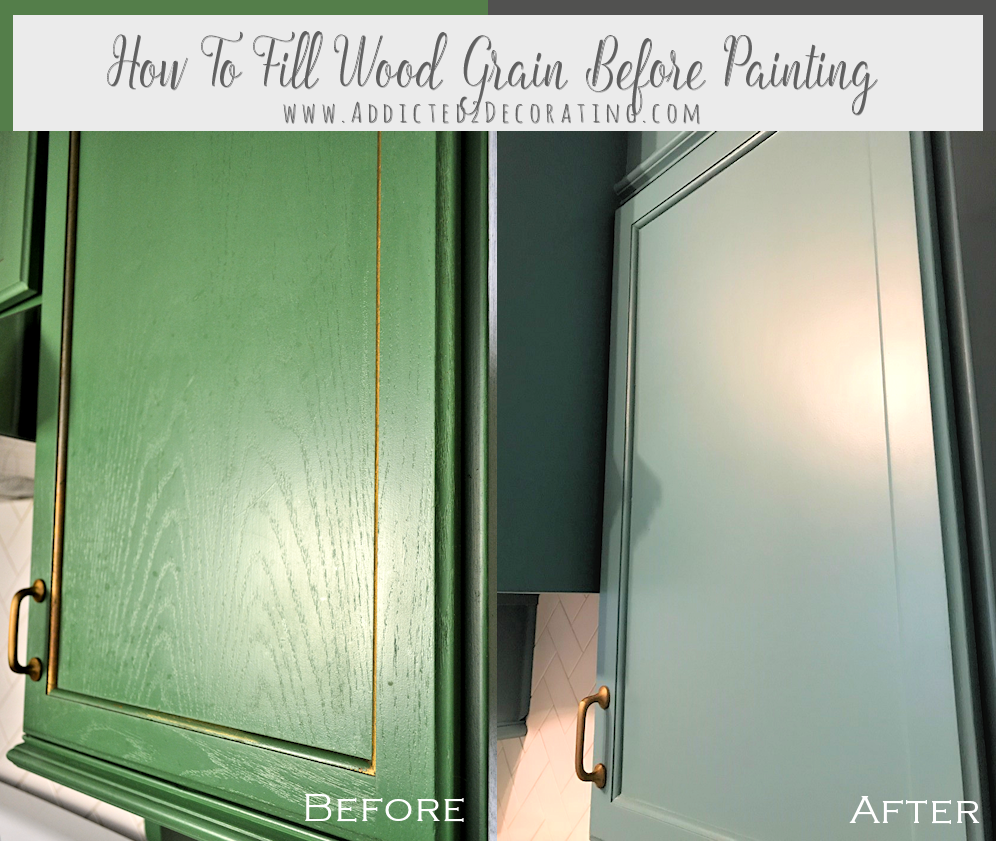 UPDATE:
I finished repainting my kitchen cabinets! Click here to see how they turned out…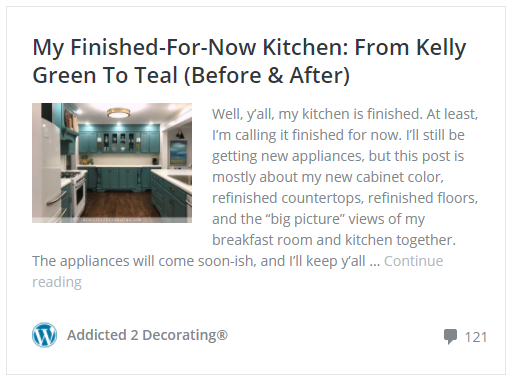 Addicted 2 Decorating is where I share my DIY and decorating journey as I remodel and decorate the 1948 fixer upper that my husband, Matt, and I bought in 2013. Matt has M.S. and is unable to do physical work, so I do the majority of the work on the house by myself. You can learn more about me here.