The Many Faces Of My Living Room
Do you have that one room on your house that has given you nothing but headaches? No matter what you've tried, nothing seems to work. You add something, take something away, tweak here, rearrange there, add new curtains, take those curtains away, add lamps, move the lamps. All of that and more, and it just doesn't seem to come together?
If you've been around here long, you know that for me, my living room is that thorn-in-my-side room that I just haven't managed to get right. I shared my most recent plans for that room in yesterday's post. If you missed that, you can see it here…
Never in the history of ever has a room given me so much trouble. That's not to say that I haven't redone things in other rooms, because obviously I have. But I have other areas of my house that I got right on the first try.
My pantry is one room that I got right on my first try…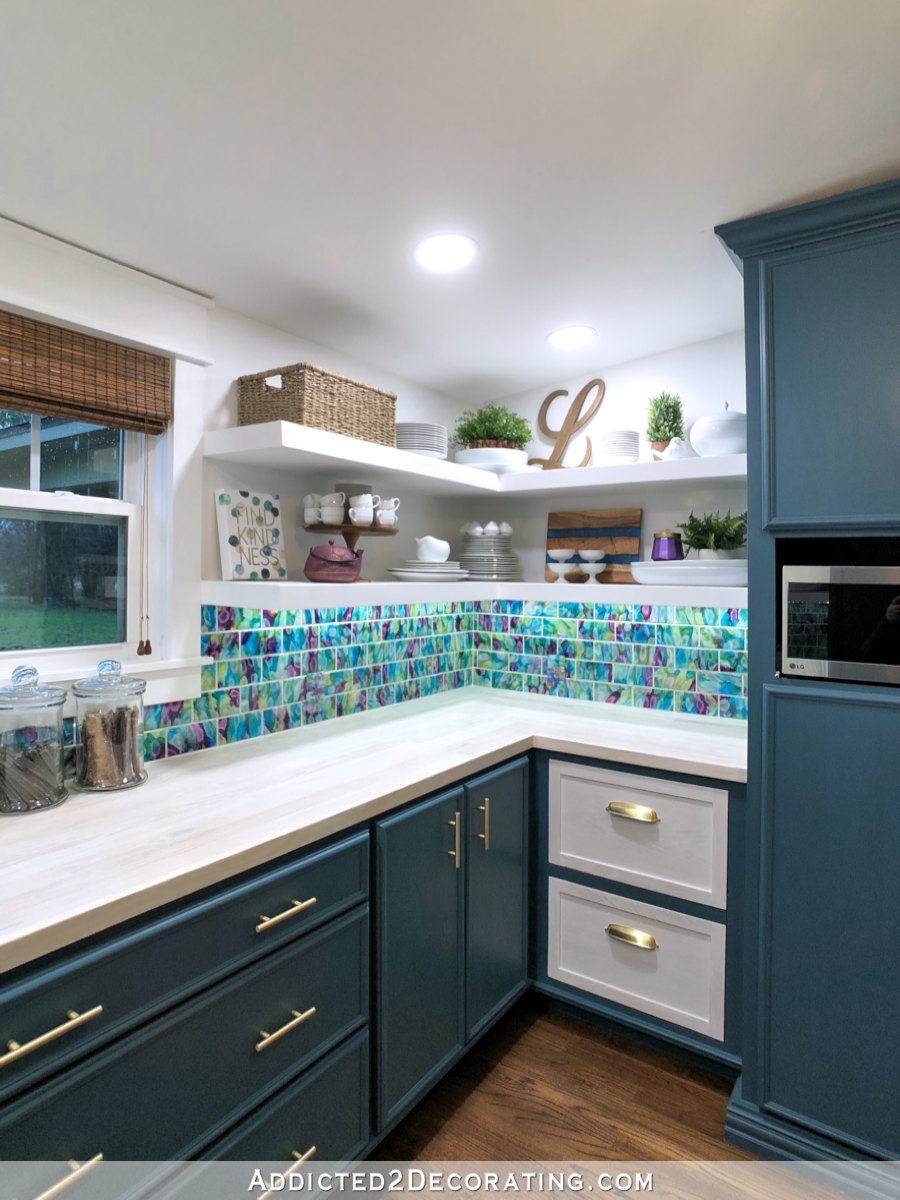 You can see more of that room here…
I also got my breakfast room finished the first go 'round. Although I did remove the rug. I also plan to get a new dining table at some point, and I also want to replace those white curtains with the purple draperies from my last living room attempt. But aside from a few minor tweaks here and there, the room will stay the same.
You can see more of the breakfast room here…
And I also got my hallway right the first time…
You can see more of the hallway here…
Although the hallway is about to undergo some pretty major changes once the bedroom and hallway remodel starts. But in the end, it'll look pretty much the same, just with one less door and the console table/chapel picture arrangement placed where it will be better seen from the music room. (After the remodel, that center wall in the photo above will be moved in about four feet, making the hallway smaller. The bedroom door on the left on that wall will stay, but the door on the right will be removed and that will be solid wall. The console table/chapel picture arrangement will go on that wall, and I'll no longer have room for the geode prints on the left wall.)
My kitchen was a room that took me two tries, but only because I was convinced that I needed to do something different in this house and needed to steer away from my favorite color. Lesson learned: Never force yourself to steer clear of your favorite color just because you feel like you need to try something different and move away from your comfort zone. Your home should be the epitome of your comfort zone. So after the green kitchen detour, I landed back at my favorite color — the same one I had used in my condo kitchen.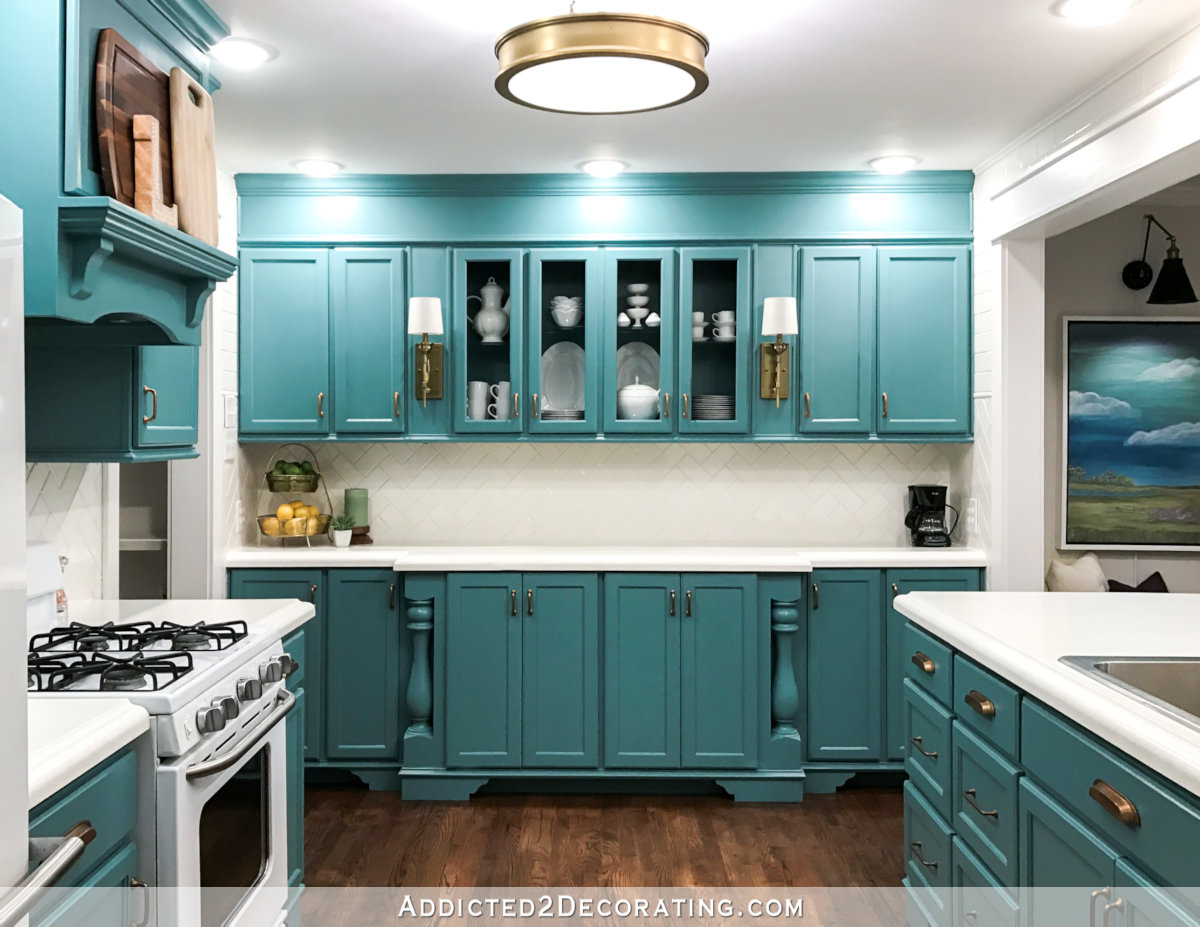 You can see more of the kitchen here…
Of course, I do have some minor changes planned for the kitchen, but nothing drastic that will change the overall look. I still want a new stove, and I still plan to remove my dishwasher and replace it with basket drawers. But those are minor changes.
And it took me two tries to get my hallway bathroom right. I liked the first version of the hallway bathroom, but as I finished the hallway (and decided on teal for the doors), that necessitated some changes in the bathroom, and one thing led to another. The second version just required a new wall color, vanity color, artwork, and shower curtain.
You can see more of the hallway bathroom here…
The music room has never been finished, but it's well on its way. And it did take me a couple of tries to get the walls right (they started off black), but after landing on the stencil with the Sharpie accents, it started to feel right, and I have no plans to redo them. I just need to continue on and finish the room.
Once my studio bathroom is finished (just some caulking, painting, and accessorizing to go!), it'll be finished for good. I have zero plans to redo anything in there.
And the studio will also be a one-and-done room.
So what the heck happened in the living room?
Honestly, I can't pinpoint it. I think the thing that sent me in the wrong direction at first was my thinking that this house needed to be more "adult" than the condo. And for some reason, in my mind, that meant less color, more tame, more neutrals. I have no idea why I had convinced myself of this, but I did. And that led me to the first iteration of the living room…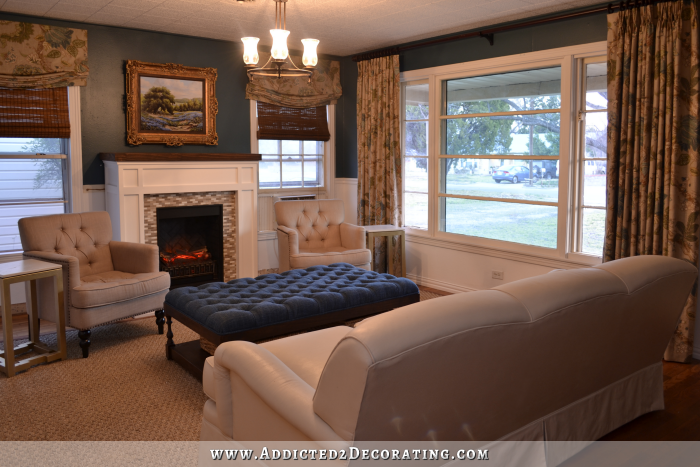 It was an awful lot of brown and darkness for my color-loving self. Those were also the "lipstick on a pig" days because we still had the old windows with the window unit A/C, the old drywall, the polystyrene ceiling tiles, and no doorway between the living room and the kitchen.
But as much as I love color, what the heck was I thinking with all of those neutrals?
Then at some point, after the room was opened up to the kitchen and the fireplace was extended to the ceiling, I decided that this room would be better as a dining room. And I also decided to put picture frame molding everywhere. That was a very bad idea in room with a fireplace and so many windows and doorways, with very little solid walls space.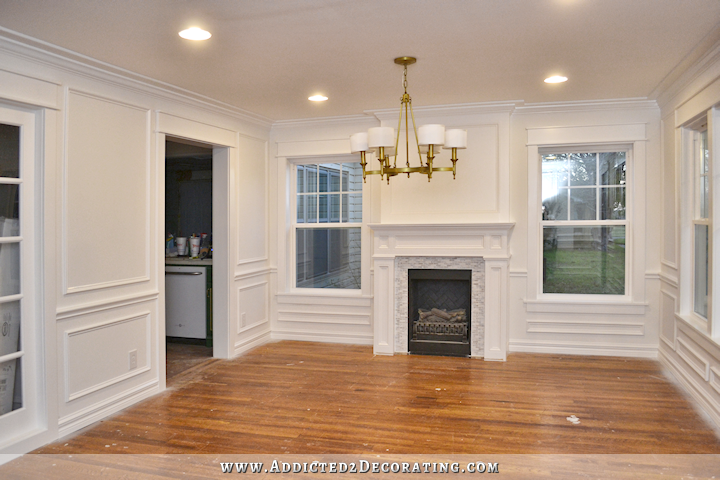 And I also decided to go the opposite direction with the color and pattern.
I got so far as making the black and white striped draperies (and painting the walls green after realizing that all white walls were way too cold for me), but the "dining room" never got much further than that.
I still have those draperies, though, and I absolutely love them. I hope I can find a use for them elsewhere.
After my failed attempt to turn the room into a dining room and deciding to turn it back into a living room, I went a different direction with the draperies. And the fireplace.
And then I realized that all of that molding on the walls was doing the room no favors, so it came down…
It was soon after that, I believe, that I found this rug. This beautiful rug that seemed to be just the creative inspiration I needed to get this room back on track. So in came a new wall color, a new loveseat, a new chair, a new coffee table, and a new fireplace color.
I seemed to be back on track, and even made one drapery panel. Oh, and I also painted the fireplace teal.
And then the room sat like that for a long time. I ordered fabric for my chairs that I want to reupholster, and still just couldn't make myself get excited about this room.
At some point in all this craziness, I actually managed to finish the wall that I call the "entryway." And I absolutely loved it. Since it's part of this same room, this "entryway" had gone through almost as many iterations as the living room. But somehow, I managed to find a design for it that I love.
But that living room…ARGH!! I felt like I was finally soooo close, but I just couldn't get it to work. No matter what I did, I just couldn't make myself love that room or get excited about finishing it.
But now that has changed. And it feels amazing, after six years of struggling with this room, to finally be excited about finishing it. It is, after all, the first thing people see when they walk into our home. So it's been discouraging to feel so lost, so unmotivated, and so discouraged about this room. I'm incredibly excited to get things finished in here now that I have a plan that feels more "me" than anything I've tried before.
My mom is on board with helping me reuphoslter those chairs, so now I just need to find the time. And I'm going to start on those draperies just as soon as I finish the studio bathroom and build the second studio work table.
What I shared were just the main highlights. There were so many detours along the way — a dining table that I rebuilt and then refinished about four times because I couldn't get it right either. Dining chairs that I built and upholstered. Other chairs that I reupholstered. The list goes on and on.
Have you ever had that one room that just seemed impossible to finish because no matter what you tried, it just wasn't right?
Never in my life have I had one room give me so much trouble. I'm so glad to finally be seeing a light at the end of this tunnel.
Addicted 2 Decorating is where I share my DIY and decorating journey as I remodel and decorate the 1948 fixer upper that my husband, Matt, and I bought in 2013. Matt has M.S. and is unable to do physical work, so I do the majority of the work on the house by myself. You can learn more about me here.