Front Porch Progress (No More Sagging Roof!)
Well, it turns out that fixing the sagging roof issue on my front porch was way easier than I had thought it would be. This is how it looked just a few days ago. The sag wasn't horrible, but it was definitely noticeable, and it bugged the heck out of me every time I looked at it.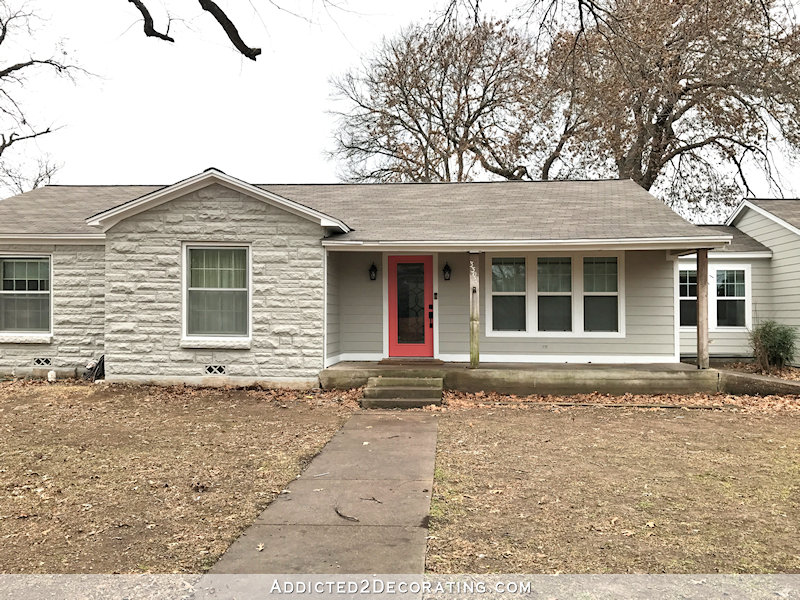 I thought it was going to be some semi-major construction, removing the existing sagging beam and replacing it with a new beam. In fact, I had already been calling around trying to find a way to transport something so long, since there's no way to transport something that's 16-21 feet long in my truck with the 8-foot bed.
But then the other day when I was on the front porch cutting tile for the fireplace, I started wondering just how hard it would be to straighten out that beam. Does it actually need to be replaced? Or does it just need taller support under it? After all, there have been times when that post under that portion of the roof has been so loose that it moves pretty easily if you lean on it or put any pressure on it at all.
So I took a break from tiling, searched for a 2 x 4 and then wedged it in there next to that post and hammered the bottom in as hard as I could to see if I could raise the roof just in that section. And it worked!! You can see the progress here…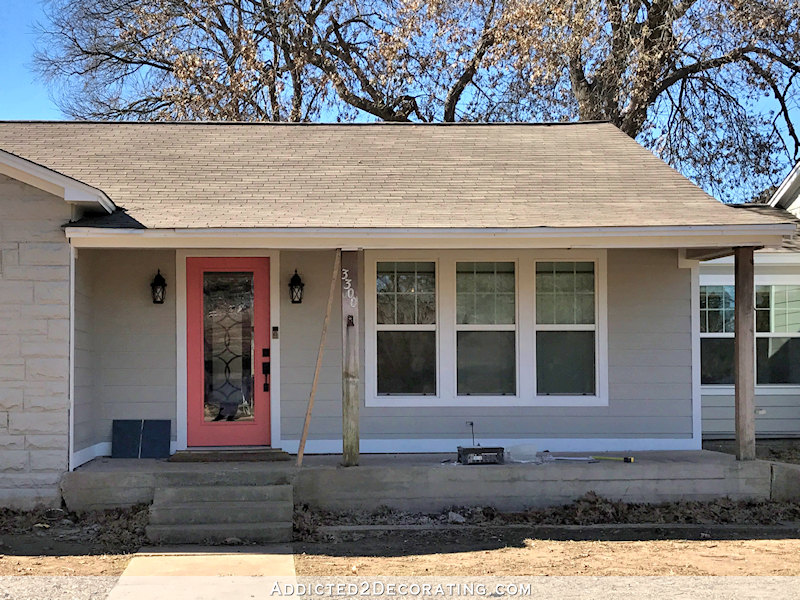 When I took that picture, it wasn't quite up there where it needed to be (you can tell by looking at the trim above the front door that it's still just a bit too low), but it was pretty darn close! I did a little bit of hammering, wedging that 2 x 4 in there even more, several times over two days before it was perfectly straight (or as "perfectly straight" as you can get on a 70-year-old home).
Then yesterday, my brother came over to help me replace the old posts with new ones.
With that beam straightened, we were able to take the measurements for the height of the new posts very easily and then put them into place. We used pressure treated 4 x 4's rated for ground contact, and my gosh, were those things heavy!! Getting that center beam into place took some effort, and lots of hammering with a 3-pound hammer since the post was now carrying quite a bit of weight, but we finally got it into place. And you can see that we also added a post on the other side of the front door for symmetry when I add the balustrade later on. There's not much room for a balustrade on that side of the steps, but I still think it's needed. And I love the symmetry around the door.
I only wish my windows were centered between the middle and outer posts, but that would make them ridiculously close to the corner of the living room inside. My symmetry-loving brain will just have to deal with off-center windows on the front porch. And since I've been looking at lots of front porches lately for ideas, I've noticed that windows generally aren't centered between posts anyway. So I'm learning to be okay with it. 🙂
But just take a look at that beautiful straight beam…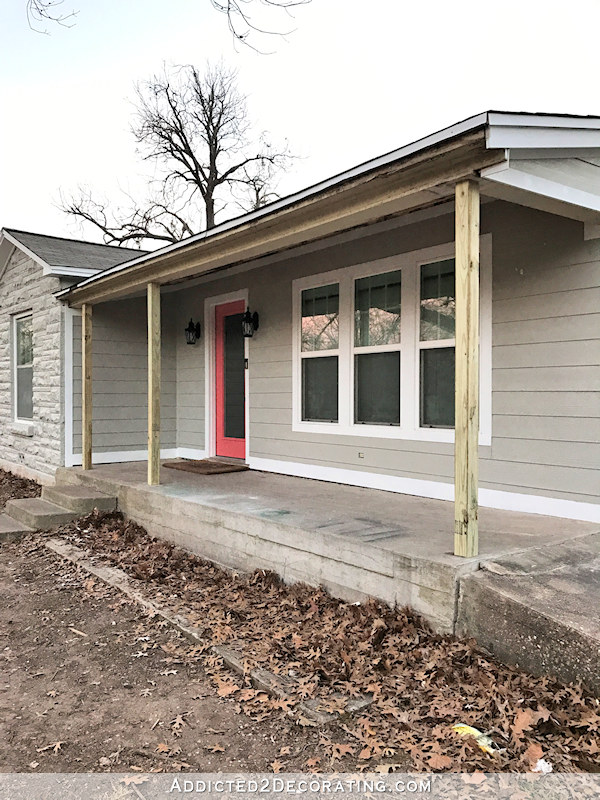 My brother removed the rest of the metal wrap that was wrapped around the fascia boards, and he did uncover some rot. Fortunately, the rot was just contained to the boards that will be removed and replaced with Hardi boards, and none of it was on the actual beam that supports the roof. That was a big relief.
But that's also a perfect demonstration of why I really do not like vinyl or aluminum siding, and would never choose to install it. (Mine was vinyl siding, but they used metal wraps on areas like this and around the windows.) Vinyl siding looks perfect for decades, while possibly hiding all kinds of rot and potential structural issues beneath that perfect facade. (Here's an example.)
I won't bore you with my long siding rant. 😀 Just know that when we bought our house, while it was in rough shape from a cosmetic standpoint, the siding and wraps around the fascia boards and windows looked to be in good shape. But there hasn't been one single piece of metal wrap that we've removed so far — from the back side of the pantry, all around the studio, the front of the breakfast room, and now the front porch — that wasn't hiding rotten wood.
Anyway, one more thing my brother and I did yesterday was add spacers between the rafters on the front porch ceiling. The funny thing is that I expected the posts to be the hard project of the day, and these spacers to be the easy part. It was very much the opposite. The posts were a breeze compared to these spacers…
That picture cracks me up. We started on the far side (close to the front door) on the house side and worked our way towards the ramp. You can see that that first row is all nice and straight. Then we started the spacers on the front yard side, and they got worse as we went along. 😀 Our arms were so tired from hammering those spacers in there, and then hoisting my massive, very heavy, and very finicky framing nail gun over our heads to nail those in there.
But it'll do. The purpose of those spacers is to give me something to nail the ceiling boards to since I couldn't just do things the easy way and run the boards parallel with the front door wall of the house. Nope, I want my ceiling boards to run perpendicular to the front door wall of the house. Naturally I'd choose the way that requires more work. 😀
I thought I could actually get the ceiling installed yesterday, but when I went to Home Depot to buy the supplies, I couldn't find any boards I liked with enough stock for the job. I'm looking for either tongue-and-groove or lap siding boards that are 3/4″ thick, solid wood, 4″ to 8″ wide, with relatively few knots. I did find some lap siding that would work, but they only had 4 boards in stock, and I need at least 25 boards, depending on the width I use. I can still check at Lowe's, the other Home Depot (yep, we have two!), and local building supply companies. Surely one of them will have what I need. I really need to get this ceiling in this weekend.
So it's not much progress as far as making it pretty, but I feel like we made some pretty significant progress yesterday! We're getting things prepped so that the pretty stuff can start happening soon. I can't wait!
Addicted 2 Decorating is where I share my DIY and decorating journey as I remodel and decorate the 1948 fixer upper that my husband, Matt, and I bought in 2013. Matt has M.S. and is unable to do physical work, so I do the majority of the work on the house by myself. You can learn more about me here.