Last Updated on April 15, 2016 by Kristi Linauer
I've been wondering if I would be able to find any fabrics in the right colors (coral, green, and black) for the two host dining chairs. So yesterday I headed to Joann Fabric with the coral fabric swatch in hand to see what they had. The good news is that there are actually quite a few fabrics with the right colors. The bad news is that all but one fabric that I found were florals. Here's what I found…
This first one is SMC Designs Taunt Noir. They have it in the store, but it's not on the website. In fact, the only place I found it was on the Fabricut website, and it says that it's discontinued, so it may not be available anymore. But that's okay because it wasn't one of my favorites. It was just the first one I found, and it gave me hope that there might be other fabrics out there with the right colors.
The colors are great, but I'm not sold on the design. The style looks a bit cutesy, and those curlicue designs on the leaves are a bit over the top for my taste.
This one is called Tropix Millbrook Onyx, and it's one of my favorites. I like that the design is a bit more realistic and not cutesy like the previous one.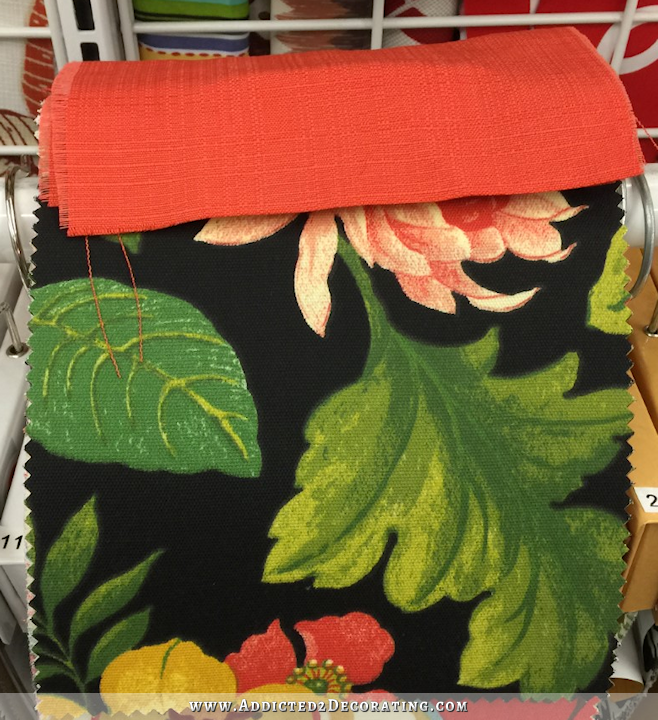 All that they had was the small swatch above, which really doesn't give an idea of what the full pattern looks like, so I found this picture on the Joann website.
via Joann Fabric 
Hmmm…that's one of those patterns that's great in small doses, but in full repeats, it looks really busy. But with the vertical repeat at 18 inches, and the horizontal repeat at 27 inches, there wouldn't be more than one full repeat of the pattern, plus a little extra, showing on each chair. So it would look quite different from the 6+ repeats showing in the picture above.
Right now, this one is my favorite, but it doesn't have any black in it. That's not necessarily a deal breaker, though. It's called Richloom Studio Anamarie Aspen.
I like that it has the watercolor look to it, without being super abstract like the original fabric I was going to use. And while it's artsy, it's not over-the-top cutesy. I also think that the style of the flowers and leaves complements the style of the wall mural (that will be on the opposite side of the room) more than any of these other florals.
Next up is Richloom Studio St. Moritz Red Tribal. The colors in this fabric are perfect, but there's something about it that looks harsh to me, though. But in smaller doses (i.e., used on one section of two upholstered chairs), it might look a bit tamer.
The next one is called Swavelle Mill Creek Venezia Cliffside Noir, and while the colors are perfect, the style of the flowers reminds me of the fabrics that I was originally considering for this room that really didn't work out.
And finally, this is the one and only fabric that I found that had coral and green (no black), and that wasn't a floral! It's called SMC Designs Faust Candy. Unfortunately, I can't find this one on the Joann Fabric website either, so it might be discontinued as well.
So the good news is that there are definitely quite a few fabrics out there that have the right colors in them. The bad news (so far) is that none of them are quite what I'm looking for. I kind of had my heart set on a small or medium-sized geometric pattern of some kind since floral fabrics might look really busy with my wall mural, and my draperies are going to be striped.
Sadly, we're down to one fabric store here in Waco. Hancock Fabrics is going out of business, and their stock has been pretty well picked over at this point, and obviously they're no longer offering special order decorator fabrics. That just leaves us with Joann Fabric. It might be time to make a day of it and head to Dallas. It's just an hour-and-a-half away, and there are some great fabric stores up there. But at least I know now that there are fabrics available (and there's always Spoonflower!), which means that I can go ahead and order the coral fabric for the chairs. I plan to tackle that project (six side chairs) right after I finish my draperies.
Addicted 2 Decorating is where I share my DIY and decorating journey as I remodel and decorate the 1948 fixer upper that my husband, Matt, and I bought in 2013. Matt has M.S. and is unable to do physical work, so I do the majority of the work on the house by myself. You can learn more about me here.
I hope you'll join me on my DIY and decorating journey! If you want to follow my projects and progress, you can subscribe below and have each new post delivered to your email inbox. That way you'll never miss a thing!