Last Updated on October 25, 2019 by Kristi Linauer
I didn't get a whole lot crossed off of my to do list yesterday, because I spent quite a bit of time going over the to do list, making another list of materials and supplies I need to get everything done, and heading to Home Depot. That always takes longer than expected, but I did still manage to get some work done when I got home.
You can see my progress here…
Having trouble with that video? You can watch it here on YouTube.
I finally have a ceiling light installed. For that light, I opted for a large, round, simple LED light that kind of looks like a solar tube. I also saw a vanity light that I really liked, so I swapped that out.
I got the mirror hardware painted and installed the mirror, but I don't think I like it. It just looks small and skimpy, and I really prefer the more substantial look of the mirror in the hallway bathroom…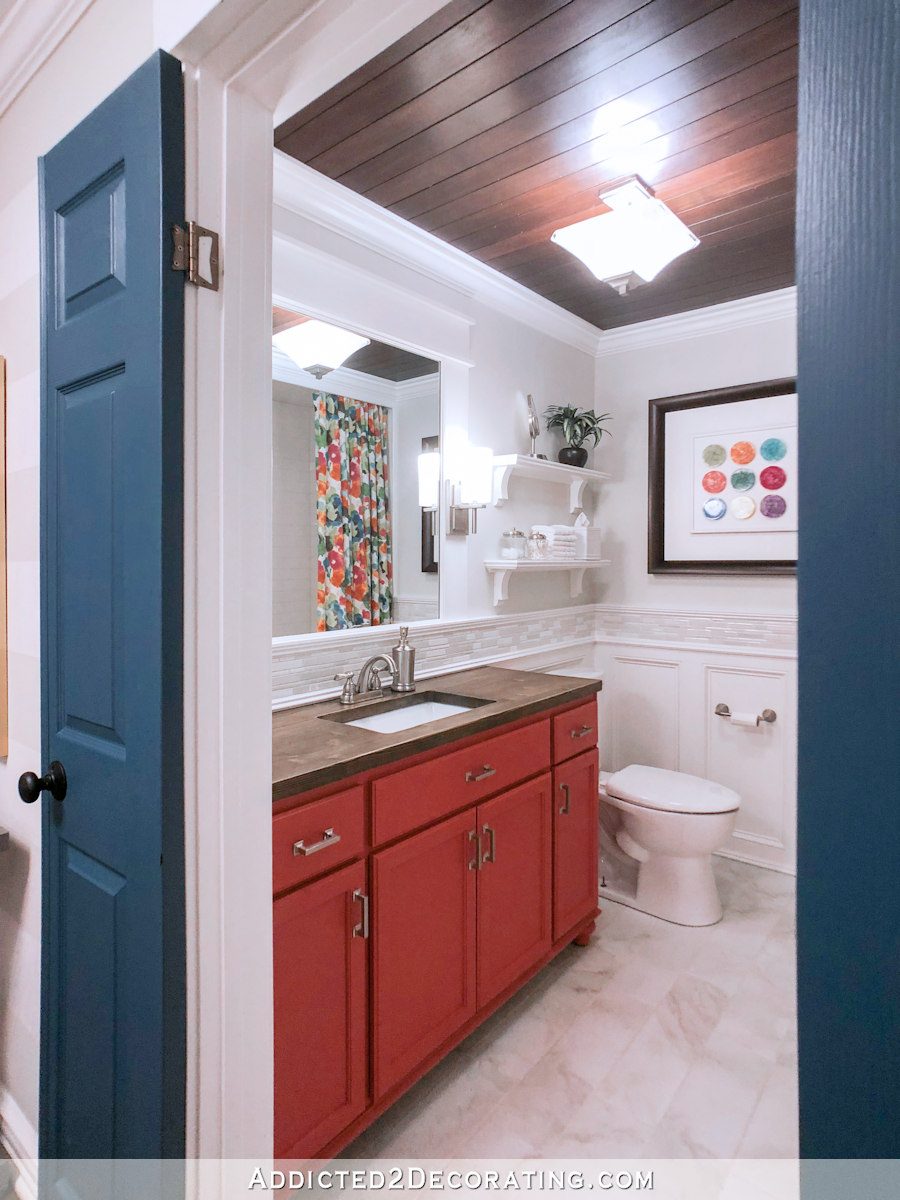 So I might wait a couple more days and see if this oval mirror grows on me, or you might see a post from me tomorrow showing a new mirror. 🙂
I got the vanity raised using 1 1/2-inch dowels, but I can't cross that off of my list just yet because I still need to do some caulking or wood filling, and then paint them to match the legs.
And look! An outlet! It still doesn't work because I need to install one more outlet before I can hook up this circuit, but at least this one is installed.
And that gap between the vanity countertop and the bottom of the tile is gone. As soon as I get those two missing tiles attached to the right of the outlet, I can get this part of the tile grouted.
And finally, I had a window fail. I tried to put window film on the bottom half of the window, but I accidentally tore the corner while trying to trim it and had to pull it off. That left these areas of sticky adhesive behind, so now I have to get some Goo Gone or something like that and get the sticky stuff off before I can try again. Ugh. Two steps forward, one step back.
So it was slow going on Day 1. My list looks like this…
Raise vanity 1/2 inch (in progress, but still needs paint)
Install HVAC air duct vent
Install ceiling light Done!
Install crown molding
Put a clear coat protective finish on the upper walls (just on the "wallpaper" design)
Install wall trim — chair rail, picture frame molding, baseboards
Finish installing the tile and then grout
Wood fill, sand, caulk prime and paint all of the trim
Paint the bathroom door and install the pull
Hang the mirror Done! But unsure if I like it.
Install two outlets and outlet/switch covers (in progress!)
Finish the wall design and remove all of the tape
Install the toilet
Print and frame photo print for wall
Find a privacy solution for the window (tried and failed…I'll try again today)
Now that I have all of my materials and supplies, I should be able to spend more time today actually working and making progress. I hope to have more to show you tomorrow!
Addicted 2 Decorating is where I share my DIY and decorating journey as I remodel and decorate the 1948 fixer upper that my husband, Matt, and I bought in 2013. Matt has M.S. and is unable to do physical work, so I do the majority of the work on the house by myself. You can learn more about me here.
I hope you'll join me on my DIY and decorating journey! If you want to follow my projects and progress, you can subscribe below and have each new post delivered to your email inbox. That way you'll never miss a thing!