DIY Coasters (Or Tiny Artwork) Using Ceramic Tiles, Alcohol Ink, and Resin
This past weekend was all about easy and fun projects for me. This is the first of three that I'll share with y'all this week — DIY coasters made from ceramic tiles, alcohol ink and resin.
I had approximately 1,000 other things that I probably should have been working on this week, but as y'all know by now, I've been having issues with my eyes. If you missed that saga, you can catch up here…
The short version is that after trying out monovision contacts and realizing very quickly that those absolutely wouldn't work for me, I tried the multifocal contacts. I've been wearing those every day for the last few days, and I think I might be getting used to them, but they're still bothering me just a bit.
My main issue is with my near sight. Anything the distance of a computer screen or dashboard on my car is fantastic. But closer than that, and things start to get a bit blurry, and small print still requires reading glasses. So I was doubting that I'd even be able to work on projects using these contacts without the headache of reading glasses being put on, taken off, put on, taken off, over and over again throughout a project. Would I even be able to see the markings on my tape measure, or any other small writing at work table level, with just contacts?
So I decided to give it a whirl. And since I obviously didn't want to take a gamble on an important project, like building my studio cabinets or even finishing up my second work table, I decided to do a few small, fun, artistic, and completely inconsequential projects just to get used to the contacts and see if they would work.
Quite honestly, the jury is still out on the contacts. Sometimes I think they're great. Other times, I want to rip them out of my eyes and toss them in the garbage. But the bottom line is that I can see well enough to do projects at table top level. So at least that's a good thing!
Anyway, enough about my eyes. Let's get on to the fun stuff. This is such a simple projects, and y'all know how much I love anything that includes resin!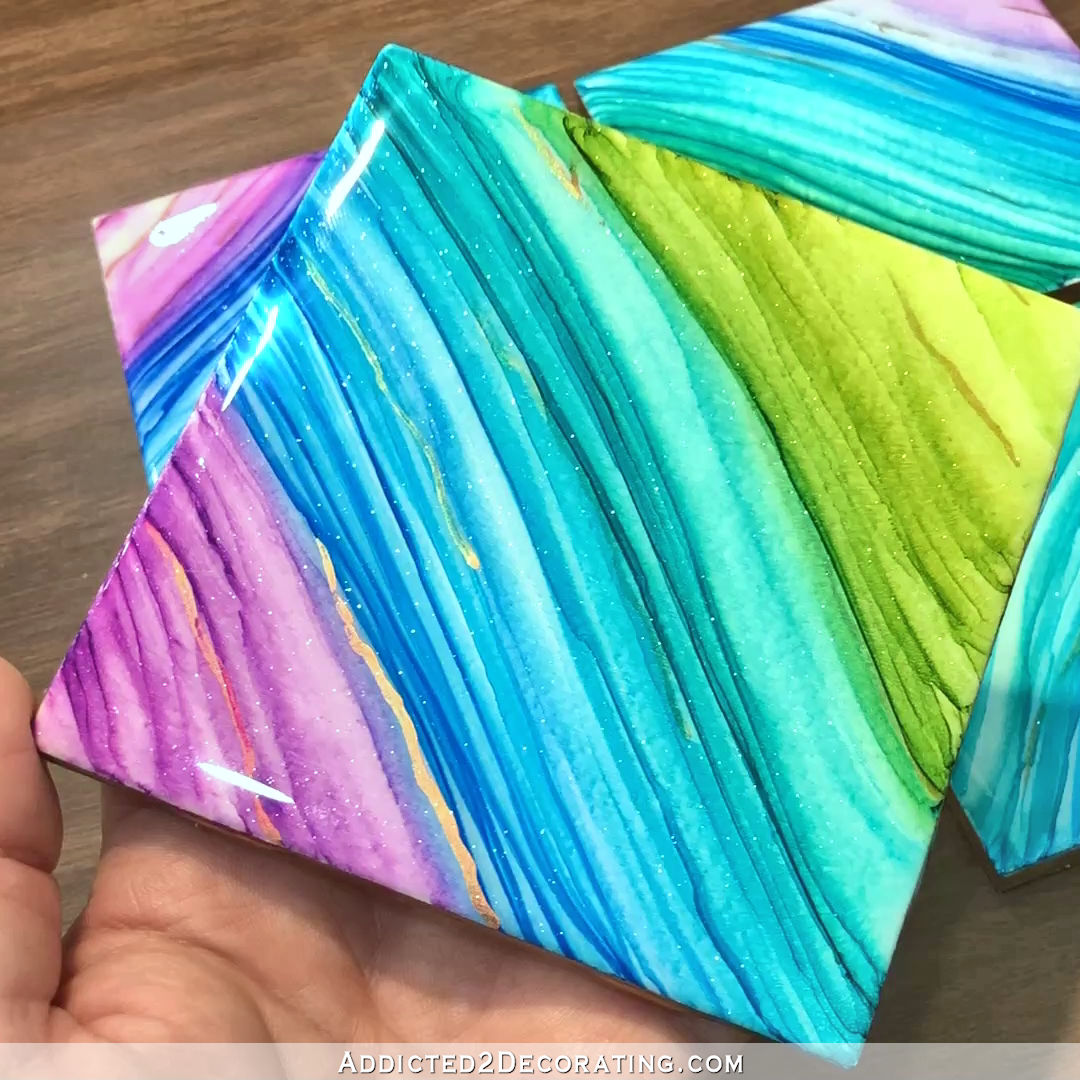 If you prefer a video of the process, you can see that here…
Having trouble with that video? Click here to watch on YouTube.
Please note: This post contains affiliate links.
For this project, you'll need:
4-inch ceramic tiles (very cheap at Home Depot or Lowe's)
Liquid gold gilding (or gold leaf, gold leaf pen, gold alcohol ink)
Painters tape
X-acto knife
Glitter (optional)
Mixing cup, measuring cup and stir stick for resin
Propane or butane torch
Cookie sheet
Scrap wood pieces
Gloves
For the first part of the project, you'll just need the tiles, alcohol inks, and fillable watercolor brush pen filled with isopropyl alcohol. I used 91% isopropyl alcohol from the pharmacy at the grocery store.
First, I placed lines of color straight from the bottles of alcohol ink. I used three colors (purple, blue and green) in about two or three shades of each color.
Alcohol inks dry very quickly, but they can always be reactivated with isopropyl alcohol. So using my watercolor brush pen, I brushed over the lines of color to cover the tiles and blend the colors together. This created more of a watercolor effect.
If you prefer a watercolor look, you can just stop at that step, but I wanted mine to have more defined lines. So starting back at the top left corner, I brushed back and forth over the inks, this time using a slightly dryer brush, and blotting the brush on the paper towels after about every two swipes of the brush. The wetter the brush, the more of a watercolor look you'll get. A slightly dryer brush will create the lines.
Here's how the first tile looked after the lines were created…
Next, I used some liquid gold gilding to cover the edges of the tiles and add some detail to the front. I honestly wish I had used something else. This gold gilding is just a bit dull and dark for my taste. Gold leaf or a gold leaf pen would have been brighter and shinier. Or I could have just added a couple of lines of gold alcohol ink to the tiles in the very first step. Oh well. Lesson learned. 🙂
When the gold gilding was dry (which only takes a few seconds), I flipped the tiles over and taped off the back edges with painters tape, and then flipped them over right side up and trimmed off the excess tape around the edges.
Since this was a small project, I placed the tiles onto scrap pieces of wood with a cookie sheet underneath. I used a total of 1/2-cup of mixed resin (1/4 cup of resin and 1/4 cup of hardener), and then added in some glitter for a bit of extra sparkle.
The glitter is optional, of course, and I learned that using glitter in resin may cause some imperfections in the surface of the resin. So if you're a perfectionist like I am, using glitter in a first coat of resin may require a second coat of glitterless resin to cover those imperfections and give you a flawless glassy resin finish.
I poured equal amounts of resin over each of the tiles and then used my stir stick to spread it out on the tops and the edges of the tiles. (I forgot to put on my gloves!! Ugh! I hate getting that stuff on my skin.) Ad finally, I used my propane torch to remove all of the bubbles.
After about 12 hours of drying, I removed the tape from the backs of the tiles. If you do use these as coasters, I recommend adhering either felt or cork to the backs of the tiles to protect your tabletop from the rough backs of the tiles.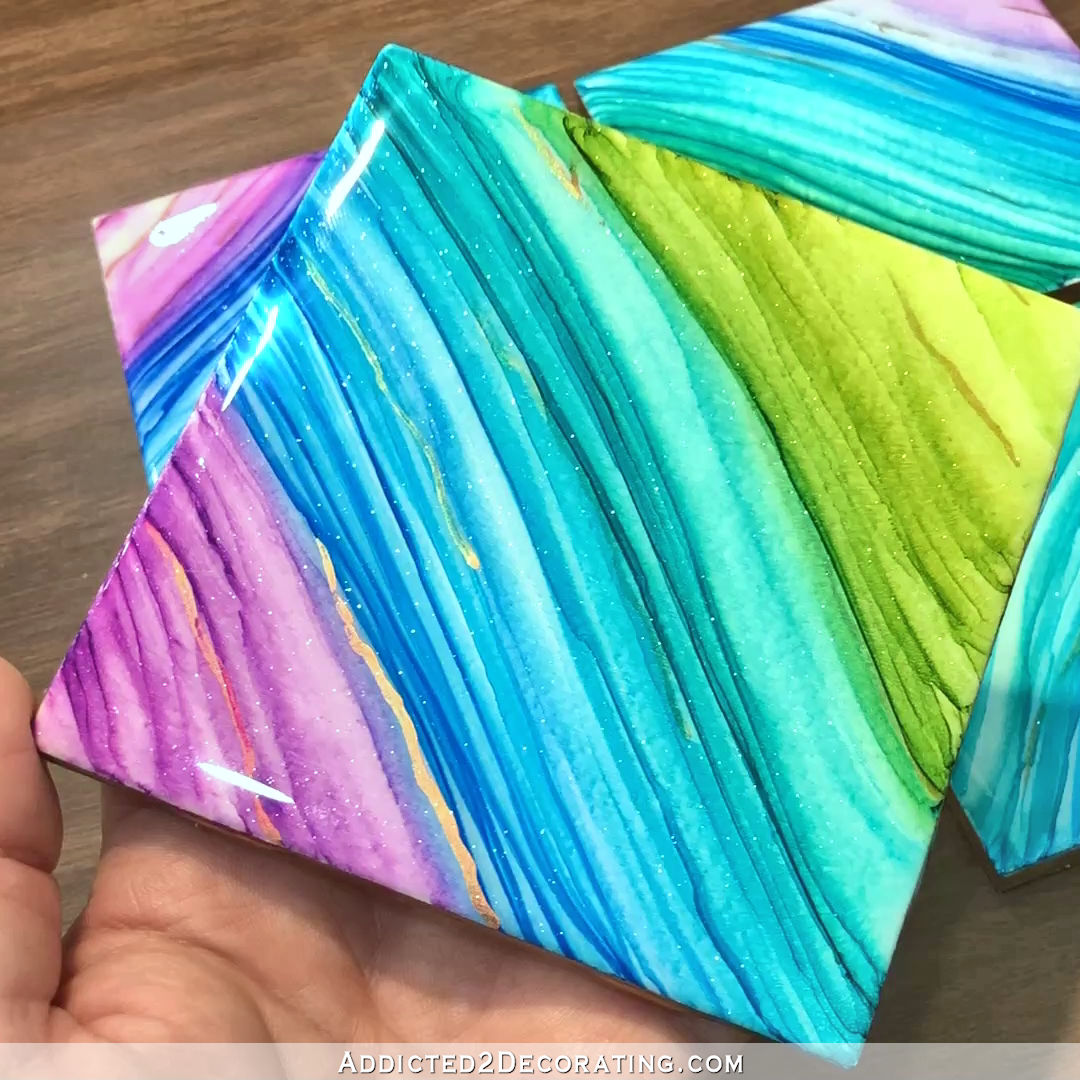 But these little 4-inch tiles are also the perfect size to use as small pieces of artwork, and they look great in a frame. I have a tutorial (and a video) coming up for making a very simple frame for stuff like this, so stay tuned!
Addicted 2 Decorating is where I share my DIY and decorating journey as I remodel and decorate the 1948 fixer upper that my husband, Matt, and I bought in 2013. Matt has M.S. and is unable to do physical work, so I do the majority of the work on the house by myself. You can learn more about me here.