Last Updated on June 5, 2021 by Kristi Linauer
Have you ever been startled awake at night with a thought — a sudden realization that comes rushing out of the recesses to the forefront of your mind with such force that in an instant, you go from sound alseep to wide awake? I hate it when that happens, especially because during the night, anxiety and worry are magnified. Things that seem easily manageable during the daylight hours seem overwhelming during the night. Anyway, that happened to me in the wee early hours of this morning, and I couldn't go back to sleep.
The thought that brought me out of my restful sleep? We have about one month before our bedroom and hallway remodel starts! ONE MONTH! And I haven't done one single thing to prepare for it.
If you're wondering what the heck I'm talking about, we're about to embark on Phase 1 of a remodel that will be done in three phases. During this Phase 1 remodel, the two extra bedrooms will be rewired, insulated, redrywalled, and will get new windows. We'll also be moving around some walls that will affect the hallway, so we'll also take that opportunity to fix the damage done to the hallway floor during the crap volcano that erupted back in May.
During Phase 2, we will turn the current master bedroom into our new master bathroom.
And during Phase 3, we will add on a new family room, laundry/utility room, and master bedroom.
So right now, our bedrooms and hallway look like this. The "guest bedroom" and "Matt's game room" labels are switched, for some reason. But you can see that we have a relatively large, boxy hallway, and each of the extra bedrooms has a small and almost useless closet.
After all three phases are finished, it will look like this. The pink area shows the addition that will be added during Phase 3…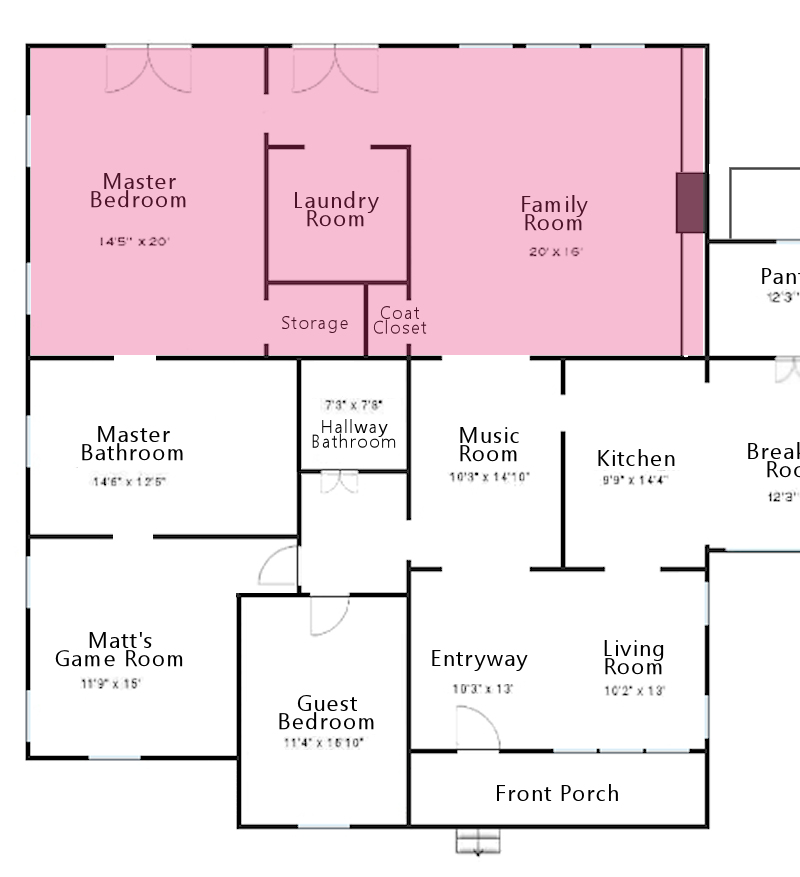 But during this Phase 1, we'll just be focused on the guest bedroom, Matt's game room and the hallway.
Those rooms will get all new wiring, insulation, drywall and windows. In addition, the two small closets will be completely removed, and the wall in the hallway will be moved to square up the future master bathroom. That will make our hallway much smaller, but that's okay. It's the size of a small bedroom right now, and no hallway needs to be that big.
Anyway, we got the quote for this phase 1 remodel back in August. It was quite a bit more than we thought it was going to be, and after looking at our finances, we realized it we would have to put it off until mid-November. Well, in mid-August, when it's still officially summer and the temps are soaring to 100+ each day, mid-November seem soooooo far away. So I just put it out of my mind and got busy on other things.
I've been so focused on the studio bathroom (which, I swear to you, is almost finished) that I haven't even given much thought to the fact that we're actually in October. I mean, I knew it was October, but it didn't really register in my mind until early this morning that I actually need to pay attention to the fact that we're in October right now.
So in the wee hours of this morning, while Matt and Cooper were sound asleep, I lay in bed and made a mental checklist.
The most important, and most urgent, thing on the list is to order windows. All of the windows we buy are custom made to the specifications I give the guy at the building supply place, and then they can take two to three weeks to arrive. So I'm cutting it very close on that. I'd like to have them here a couple of weeks before the remodel starts just to be on the safe side. I don't like projects being held up because we're waiting on orders.
And then the only other thing I need to do is clear out those rooms. That doesn't sound like a big deal, but I've used half of both of those rooms as storage for far too long now, and that stuff will take a while to go through. Also, Matt's exercise bike and my treadmill will have to find a new home, and I literally have no idea where to put them. I most certainly don't want them in my studio, and yet that's really the only room that has enough space for them. Ugh!!
Anyway, all of this to say that in between finishing up the studio bathroom, building the second studio work table, making my pink draperies, planning and getting started on my studio cabinets, and taking advantage of the cool weather that's coming (tomorrow!!) by getting some outdoor projects done, I kind of need to fit "get prepared for the hallway/bedroom remodel" in there somewhere.
I hate being startled awake at night with my thoughts, but in this case, I needed it!
Addicted 2 Decorating is where I share my DIY and decorating journey as I remodel and decorate the 1948 fixer upper that my husband, Matt, and I bought in 2013. Matt has M.S. and is unable to do physical work, so I do the majority of the work on the house by myself. You can learn more about me here.
I hope you'll join me on my DIY and decorating journey! If you want to follow my projects and progress, you can subscribe below and have each new post delivered to your email inbox. That way you'll never miss a thing!