So, I Had A Crappy Weekend (In The Most Literal Sense)
I know some of you are showing up here to day excited to see my newly sanded and whitewashed studio floor. If that's the case, you will be disappointed, because I didn't make any progress at all on the floor. For some reason, it didn't even dawn on me to call early (Thursday or Friday) to reserve the drum sander and edge sander. I just woke up Saturday morning and called the rental place (the ONLY rental place in town that I've found that has drum sanders), and they said that they were all rented out for the weekend.
Of course they were. So I found something else to work on all day Saturday.
But this isn't a post about that project. This is a post about the hellish 24 hours that began Saturday night as I was getting ready to go to bed. As I was heading to the bedroom, I made a pit stop in the hallway bathroom. My pretty, newly-redecorated hallway bathroom.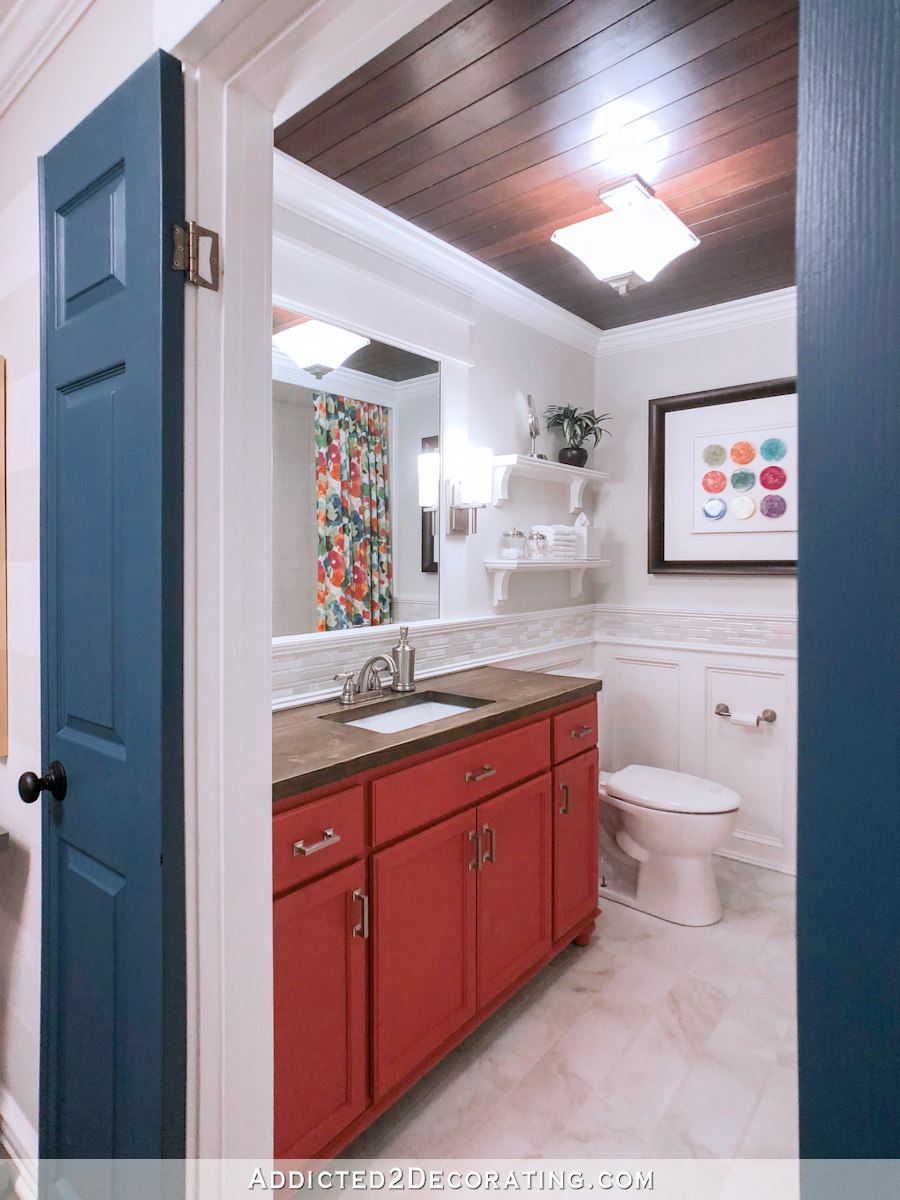 And as I flushed the toilet, water started pouring out on the floor from around the base of the toilet.
I grabbed a towel and mopped up the water, assuming that the wax ring had failed and that I'd need to remove the toilet in the morning and replace the wax ring.
Ugh. Such a pain, and definitely not how I had planned to spend any of my time on Sunday. At least it wasn't a super difficult project. But because I hate setting toilets myself, I asked my brother if he could help me. (Toilets are heavy, and my aim is never great, and I often end up ruining the first wax ring and having to scrape it off and try again.)
He was planning on coming over anyway, so I figured we could get that simple job done quickly, and then move on to other things. But I also figured I could make things go faster if I had everything ready to go so that when he got here, all we'd have to do is just pick the toilet up, set it in place, and bolt it down.
So I headed to Home Depot for a new wax ring. But standing there in the plumbing aisle, I noticed all of these other products that claimed to replace wax rings. These products are so enticing with their promises.
No mess! So much easier to use! Will last years and years and years! Better than wax rings! Guaranteed for 10 years!
One in particular caught my eye (a bright green ring made of a spongy material), so I looked it up on my phone, and it had amazing reviews. People raved about it, saying they'd never go back to wax rings after the ease of using this product, so I went with it.
I headed home with my new "better than a wax ring" green ring, and decided to go ahead and drain the water from the toilet, remove the toilet, scrape off the old wax ring (so gross!), and put the new green ring in place. I was excited about the prospect of never having to use one of those nasty wax things again.
So I got all of that done, and was ready for my brother's help. I decided to read the directions for the green ring to make sure I had it on there right (it's pretty self-explanatory, but I still wanted to double check), so I was standing in the music room while reading the directions.
Then I started hearing a sound. A strange gurgling sound. It took me a couple of seconds to realize it was coming from the bathroom, and when I turned the corner to look in the bathroom, I saw this steady flow of waste water, crap (literal crap) and toilet paper erupting from the open toilet drain hole in the floor.
I started screaming, "OH MY GOSH! OH MY GOSH! OH MY GOSH!!!!"
I was freaking out, as this eruption of sewage started completely covering my bathroom floor and heading towards the hallway.
Matt was lying in bed, and he started yelling, "What's going on?!"
I couldn't think. I was like a deer in the headlights, and it took me a couple of second to wrap my head around the fact that THIS WAS REALLY HAPPENING! This toilet drain pipe was literally erupting into my bathroom like a crap volcano. I finally realized that the cause of this eruption was the washer, which is just on the other side of the bathroom wall in the sunroom. That whole time, I had been doing a load of laundry, and as the washer started draining, it forced all of the mess up into the bathroom.
I turned the washer off, grabbed every towel I could find, and ran back to stop the flow, but I was too late. The crap stream had already breached the doorway and was flowing out into the hallway. But at least the eruption had stopped, so I started throwing down towels as fast as I could.
For the next 40 or so minutes, I was just in "get it done" mode as I soaked up all of that nastiness with a huge pile of towels. Thank goodness my mom had given me two garbage bags filled with old towels and rags to use on my projects (for wood staining and stuff), because I went through our towels pretty quickly and had to tear open those bags and use every single one of them as well.
By the time I got most of the mess cleaned up, I was exhausted and furious. And then the tears started flowing. I sat down and bawled my eyes out for a good 10 minutes until my brother walked through the door.
He walked in and saw me sitting there crying, and I'm sure he was more than a little confused. This had all just happened, so he didn't know about it. As far as he knew, we were just going to set a toilet. Easy peasy. So through my tears and cracking voice, I told him what happened, and he jumped into action. He headed into the bathroom to continue the clean up, and after about 30 minutes, things were looking up. And he was making me laugh, so that helped also.
After all the mess was cleaned up, we tried to set the toilet, but the green ring ended up not working. It was too thick, making the toilet sit about 1/4-inch off of the floor. And unlike a wax ring, which you can squish down with enough force, this green foam ring just couldn't be squished down enough.
So we removed the toilet again, and I headed back to Home Depot again.
As I was driving to Home Depot, I started thinking about all that had transpired, and it just didn't seem right to me. Even with the toilet removed, it just didn't seem right that the washer draining into the pipe would have caused a crap geyser in the bathroom unless there was a bigger problem and I had a blockage in the pipe. Because without a blockage, it would have naturally drained down rather than be forced up.
But I tried to put that out of my mind and convince myself that I just don't understand plumbing, and that possibly the force of water rushing out of the washer was indeed enough force it up into the bathroom with the toilet removed.
When I got home with the new wax ring, my brother was in the kitchen washing some dishes. I told him about my concern, and we stood there and talked for a few minutes, but we both convinced ourselves that there could possibly be enough force from the draining water to force it up into the bathroom. So after fixing some tea and chatting a bit more, we headed to the bathroom to set the toilet with the real wax ring.
But when I rounded the corner into the hallway, my heart sank. Not only was my fear of a larger issue confirmed, but we saw that while I was gone, there had been yet another eruption, and once again, the floor was covered with waste water, crap, and toilet paper. It wasn't as bad and the first time, but it had run out into the hallway and all the way to the bedroom doors.
Y'all, I wanted to give up. For the second time in one day, I had literal crap flowing over the floors of my bathroom and hallway. I was so mad. Frustrated. FURIOUS.
So we went into action once again. The only towels left in the whole house were the wet ones that were sitting in the washer — the very load of laundry that set off this series of events in the first place. So I got the wet towels out of the washer and we started mopping up crap water again.
This second eruption had been caused by my brother emptying a bucket of water into the kitchen sink. With the main drain line clogged, as I had suspected on my drive to Home Depot, there was nowhere for it to go except up into the hallway bathroom.
So, worst case scenario was confirmed. I had a major plumbing issue on my hands (ha! literally!). But it was Sunday evening. Have you ever tried to reach a plumber on a Sunday evening?
I looked online for emergency plumbing services. I knew it would cost a small fortune, but I had no choice. At this point, we had no usable toilet in our house, and we couldn't run water because it would just cause another eruption.
I found that Mr. Rooter offers 24-hour emergency service, so I called. Here's how my conversation with the woman went.
Her: Thank you for calling Mr. Rooter. How can I help you?
Me: Yes, I have a plumbing emergency and need someone here ASAP. I know it'll cost more since it's Sunday. Can you tell me what that after-hours fee is?
Her: Yes, that's going to be $199. That's the diagnostic fee for a Sunday, plus any charge for the actual work they have to do.
Me: Okay, great. How do I go about scheduling that?
Her: Well, I have to get your credit card info and go ahead and charge you for the $199 before I can dispatch someone to your house.
Me: Okay, that's fine. And how soon can someone get here?
Her: I don't have that information.
Me: (Slight pause; a bit confused.) Ooookay, but they'll be here today, right?
Her: I can't guarantee that.
Me: (Longer pause; more confusion.) You can't guarantee that they'll actually be here today? But you want my credit card number?
Her: Ummm…hold on just one second. (Puts me on hold.)
Her: (After a couple of minutes on hold). Yes, ma'am. I have to get your credit card info and charge you the $199 diagnostic fee before I can dispatch someone to your house.
Me: Okay, I understand that. And that's fine. But will someone actually be here TODAY?
Her: I can't guarantee that.
Me: So you're going to charge my credit card for a service that you can't even guarantee I'll get? You know what? FORGET IT. I'll find someone else!
Y'all, never in my life have I missed old, corded landline phones so much. Do you remember that pure satisfaction you could get from slamming down the phone on an annoying person? I needed that so badly at that moment, and cell phones just don't give you that satisfaction.
I was SO MAD at that point. Not only had I experienced two literal crap geysers in my home in one day, but then I had to deal with that nonsense. I mean, what the heck kind of business charges your credit card for an emergency service and then won't even guarantee that you'll get the emergency service you've paid for?!
So I started calling other plumbers — ALL of the plumbers — in hopes that one would have pity on me and call me back.
After no success, I finally called Mike, my trusty go-to contractor, thinking that he might know someone who could come. Long story short, he did find someone, and that plumber arrived around 8:00pm. It took about an hour-and-a-half, and he snaked the drain probably six times. He never did find the actual cause of the problem, but at least by the time he left at 9:30, everything seemed to be flowing properly again.
He did say that he thinks I have some sort of larger problem, like misaligned pipes that can be caused by houses settling and shifting, and we have had a LOT of rain lately, so that wouldn't surprise me. But for now, everything is working. I'll deal with my misaligned pipes later, and pray for no more geysers in the meantime. (FYI, all of our old, original clay and galvanized pipes were replaced with PVC and PEX about a year after we bought the house, so I know the issue doesn't have anything to do with old, original pipes.)
Anyway, big shout out to LJ Plumbing, y'all. He came to my rescue, and was unbelievably nice and wonderful to work with. And most shocking of all, it cost me $326. For an hour-and-a-half of very frustrating work. On a Sunday evening. Let's just say that LJ plumbing now has a customer for life, and if you're in the area and looking for a plumber, please look them up and give them a call.
And today, my bathroom and hallway are going to get the deepest cleaning they've ever gotten. And when I'm done, I'll probably be calling a restoration service to check the moisture levels in the subfloor. If any of that nastiness soaked into the subfloor in the bathroom or hallway, I might be looking at a very unexpected hallway and/or bathroom redo in the near future. But fingers crossed that my bathroom tile grout and hallway polyurethane did their jobs, and a very thorough deep cleaning of the surfaces will suffice.
Addicted 2 Decorating is where I share my DIY and decorating journey as I remodel and decorate the 1948 fixer upper that my husband, Matt, and I bought in 2013. Matt has M.S. and is unable to do physical work, so I do the majority of the work on the house by myself. You can learn more about me here.