Home Gym Progress — Window Trim Installed
After dealing with a cold for a week, I finally woke up yesterday morning excited to actually get some work done. But instead of working in the bathroom, I decided that I wanted to make some home gym remodel progress.
I have large stacks of lumber in the home gym and the bathroom, and it's getting increasingly difficult to work around these stacks of lumber. So rather than moving these stacks from these rooms into another room yet again, I thought I'd spend a few days getting the lumber and trim up off of the floor and actually onto the walls where they belong.
So yesterday afternoon, I started working on the trim in the home gym, and I got two windows completely trimmed.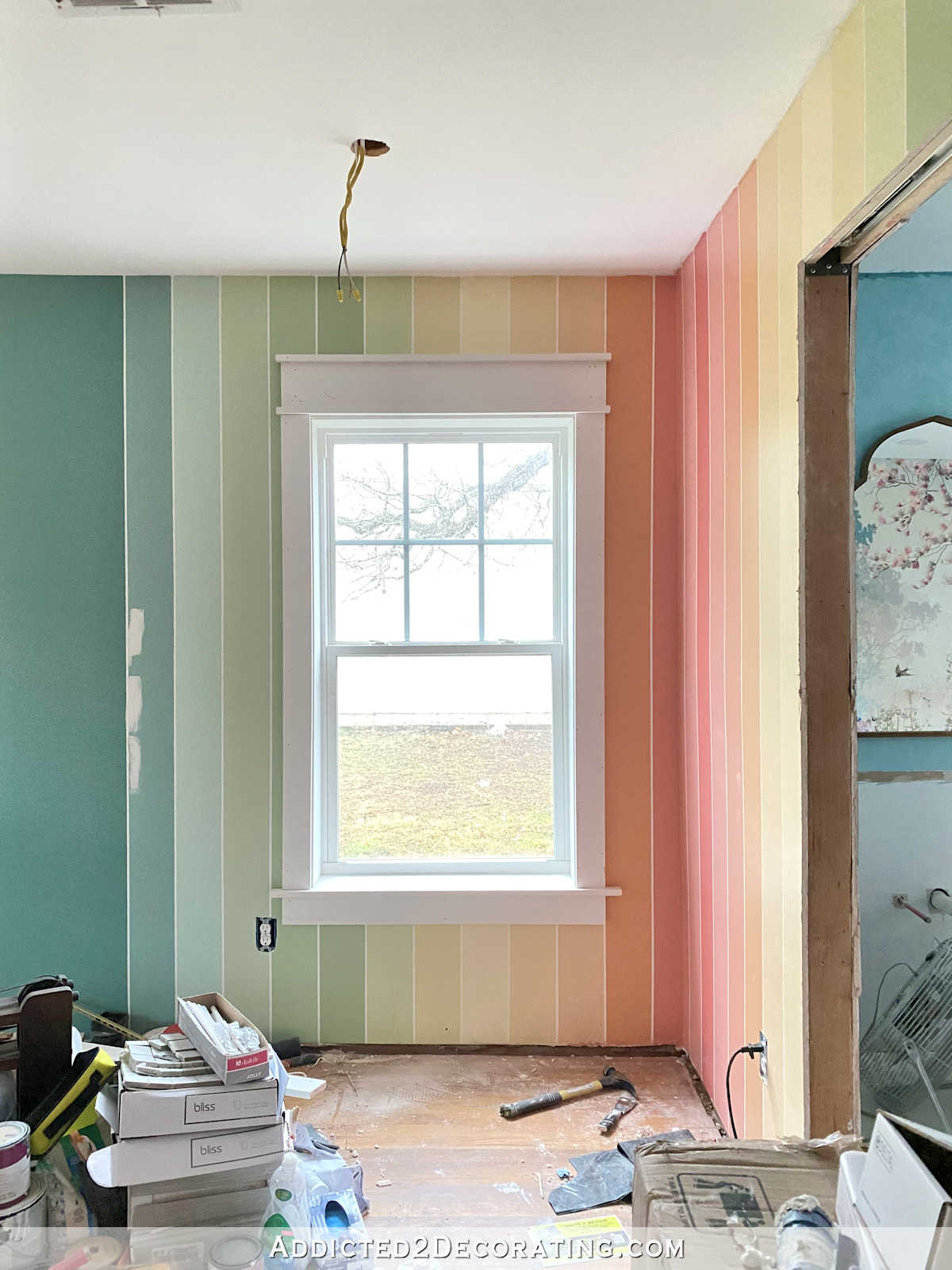 I shared step-by-step how I trim my windows and doors using this style that requires NO miter cuts! It's really very easy.
Adding trim, especially to windows and doors, is such a fun stage in a room remodel because the trim makes SO much difference!
I only got the two done because this room still doesn't have any lighting, so once the sun starts going down, it becomes increasingly difficult to work in here. But two windows are trimmed…
So today's goal is to trim the large window at the front (i.e., that looks out towards the front yard)…
(See? Look at these stacks of lumber that I've been trying to work around for far too long now.)
And then I hope to get this opening trimmed. This is the area that used to be two closets (one that opened into this room, and the other that opened into the guest bedroom on the other side of that wall). I had them both opened up to this room, and I'm going to leave it open like this (i.e., no doors), and it will have shelving, other storage, and a TV when all is said and done.
Here's a better view of how these areas relate to each other. The two windows that are already trimmed are on the right wall. The one remaining untrimmed window that looks out towards the front yard is in the middle. And the closet area that will remain open with a cased opening is on the left.
And finally, I hope to get the door (that leads to the hallway) trimmed today.
If I can get the window, closet, and door trimmed out, that will reduce my lumber/trim pile considerably!
Unfortunately, it will probably be at least a few days before I can trim out the door leading to the bathroom (which you can see on the right in the photo below) because that door isn't even installed yet.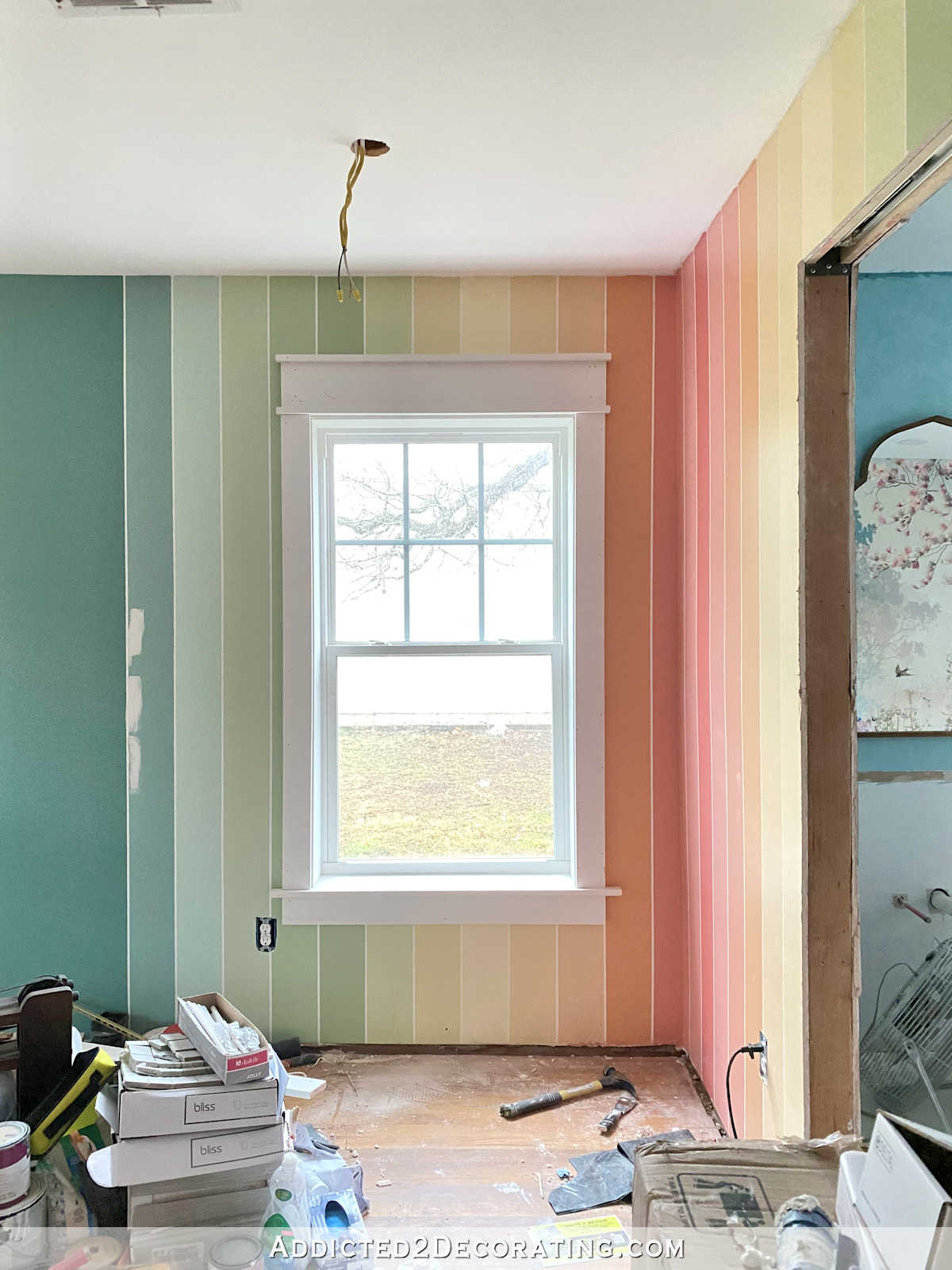 That will be a pocket door, and while I generally install my pocket doors by myself, I also generally use hollow core doors. But the one going here is a 15-lite pre-primed door made of MDF, and it's HEAVY! There's absolutely no way I can get that door onto the rollers by myself, so I'll have to call in reinforcements to get that installed before I can trim out the doorway.
So it's coming along! I had so much fun turning my attention to this room and taking a break from the bathroom. Sometimes I think a change of scenery, and taking a break from a big project to focus on something else for a while, is necessary in order to keep motivated.
So we'll see how much I can get done today, and how much of a dent I can make in my pile of lumber and trim. And if I'd take some time to install my lights, I could do even more and actually work past dark! 😀
Addicted 2 Decorating is where I share my DIY and decorating journey as I remodel and decorate the 1948 fixer upper that my husband, Matt, and I bought in 2013. Matt has M.S. and is unable to do physical work, so I do the majority of the work on the house by myself. You can learn more about me here.