"How Long Is This Going To Take?!" (A Master Bathroom Update)
I'm hoping you read that title in your best King Julien voice (from the movie Madagascar, of course). Matt and I often joke that if it weren't for movie and TV quotes, we wouldn't know how to communicate with each other. 😀 And while lines from the sitcom Friends will always be the most used quotes in the Linauer household, this line from Madagascar is probably the most used movie quote between the two of us. And when it comes to the master bathroom remodel, it's quite fitting.
Matt asked me just this morning, "Now that most of the junk is cleared out and the dumpster is gone, how much more time do you need for the bathroom?"
So I told him that I would take pictures and show him what still needs to be done, and I thought I'd share those with you as well.
Here's where everything stands as of this morning…
The wainscoting on the home gym side of the room is so close to being finished! The side to the left of the door needs a little more caulk and then one more coat of paint. The door also needs one more coat of paint. Then I need to install and grout the accent tile, and the wainscoting on this side of the room will be done.
Then I need to install switch and outlet plates (and figure out how to make them blend with the walls). Once I get the door painted with the second coat of paint, I can then remove the plastic from the glass panes, add the privacy film, and install the door pulls.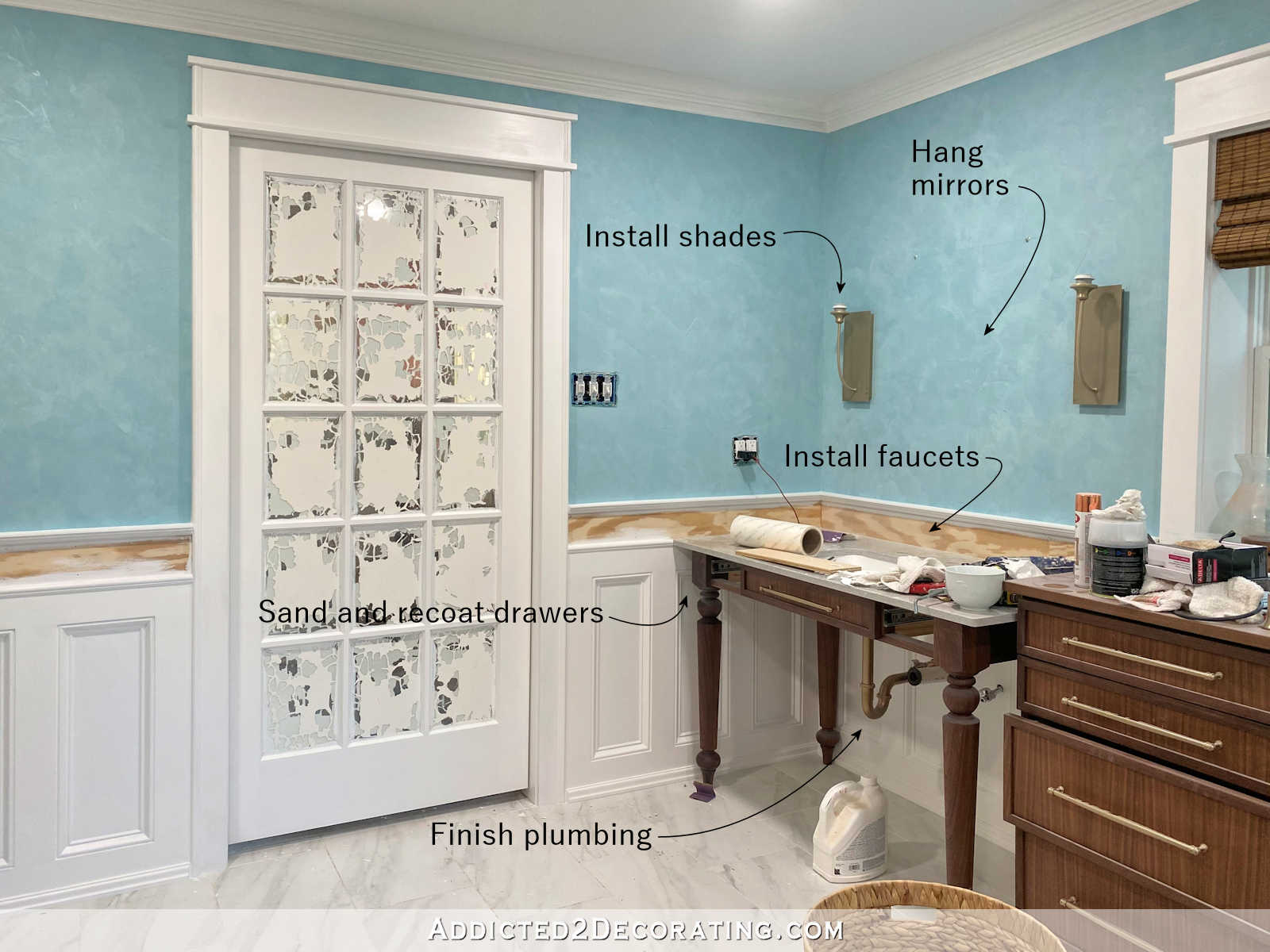 On the vanity, I still need to do a final sanding with 220-grit sandpaper on the two little drawers, and give those a final coat of the Rubio Monocoat. Then I need to install the faucet, finish up the plumbing, add the glass shades back onto the sconces, and hang the mirror.
The drawers on the center storage chest and the other vanity also need the final sanding and final coat of Rubio Monocoat.
On the exterior wall side of the room, this section of wainscoting is lagging behind all the rest. I still need to install the base cap molding on this section, and then it needs to be caulked, primed, and painted. And none of the wainscoting on this side of the room has the section where the accent trim goes, so that all still needs to be installed.
Also, this door needs privacy film, a new doorknob, and a new dead bolt.
Around the vanity, everything that needs to happen on the other side needs to happen on this side — mirror, sconce shades, faucet, plumbing, outlet and switch covers, etc.
So there's really not a whole lot of stuff left to be done. But what there is is a whole lot of detail stuff, and it's time-consuming stuff. Installing base cap on the wainscoting, wood filling, sanding, and caulking takes way longer than one probably assumes. It's that kinds of stuff that just eats through my time and is making this take way longer than I think it should.
But I told Matt that this weekend, I need some accountability. I need to be in here working on Thursday, Friday, and Saturday, and I need to give it my best effort to get all of these final projects finished, or as close to finished as I can. I even told him that I need him to be tough on me. If he sees me sitting down to watch TV or waste time on my computer, I asked him to make me get up and work like a drill sergeant, and not to accept any lame excuses I may come up with. 😀
So he'll hold me accountable, and hopefully putting this here for all of you to see will also give me that extra push. It's so close. Sooooo close!!!
Addicted 2 Decorating is where I share my DIY and decorating journey as I remodel and decorate the 1948 fixer upper that my husband, Matt, and I bought in 2013. Matt has M.S. and is unable to do physical work, so I do the majority of the work on the house by myself. You can learn more about me here.