Last Updated on October 6, 2012 by Kristi Linauer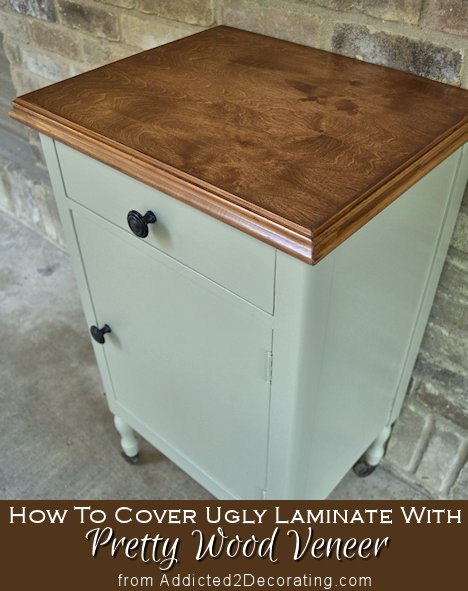 [pinit count="horizontal" url="https://www.addicted2decorating.com/how-to-cover-ugly-laminate-with-pretty-wood-veneer.html" image_url="https://www.addicted2decorating.com/wp-content/uploads/2012/06/covering-ugly-laminate-with-pretty-wood-veneer.jpg" description="How to cover ugly laminate with pretty (stainable!) wood veneer, from Addicted 2 Decorating." float="left"]
Last week, I was tasked with turning this very rough-looking-but-potentially-pretty cabinet into something nice that my grandmother could use to place a little microwave on in her kitchen.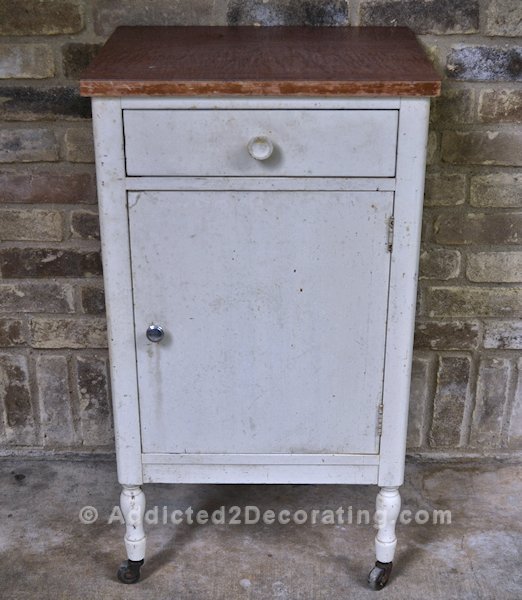 The body of the cabinet was wood, so I knew that it could be cleaned up and painted, and it would look great.  However, the top was another story.  It had been covered with laminate (with a seam right down the middle), and it was looking very rough.
I thought about replacing the top completely with thick plywood, but try as I might, I couldn't get this top off.  So my mom remembered that I had a roll of wood veneer in my storage, and suggested that I use that directly on top of the laminate top.  It was a great suggestion, and it worked perfectly!
The brand of wood veneer that I have is called Wood-All, and it's available through their Amazon store.  I use the kind that's called "PSA-backed" because it comes with a super strong adhesive back, and it's really simple to use.  (No messing with messy adhesives and long drying times.)
I first cut a piece of veneer that was about 2 inches longer and 2 inches wider than the top of the cabinet.  Then on one side, I peeled back the paper backing about six inches.
Next I carefully lined up the veneer on one side of the cabinet top, making sure that it was as straight as possible.
When the one edge was correctly placed on the cabinet top, I slowly began to peel the rest of the paper backing with my left hand, and I firmly pressed the veneer to the top with my right hand.
When the veneer was firmly in place, I used a very sharp X-acto knife to trim the edges.  This sounds easier than it really is.  The knife will have a tendency to follow the grain of the wood exactly, which isn't necessarily perfectly straight against the edge of the cabinet top, so you have to go very slowly and make very deliberate and precise cuts.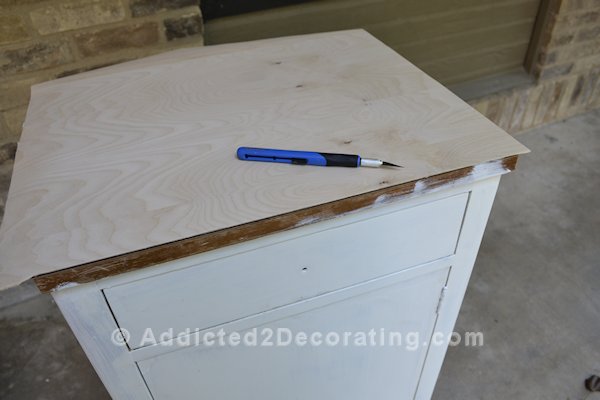 Cutting against the grain is the hardest.  I generally find it's easiest to make an initial rough cut just to get most of the excess veneer out of the way, and then go back to do precision cuts in small increments.
After the veneer was trimmed all the way around, I used my miter saw to cut pieces of trim to go around the edges.  I used this type of trim because it gives the illusion of an ogee edge, but you could also use iron-on edge banding or plain wood trim.  I used a combination of wood glue and a brad nailer to attach the edge trim.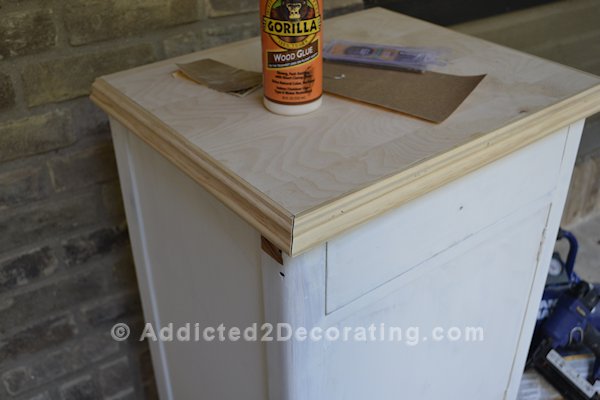 Next, I filled all of the gaps with wood filler…
…and then used my electric sander to sand it perfectly smooth on top.  Of course, any areas that I filled on the trim had to be sanded by hand.  I used a 150-grit sandpaper to sand the top and the trim.
It was then ready for stain!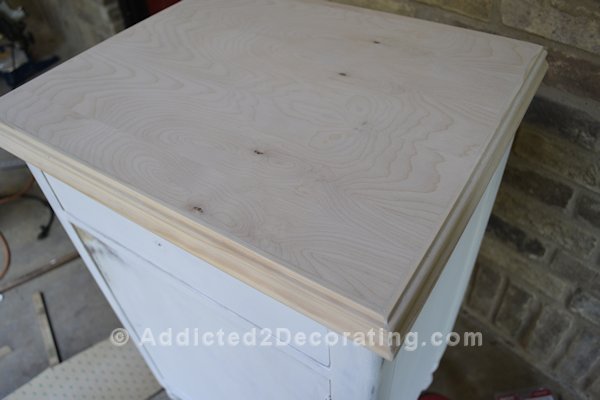 I'm very pleased with how it turned out, and I love how easy-to-use the adhesive-backed wood veneer is.
I stained the top with Rust-Oleum Early American, and then I painted the body of the cabinet with Behr paint in an eggshell finish in a very subtle grayish green color.  Then I waxed the entire thing with Minwax wax.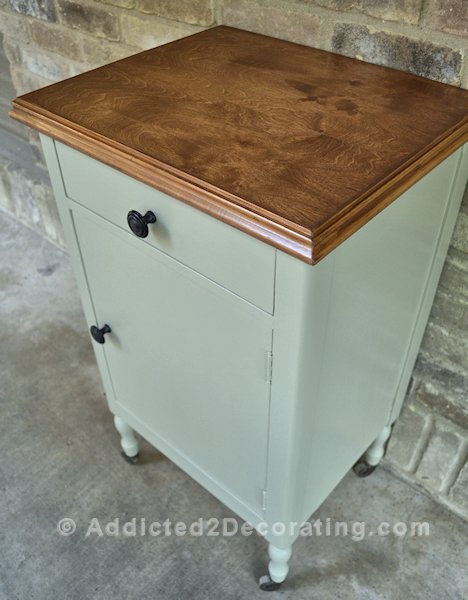 Sharing this project at:
Tatertots & Jello │ House of Hepworths

Addicted 2 Decorating is where I share my DIY and decorating journey as I remodel and decorate the 1948 fixer upper that my husband, Matt, and I bought in 2013. Matt has M.S. and is unable to do physical work, so I do the majority of the work on the house by myself. You can learn more about me here.
I hope you'll join me on my DIY and decorating journey! If you want to follow my projects and progress, you can subscribe below and have each new post delivered to your email inbox. That way you'll never miss a thing!