Guest Bedroom Wall Mural – Finished!
The guest bedroom wall mural is finished! I was hoping to get the trim installed so you could see the wall truly finished, but I ran out of time. I was so excited about how it turned out, though, so I didn't want to wait to show you the finished mural. If you missed the first part of this project with the DIY details, you can check out yesterday's post here:
So take a look at how it turned out!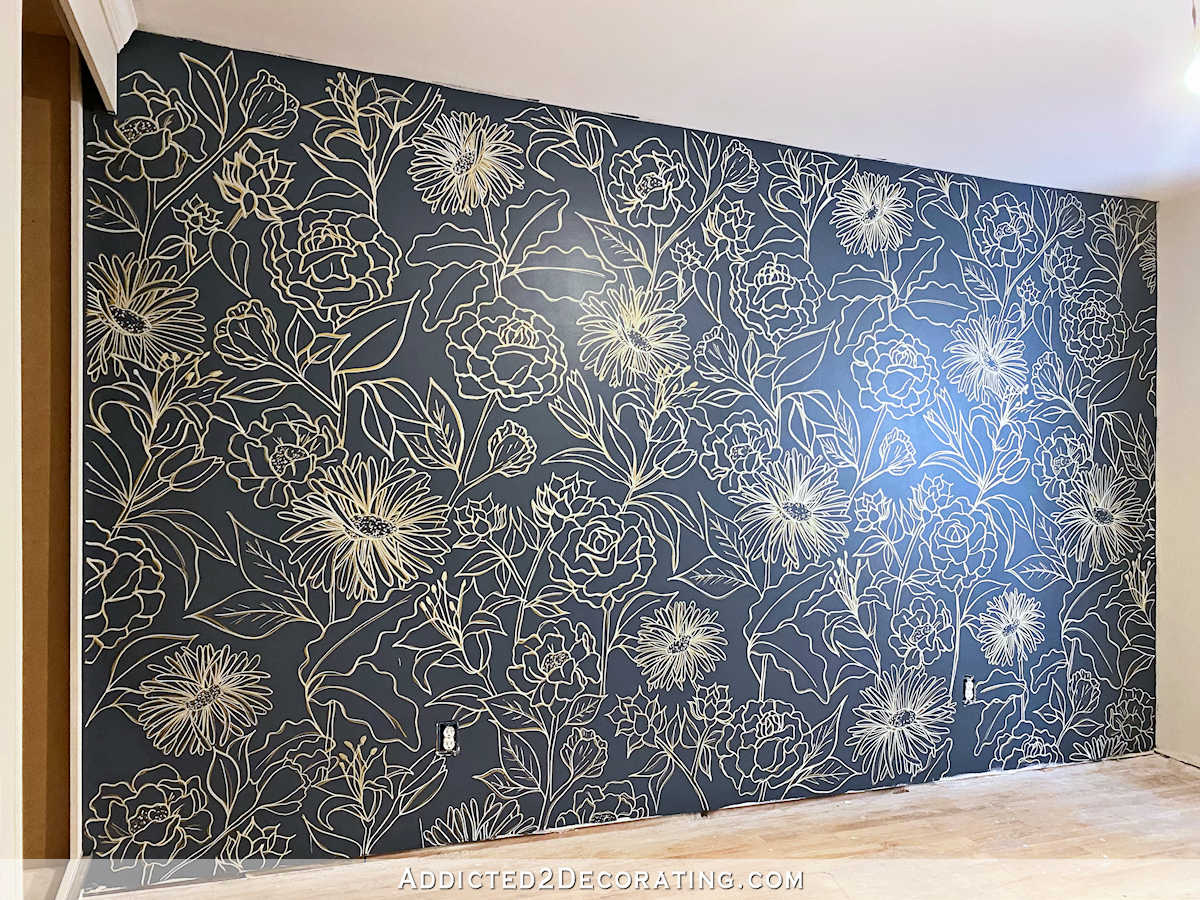 I love it! I'm so glad that my original mural ideas didn't work out. 😀
Can you see the gold peeking out from behind the white? It's a really beautiful effect, and a brilliant idea that my mom had to do the white over the gold.
So the funny thing is that I had the wall color matched to the blue velvet fabric that I wanted to use for the headboard. But now that the wall is done, I actually don't like the velvet fabric with the wall. 😀
It's not a big deal. I have plenty of other fabric that I can use. And I do have some other fabric that I think would work much better with this wall design.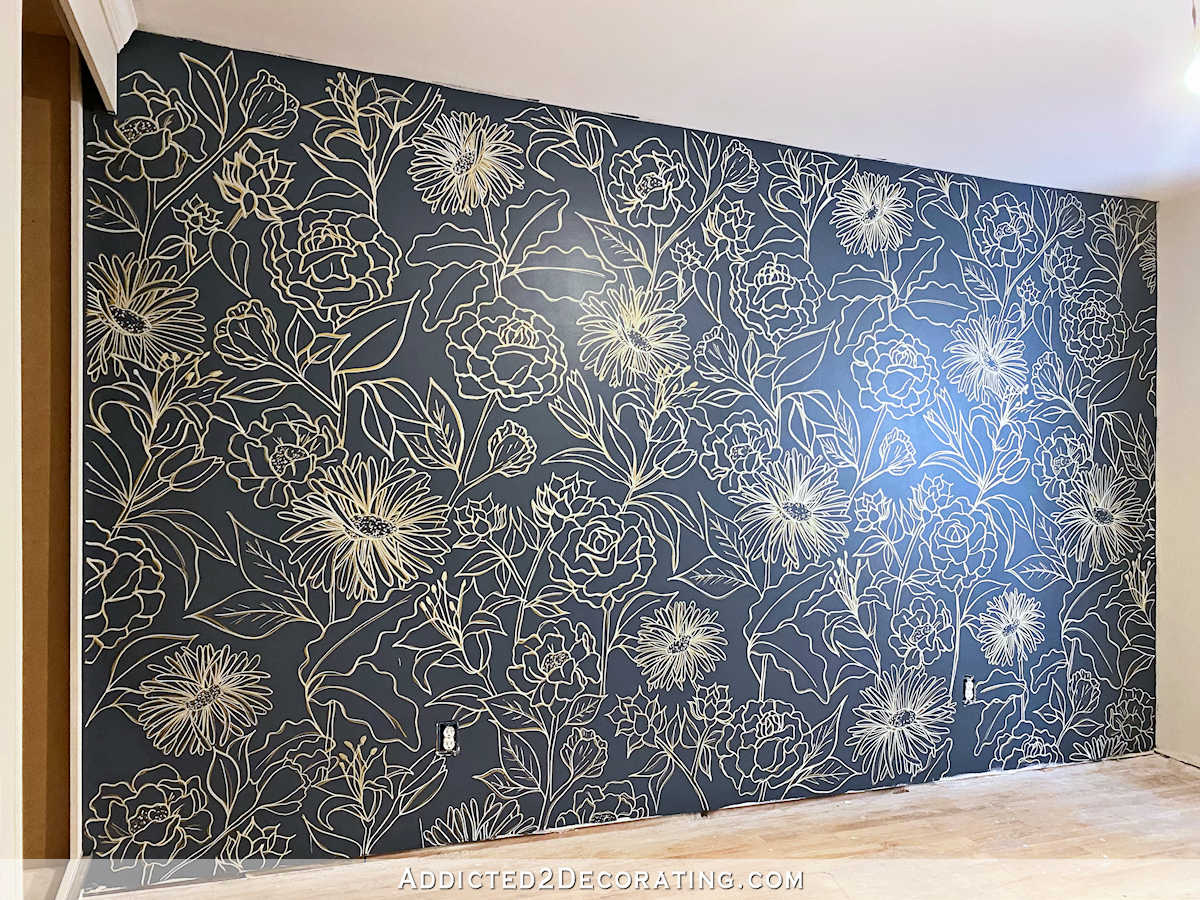 For those of you who asked, this is the formula for the wall color…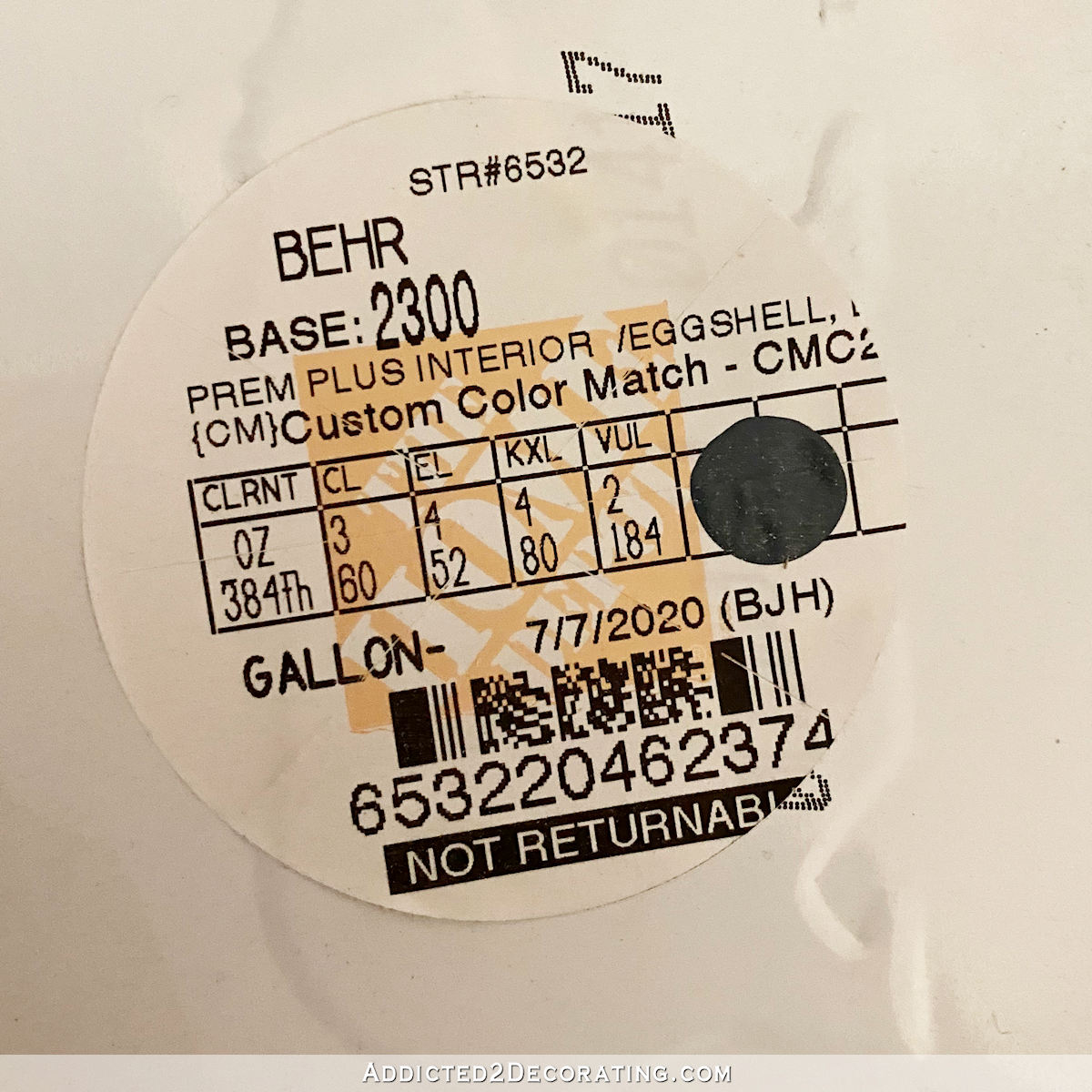 If you decide to do this project, here are a few tips I can pass along:
Choose a design that is very simple. In other words, make sure the image doesn't have a lot of colors, shading, depth, etc. To search for patterns that might work, try terms like "line drawing" so that the search results would be very simple drawings. You could do "line drawing animals" or "line drawing flowers" or any other kind of line drawings.
You can create your own seamless repeatable pattern in the same way I showed you how to create a seamless pattern for wallpaper. You can see that post here.
I've now done two different line drawing wall murals. On the first one (the birds and butterflies mural on the entryway wall), I used regular Sharpie markers and another type of permament Sharpie-type marker, which are alcohol inks. They were very frustrating to use. I don't know if it was the vertical surface or the latex paint (or both) that made it difficult, but it was a real pain. The markers I used on this wall were labeled "acrylic" (for the gold) and "water-based" (for the white). They were so incredibly easy to use.
Don't aim for perfection. Trying to make perfect lines with extra fat markers will make you crazy. And I personally think that imperfection adds to the charm. (When have you ever heard me say that?! 😀 )
Give it a try! It's really not difficult, and the whole wall went much faster than I had expected. And what a big payoff! Wallpaper to cover that wall was going to cost me about $400-$600. This design cost me around $60 for a gallon of paint and four markers. Not too bad, right?!
Addicted 2 Decorating is where I share my DIY and decorating journey as I remodel and decorate the 1948 fixer upper that my husband, Matt, and I bought in 2013. Matt has M.S. and is unable to do physical work, so I do the majority of the work on the house by myself. You can learn more about me here.