Bedroom Built-Ins Finished! (Bookcases, Daybed, and Trundle Bed)
The biggest project in my niece's bedroom makeover is finally finished! These DIY bedroom built-ins took me nine days to build from start to finish, and if my mom hadn't helped with some of the wood filling and sanding, it probably would have taken ten days. If you missed the posts about the building of these bookcases, daybed, drawers, and trundle bed, you can find them here:
We haven't purchased/made all of the pillows and stuff for the bed, and the shelves are all empty right now (I just finished painting on Tuesday, so we're giving them a few days to dry before putting things on them), but here's how the built-ins turned out…
The last time I showed you my progress, I had just finished most of the building (with just a bit of finishing left to do), and it looked like this…
To finish it, I added baseboards on the bottoms of the bookcases, and crown moulding along the tops of the bookcases.  I also added drawer fronts to the plain drawer boxes using 1/2-inch plywood and two layers of small cabinet moulding, which I explained in this post.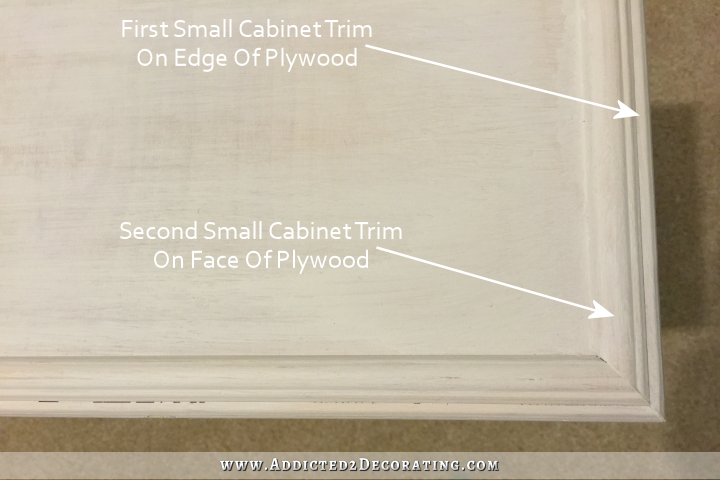 Once those were finished, I attached them to the drawer boxes with glue and finishing nails.
And finally, I added a decorative piece to the front of the trundle bed, much like a really big drawer front.  I made it out of MDF and then added large cabinet moulding around the edges to hide the gaps when the trundle is pushed up underneath the daybed.
To cut out designs like this, I use my jigsaw.  I start in one direction, and cut out as much as possible.  Since I'm right-handed, I find it easier to do the bulk of the cutting working from right to left.  I cut out around the scallops, and up into the corner.  Then I back out a bit, curve around to the next scallop, and cut into the corner.  Back out a bit, curve around, and repeat.
So after working in one direction, it looks like this, with little bits still left in the corners…
Then I work in the opposite direction, from left to right, to clean up those corners.
Once it was all sanded, I attached it to the trundle bed box just like a drawer front — with lots of wood glue and finishing nails.
I'm so happy with how everything turned out, especially those bookcases extensions that form the ends of the daybed frame.
For the life of me, I couldn't figure out how to build those, and so many of you had some great suggestions.  I finally decided that for me, the easiest way to do it was to it was to build the bookcases as I usually would, and then add the extensions to the front of the bookcase using my Kreg Jig.
Once everything was wood filled, sanded, primed, sanded, and painted, I couldn't even tell where the two pieces meet.  So that worked out perfectly.  I can't remember who suggested that method, but thank you!!
This was also my first time to build drawers.  I don't know why that process has always intimidated me before.  As it turns out, it's quite easy.  The main thing is to get the spacing of the drawer glides and size of the drawer just right.  I found that installing the drawer glides inside the bookcases first, and then measuring for the exact size of the drawer box and building the drawer box based on those measurements, was a pretty fool-proof way to go about it.  (More on that in this post.)
The trundle bed will be great for when my niece has friends over.
It's basically built like a really big drawer, but without drawer glides.  It rolls on casters, and is completely separate from the actual daybed, so it can be moved out completely and to any part of the room where she and her guest want it.
And when it's tucked up underneath the daybed, the trim around the edges covers the gaps and just makes it look like a decorative piece on the front of the daybed.
One thing that my mom insisted on was having a couple of extra inches at the ends of the daybed so that there would be room for her hands to slide in there easily while changing sheets.
So I added an inch-and-a-half to each end, and to the back, of the daybed.  When we put the sheet on yesterday, it was very easy to get our hands in there, and it was also easy to slide the mattress out just a bit to reach the back to put the sheet on.  If you want to replicate this design (or a similar built-in daybed design), I highly recommend allowing that extra space on the ends and the back for easy sheet-changing.  That extra space probably won't even be noticeable once we put a comforter on the bed.
I'm so glad it's finished!  This was a big project, but I'm so glad I tackled it.  I learn a little bit more about building with each and every project I do.  And now I know I can build drawers!  I love learning new stuff.  🙂
And finally, here's a quick "before" and "progress" comparison of this wall.  Here's what we started out with…
And here's the progress…
That's quite a change!  🙂
Addicted 2 Decorating is where I share my DIY and decorating journey as I remodel and decorate the 1948 fixer upper that my husband, Matt, and I bought in 2013. Matt has M.S. and is unable to do physical work, so I do the majority of the work on the house by myself. You can learn more about me here.